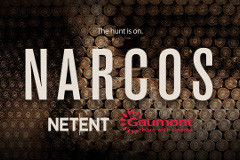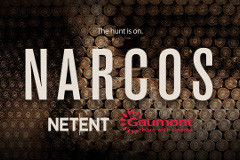 Unfortunately, this game is not available in your location
Why am I getting this message?
Thank you for informing us. Our engineers will work to fix the problem as soon as possible.
Get notified by email when this game is fixed
Thank you. Our engineers will inform you when the problem has been fixed.
Try these similar games instead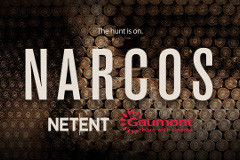 NetEnt
Narcos
Rate this game:
Report a problem with this game:
Narcos Slot Review
When you hear the word "narcos", you probably instantly think of the hit Netflix series originally released in early 2015. The show follows several DEA agents as they try to take down Pablo Escobar's drug empire.
This slot bases its entire theme on the show, taking some of the series' most famous characters and putting them as symbols that can help you win paylines.
The Narcos slot has a colorful background, plenty of paylines to win from, and a thrilling bonus round.
But, is Narcos the slot for you? After all, seeing as the game was produced by NetEnt, it'll be competing against several other top-tier titles made by this slot provider.
Today, we're going to answer that question by taking a deep dive into Narcos. We'll look at their payouts, in-game features, and even their aesthetics.
Then, hopefully by the end of our review, you'll be able to know if Narcos is a slot you want to play. Are you ready? Let's get started!
Pros and Cons
Four in-game features

Large betting range

Great sounds and visuals
Four symbols with low payouts 
Narcos Slot History
Narcos is one of the latest titles released by NetEnt. The slot was released on May 23rd, 2019 and has since become a main attraction thanks to iconic characters like Steve Murphy being playable symbols. (1)
Steve Murphy is a Drug Enforcement Administration agent who took part in chasing Pablo Escobar. He worked alongside Javier Peña.
The entire slot is also based off of Narcos' inspiration, which is the drug war that occurred in the late 20th Century. (2)
In June 1971, President Nixon declared a "war on drugs." He dramatically increased the size and presence of federal drug control agencies, and pushed through measures such as mandatory sentencing and no-knock warrants.
How to Win at the Narcos Slot
In order to win when playing the Narcos slot, you'll need to match at least three of the symbols together in a payline. When this happens, you'll be paid out according to the multipliers of the symbol.
The Narcos slot's setup is also really simple. There are 5 reels, 3 rows, and 243 different ways to win. Considering that most slots only have 10-15 paylines, this means that there are way more winning opportunities in Narcos than other slots.
Game Rules
Before you can spin the reels, you'll need to make a bet that is at least the minimum bet amount and at most the maximum bet amount.
If you want to automate the spinning process, you'll need to choose the Autoplay option. This allows you to play without having to manually press the spin button every time.
The game also requires you to play all 243 paylines. Luckily, this is actually a good thing since this basically guarantees that you'll win some type of amount if you hit a payline.
Betting Options
Narcos has a pretty large betting range, with a minimum bet of $0.20 and a maximum bet of $400. This means that the Narcos slot can accommodate a wide range of betting styles.
If you're a low-stakes player and like to keep your money close to you, then great! You can bet the minimum everytime and play at least 50 spins with just $10.
If you're a high-stakes player, then you can bet the maximum everytime and get some pretty nice payouts when you hit the payout. In fact, Narcos has one of the highest maximum bets we've seen from all the slots reviewed.
Most online slots will usually only have a maximum bet around $100-$200. With a maximum bet of $400 per spin, you can hit some pretty big life-changing wins if the symbols match up correctly.
Nevertheless, no matter what style you like to play, Narcos makes sure that you'll have a great time with whatever amount of money you're bringing to the online casino.
Narcos Symbols and Values
There are 14 different symbols you can find when playing the Narcos slot. Of these fourteen symbols, tem are regular in-game symbols while four are used to bolster the gameplay.
The lowest-paying symbols are the Jack, Queen, King, and Ace. All four of these symbols will only pay out 5X your line bet for three matching symbols in a payline.
On the other hand, the highest-paying symbol is the Agent Pena symbol. When you match five of these in a row, you'll receive 300X your line bet.
There is also a wild, scatter, and two bonus symbols. The wild symbol is a golden badge with the word "Wild" on it. The scatter symbol is a silver car with the words "Free Spins" in the icon. However, the scatter can only appear on reels 1, 3, and 5.
The other two bonus symbols are a green car with a man holding a gun and a picture of Pablo Escobar holding a sign that says "Catch Me". Both of these unlock their respective bonus features.
With four different symbols unlocking four different features, you can expect quite a bit of gameplay from Narcos. Let's take a closer look at this now.
| Symbol | 3 on a Payline | 4 on a Pyaline | 5 on a payline |
| --- | --- | --- | --- |
| | 20x | 80x | 300x |
| | 20x | 80x | 300x |
| | 20x | 80x | 300x |
| | 15x | 60x | 250x |
| | 15x | 60x | 250x |
| | 10x | 30x | 120x |
| | 10x | 30x | 120x |
| | 5x | 15x | 60x |
| | 5x | 15x | 60x |
| | 5x | 10x | 40x |
| | 5x | 10x | 40x |
Narcos Slot In-Game Features
One of the strongest parts of Narcos is the in-game features. As we mentioned above, the game not only features a scatter and a wild, but two other features: the locked-up feature and the drive-by feature.
Locked-Up Feature
The locked-up feature occurs when three or more locked-up symbols appear on the same row together. These symbols are then packed and assigned a random coin value of 1-10X your bet amount.
Afterwards, only locked-up symbols and golden locked-up symbols can show up on the reels. If a symbol lands next to a winning cluster, then a coin value of 1-10X your bet amount is awarded. All spins in the locked-up feature are free.
Walking Wilds Feature
Wild symbols also have an additional feature: walking wilds. Wilds that are part of a win stay on the reels and shift once to the left. This means that a wild can stay on the reels for up to five times before disappearing.
Essentially, you can think of this as sticky wilds, only they stay sticky until you don't hit a payline with the wild or the wild is pushed off the reels. Furthermore, walking wilds can show up in both the regular game and the bonus game.
This is pretty much the same thing as a sticky wild, but with other features attached to it! 
The Drive-By Feature
The drive-by feature occurs randomly. Whenever this happens, high-value symbols are converted into wild symbols to help transform paylines.
These wilds also work simultaneously with walking wilds. If you manage to hit a payline with the wilds given by the drive-by feature, they turn into walking wilds and can help you hit more paylines in future spins.
Bonus Games and Free Spins
The free spins game is pretty simple. You'll unlock this part of the slot whenever you manage to land three scatters on reels 1, 3, or 5.
Once the free spins bonus game is activated, you are then given 10 free spins. During every free spin, there's a chance of high-value symbols turning into wilds.
If some of these wilds are walking wilds and they are left on the reels at the end of the spin, you're given one extra free spin until there are no longer any walking wilds left on the reels.
Jackpots
The game does not feature a progressive jackpot. However, you can still win a great amount. The jackpot in this game is 1,506X your total stake. Considering that the maximum bet is $400, you could potentially win more than $500,000 in this game.
This is more than a lot of other slots with progressive jackpots. 
Narcos Slot RTP/Volatility
The Narcos slot has an RTP of 96.23% and a medium-high volatility. An RTP of 96.23% means that, for every $100,000 wagered in the long run, you can expect to win back around $962,300 in winnings.
Considering that the average online slot has an RTP of 96%, this puts Narcos around what most slots would pay you.
But, does this mean that you won't make a profit whenever you play Narcos. After all, if you're putting in $1,000 in the long run, an RTP of 96.23% projects that you'll only make $962.30.
That's actually not the case. RTP is a long-term measurement, meaning that it's calculated by taking the total winnings and dividing it by the total wagers.
In the short run, the RTP will vary since luck always plays a factor. One second, you might be hitting payline after payline causing you to go over the projected winnings amount.
The next second, you might go cold for twenty spins, plummeting you below what you're expected to lose.
As a result, you should use RTP as a way to compare payouts between slots rather than to see how much you'll win.
Narcos' medium-high volatility means that there's more risk than the average slot. However, the payouts in this game are also higher than average, making the reward worth the risk.
For reference, a low-volatility slot will have little-to-no risk. This means that you'll consistently hit paylines during your session. Because you're going to constantly hit winning spins, the payouts are much smaller.
On the other hand, high-volatility slots have much more risk. As a result, you won't hit paylines as consistently. To offset this, payouts are much higher and can even be life-changing with some titles.
This puts Narcos closer to high-volatility slots. There will be more risk when playing Narcos. However, the payouts will also be much higher than low-volatility and medium-volatility slots.
Play the Narcos Slot on Your Phone
Because of how popular the Narcos slot is, you can expect to find this slot at most online casinos. You can also play the game on your mobile device as well.
All you need to do is find which online casinos have Narcos. Then, simply open up a mobile browser, log into the casino site, and you can start playing right away!
Some online casinos might offer an app. However, this is a little more complicated. For one, most sites like to stick with a mobile browser since it's easier to edit and manage HTML5 technology compared to an app.
Secondly, platforms like Google Play have only just begun to allow real money casino apps on their store. As a result, some sites might not have an app on the respective platform's store just yet.
For those online casinos that do offer an app, they might offer it on their mobile site. This means you can choose between either playing in their browser or downloading their platform and playing through there.
If you choose to download it from their mobile site, then you'll need to find their "Download Now" button. This is usually located on their home page or can be accessed via one of the navigation bars.
From here, you'll click "Download Now", fill out any required information, and then you'll be good to go! Once done, you can access the casino's app directly from your home screen instead of booting up a mobile browser.
Nevertheless, because mobile casino gaming has blown up popularity, almost every top online casino has made sure their games are mobile-compatible.
Thus, whether you're at home or out on vacation, you can play Narcos as long as you have a phone and some type of internet connection.
Overall Rating
Here at MrGamez, we like to compile our overall rating of a slot game based on four areas: user experience, game features, payouts, and sounds & visuals.
We applied these ratings to the Narcos slot. That way, we can come up with a definitive ranking to help you determine whether or not you want to put your money here.
The user experience of the Narcos slot was very solid. For one, the slot had the standard setup that you might expect from a top slot provider.
The reels were nice and compact with all of the buttons and important information at the bottom. This made everything very accessible and easy to use.
However, what was most important was that the slot wasn't laggy at all. The entire time we played, we had a great time with no interruptions whatsoever.
Overall, the user experience of the Narcos slot was very solid. There were very few things they did wrong and they added their own creative element to the slot's setup.
It's rare for us to give a 5/5 to in-game features, especially since there's always something that can be improved. With Narcos, this isn't the case. Four different in-game features ensured that we were always kept busy, no matter how long we played.
Even smaller features like the wild symbol were made complex thanks to the addition of details like walking wilds.
We were also thoroughly impressed by the fact that the locked-up feature. It essentially acted like a second free spins feature we could take advantage of.
As for the real free spins bonus game, this was amazing since not only were we given a good number of free spins but we also had the chance to retrigger by having something as simple as a wild on the reels.
All in all, NetEnt did a great job with Narcos' in-game features. Usually, we can get pretty tired after playing for a while but this wasn't the case for the Narcos slot. There was always something new to look forward to.
The payouts were great, but they weren't anything that stood out like Narcos' in-game features. What we mean by this is that there weren't any exceedingly impressive winning opportunities.
If the slot had a progressive jackpot, then we would definitely have to give Narcos a 5/5 on the payouts aspect.
However, with a maximum win of 1,506X your total stake, you can still make a lot of money just from spinning the reels.
This is another area where we rarely give out 5/5's. However, the sounds and visuals of NetEnt were so impressive that we decided to award them with a perfect score.
Starting off with the graphics, everything adhered perfectly to the theme. All the symbols were well-drawn and all the characters looked exactly like their counterparts in the show.
Even the simpler symbols like the Jack and King had money attached in the background to give it a drug trade look.
The background was also well-designed. Not only did it look like the Colombian setting we're used to in the show, but several parts are animated. For example, you can see birds flying away in the background and dust blowing across the street.
Another impressive add-on was the gun barrel acting as the spin button. Whenever you spun the reels, the revolver would spin with you
As for the audio, this was another area where NetEnt outdid themselves. Not only were there unique sounds we haven't experienced with other slots, but the background music was very distinct.
The background music was made of instruments that you might hear in classic Colombian music. Furthermore, the soundtrack itself sounds like something that came out of the series.
With great visuals, animations, and audio, NetEnt set themselves up for success. Even if the slot didn't have any features for us to look forward to, the great sounds and visuals made sure that we were always entertained.
There's no doubt that Narcos is one of the greatest slots made by NetEnt in the past five years. But to what do we owe its success?
Maybe it's because they based their game off of a hit Netflix series. Or perhaps it's because the slot has four different in-game features to look forward to. Or maybe it's that the slot has a great user experience and even better sounds and visuals.
It's actually a combination of everything. NetEnt's development of Narcos has made sure that they're solid in practically every area.
You'll never be bored whenever you play the slot and thanks to a unique theme that will always keep you intrigued, there's rarely ever a time where you'll be bored.
So, should you play the Narcos slot? Absolutely. It's a very entertaining slot and with plenty of money available to its players.
Narcos FAQs
Where can I play a free demo version of Narcos slot?
You can play a free demo version of the Narcos slot here at MrGamez. We offer one of the largest selections of free online slots on the internet.
Can I play the Narcos slot machine for real money?
Yes, you can play the Narcos slot machine for real money at any accredited online casino.
Is it safe to play the Narcos online slot?
Yes, it is safe to play the Narcos online slot as long as you play at a trustworthy online casino.
What's the maximum payout on the Narcos slot game?
The maximum payout on the Narcos slot game is 1,506X your total stake.
References
Steve Murphy. Narcos Wiki. (n.d.). https://narcos.fandom.com/wiki/Steve_Murphy.


A brief history of the drug war. Drug Policy Alliance. (n.d.). https://drugpolicy.org/issues/brief-history-drug-war.
Game statistics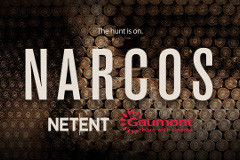 Players who played this game also played: