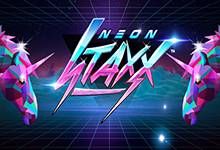 NetEnt
Neon Staxx
Rate this game:
Neon Staxx will transport you right back to the good old 80s as soon as you load it up, presenting you with a sonic and electronic theme tune. Not only that, but once you get to the actual reels, youu2019ll also find that thereu2019s something slightly different about them.
Play for free
Neon Staxx will transport you right back to the good old 80s as soon as you load it up, presenting you with a sonic and electronic theme tune. Not only that, but once you get to the actual reels, you'll also find that there's something slightly different about them. They're slanted! Yes, you'll get to spin reels of icons that have been tilted back a little, giving a whole new effect to this slot game. Furthermore, the product has been set out against a backdrop of a blue matrix world with pink skies, just adding to that retro effect. Being created by Netent, you'll no doubt be aware before loading up the game that it will feature some wonderful graphics. Neon Staxx doesn't disappoint in this area, offering up vibrant colours, precise imagery and an altogether compelling experience.
Feel That Retro Vibe
The reels may be slanted backwards, but they're not all that different in terms of layout when compared to a standard slot game. You'll be playing on a five reel and four row interface, and the icons included within the game are all very nicely designed. Of these, the usual additions of A, J, K and Q are all present, and making up the remainder are four different animal symbols. These exist in the form of a yellow coloured lion, a pink panther, a purple eagle and a blue coloured snake. Each of these icons is also designed in a different shape, with a hexagon, a square, a diamond and a triangle being relative to each animal. And with every winning combination formed during the main game, your ears will revel in the electronic tones of a resounding piece of music.
As well as its reels and rows, Neon Staxx includes a total of 40 separate pay lines. These are not able to be customised as they're fixed in place, but all players can alter their stake around by utilising the arrow buttons at either side of the 'Level' and 'Coin Value' sections. The former of these is able to be switched between one and 10, while the latter is able to be changed between its minimum of $0.01 and it increases up to $0.50 per active line. This allows all players the opportunity to place a maximum overall wager of $100 per round.
Some 80s Special Features
There are a couple of special features included in this game, with the first of these being the 'Wild' symbol. This is represented by the double circles and the huge word 'WILD' etched across it. These icons will substitute for all other symbols on the reels, with the exception of scatter icons, in order to make a winning combination.
Scatter symbols have also been added to this product, which are represented by the single green circle with a pink triangle in the centre. Scatters will pay out wherever they appear on the reels, and they also trigger freespins. If you manage to spin three scatter symbols, you'll receive a total of 10 freespins. If a total of four come in to view, you'll be given 15 freespins. And if five scatter symbols show up on the reels, you'll be on the receiving end of 20 freespins.
Finally, the best feature of this game is its 'Super Staxx' addition. This is a stack of symbols that appears on the reels. A randomly selected symbol appears in stacks at the beginning of each spin alongside the others. All five of the reels contain a number of adjacent positions that, for each of the new spins, are randomly replaced with one symbol from the pay table, except for the scatter icon. During the freespins round, only the animal icons or wilds will be randomly selected as the stacked symbol for the entire round.
Summarising Neon Staxx
Netent know how to create a great game, and this one is definitely up there with some of their best. Not only do you get to utilise the slanted reels and base game play, but there's also enough well done additional features of the product to ensure you're thoroughly entertained from start to finish. The retro theme works very well, and it's graphically and aurally packaged so well that you'll end up playing many rounds of this compelling and intriguing game.
Game statistics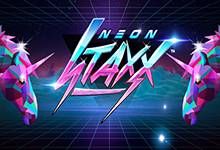 Players who played this game also played: