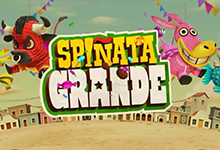 NetEnt
Spiu00f1ata Grande
Everyone who knows of Mexico u2013 and letu2019s be honest, who doesnu2019t? u2013 will know of some of their traditions and customs. One such tradition is that of the piu00f1ata.
Play for free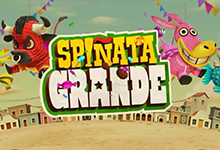 NetEnt
Spiu00f1ata Grande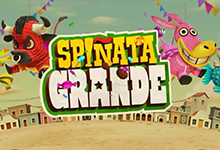 NetEnt
Spiu00f1ata Grande
Unfortunately, this game is not available in your location
Why am I getting this message?
Thank you for informing us. Our engineers will work to fix the problem as soon as possible.
Get notified by email when this game is fixed
Thank you. Our engineers will inform you when the problem has been fixed.
Try these similar games instead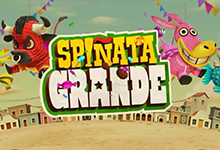 NetEnt
Spiu00f1ata Grande
Rate this game:
Everyone who knows of Mexico u2013 and letu2019s be honest, who doesnu2019t? u2013 will know of some of their traditions and customs. One such tradition is that of the piu00f1ata.
Play for free
Report a problem with this game:
Spiñata Grande Slot Review
Everyone who knows of Mexico – and let's be honest, who doesn't? – will know of some of their traditions and customs. One such tradition is that of the piñata. These are usually made of papier-mâché, which is then decorated and filled with small toys or candy, and is then broken with a long stick as part of a ceremony or celebration. It's quite customary to find them at birthday parties, for example. Such imagery has found its way on to the reels of one of Netent's games, that being Spiñata Grande. The game itself opens up with a video package of a dusty Mexican street, before jumping straight into the fun and excitement of the reels. You'll still get glimpses of the Mexican town though, as balloons rise through the air in the background, and various vehicles and people make their way down the streets. There's definitely a celebration in town, as there's a strong selection of coloured buntings hanging at either side of the game's reels, and every time you press the 'Spin' button, you'll be played an acoustic guitar-based piece of music.
How Does It All Lay Out?
This game provides players with a layout of five reels and four rows, which is almost offering up a square shape. It might all look fairly familiar in the first instance, although the colossal symbols may comes as quite a surprise, but we'll get to those shortly. The icons on the reels are all piñatas, and they're all in the shape of a different animal. So, you've got the yellow and green striped parrot, the blue sombrero-wearing fish, the angry red bull, the vibrantly coloured star and the smiling pink donkey. Each of these have been designed very delicately, and they're accompanied on the reels by the standard A, J, K, Q and 10 symbols, which are not in piñata form.
In addition to such an interface, players also have the chance to place wagers on a total of 40 different pay lines, and these cannot be customised in any way. However, you do have the chance to customise your stake placed per round, which is done by using the buttons at either side of the 'Level' and 'Coin Value' boxes. The former of these can be altered between one and 10, while the second is able to be changed between its minimum of $0.01 and up to $1 per line. Therefore, if everything is stretched to its maximum level, players can place an overall high wager of $200 per round. The 'Max Bet' button automatically sends it to this level, while the 'Auto Play' button allows you to the chance to spin the reels up to 1000 consecutive times at the same bet level.
A Mexican Feast of Specialities
So, we mentioned earlier on that this game includes something known as 'Colossal Symbols'. These are basically the standard icons, but in huge form. During the base game, all symbols have the chance to appear as colossal versions of themselves, and this will stand as either a 2×2 block or a 3×3 block overlaying on the reels. During the freespins round, the only colossal symbols included on the reels are the Colossal Bonus, the Colossal Wild and the 3×3 Animal piñatas.
And speaking of the Colossal Wild, this is represented by the huge skull piñata, which has roses in its eye sockets. This will only appear during the freespins round, and is one of the 3×3 symbols. It will substitute for any other icon on the reels, except for the bonus symbols.
The great thing about Spiñata Grande as well, is that it incorporates its own 'Mini-Slot Feature'. The Colossal Bonus icon, which is represented by the slot machine wearing a sombrero, is what will trigger it, and depending upon how much of this icon is in view will determine whether it turns into three, six or nine individual mini-slot symbols. It's via this feature that you're also able to trigger the freespins round, as well as collect coins for extra winnings.
During the mini-slot feature round, the multi-coloured star piñata is added to the reels, and if three of these should show up in any position, you'll begin the freespins round. Three of these will award you with five freespins, and for every 'Extra Spin' symbol appearing, an extra one is provided to you on top.
Innovation and Intrigue
Spiñata Grande is one of Netent's most popular games, and when you play it, it's clear to see why exactly. It offers up amazing graphics, a wonderful theme, and its special features are considered innovative and fresh. It all comes together to form one of the greatest online video slots available today, especially thanks to its huge symbols.
Game statistics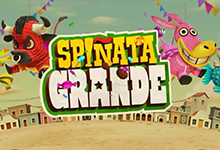 Players who played this game also played: