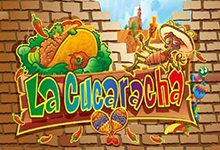 Nextgen Gaming
La Cucaracha
The spice of Mexico is calling out to us in this unconventional animal themed slot machine called La Cucaracha.
Play for free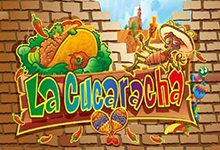 Nextgen Gaming
La Cucaracha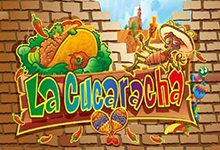 Nextgen Gaming
La Cucaracha
Unfortunately, this game is not available in your location
Why am I getting this message?
Thank you for informing us. Our engineers will work to fix the problem as soon as possible.
Get notified by email when this game is fixed
Thank you. Our engineers will inform you when the problem has been fixed.
Try these similar games instead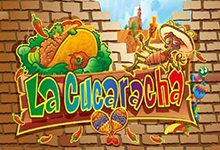 Nextgen Gaming
La Cucaracha
Rate this game:
The spice of Mexico is calling out to us in this unconventional animal themed slot machine called La Cucaracha.
Play for free
Report a problem with this game:
La Cucaracha Slot Review
The spice of Mexico is calling out to us in this unconventional animal themed slot machine called La Cucaracha. What makes this slot even more unusual is that the phrase that makes up the title is actually a Spanish folk song, and while Spain and Mexico used to be connected until the 1800s, they aren't now. Hopefully NextGen's questionable geography doesn't hinder the experience here.
As this is a style based on all that is Mexican, the grid is a celebration of various customs and cuisines, with the chilli taking centre stage of flavour and importance. This is a real cash slot that is filled with flavour, meaning you get a satisfyingly hot playthrough rather than a lukewarm one.
Feeling Hot Hot Hot
So what are you getting for your money when you play this title? After all, you're betting anywhere from 0.25 all the way to 500 credits, which isn't exactly cheap once you get to the top end. Well, what you get is a bonus feature that is as hot as they come, quite literally. This special has no unique name, but maybe it doesn't need to have one because of how interesting it is.
When the chilli icon shows up on the middle 3 reels, you'll enter into the mini game, where you'll be presented with a festival scene. As surprising as that is, this location is designed to help you fill up that meter you can see, called the Chilli-Ow! Meter. You select from the stalls present, and on your last selection the power of the heat generated will result in a prize for you.
Unusual Musician
We all know that music can come from unlikely sources, but we didn't expect to see a cockroach playing for us this evening. This icon is the scatter and so it's the only way to access the extra spins, the second feature of the paytable. Gamers won't be blown away with the depth here, for they'll only be gifted 10 games. However, all the wins will be doubled, which is a nice touch for such a basic bonus round.
The games can be retriggered during this time, and they can also play the bonus icons, which means you could go from one feature straight into another. That would require a lot of luck on your part, but seeing as the RTP is 95.33%, you shouldn't be struggling to make the gameplay work in your favour.
Hopping Mad
From bugs playing instruments to frogs being hunted, we're all about keeping you on your toes. Frog Hunter from BetSoft Gaming is a fantastic animal themed real cash slot that, we feel, is the perfect follow on from the gameplay you get here. It's unique like La Cucaracha, it has variance, and it looks great. If that isn't a winning combination, we don't know what is.
Despite so many similarities, Frog Hunter is much smaller in size, which means you have a higher volatility to contend with; the less lines you have, the harder it is to create a winning line. The reason being is you have less opportunities presented to you. However, we find that we can deal with the increase in difficulty due to the fun design of the game. If Frog Hunter isn't for you, why not try Cat In Vegas by Playtech; it's another kooky title.
Sore Taste Buds
After playing La Cucaracha, you're likely going to have a burning tongue and lips, such is the heat of the chillies used. NextGen have created another great slot machine, however we're really struggling to look past the name and the theme – they don't gel. A mistake, if this is one, shouldn't be made like this when you're dealing with such a well-established brand. Nonetheless, in all honesty the title is of little importance when you look at the paytable and how cheap this real cash slot is.
Game statistics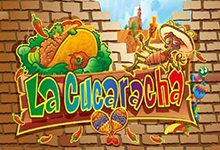 Players who played this game also played: