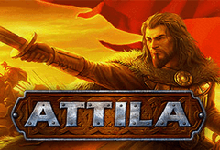 Novomatic
Attila
Attila slot machine from Novomatic is loosely based on Attila the Hun u2013 the brave warrior who was fearless in his quest to rule the world.
Play for free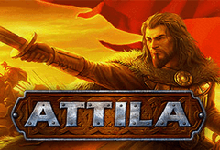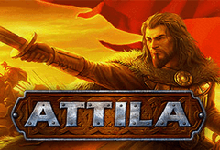 Unfortunately, this game is not available in your location
Why am I getting this message?
Thank you for informing us. Our engineers will work to fix the problem as soon as possible.
Get notified by email when this game is fixed
Thank you. Our engineers will inform you when the problem has been fixed.
Try these similar games instead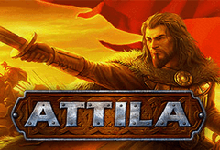 Novomatic
Attila
Rate this game:
Attila slot machine from Novomatic is loosely based on Attila the Hun u2013 the brave warrior who was fearless in his quest to rule the world.
Play for free
Report a problem with this game:
Attila Slot Review
Attila slot machine from Novomatic is loosely based on Attila the Hun – the brave warrior who was fearless in his quest to rule the world. He travelled the length and breadths of various countries – from the deepest depths of the Baltic sea to the Danube rivers and wouldn't let anyone or anything stop him. He would take down anyone who stood in his way whilst taking their possessions.
Do you have what it takes to battle Attila and stop him in his tracks? If you are brave enough to battle it out on the reels you may be rewarded with up to an impressive 1,000,000 coins, thanks to the non-progressive jackpot that's on offer.
Battles can commence from as little as 0.09 a spin or as much as 90.00 a spin as you voyage around the world in the search for riches and uncovered treasures.
Attila was released way back in 2007 and can be accessed via desktop, mobile and tablet devices without having to download any software.
Theme
With Attila being based on Attila the Hun, the theme of this slot machine is in-keeping with the topic its based upon. Attila was probably the most successful Barbarian ruler of the Hunnic Empire from 434 until 453, so the reels and symbols that feature on them will represent this theme. The slot machine itself is designed to look like a real arcade slot machine with various buttons – these buttons look exactly like they would be on a slot machine in an arcade; big and bulky. The reels are sandy brown in colour with the paylines highlighted to the left and right. Behind the reels you get a great view of the hot, sandy deserts with an evening sky looming. Now, when it comes to the symbols on the reels, you will encounter two different warriors, arrow fighters, Attila himself, flame arrow throwers, a serene lake, a battlefield and card values of 9, 10, J, Q, K and A.
To the lower of the reels is the control panel featuring 10 different buttons, from left to right are; paytable, 1 line, 3 lines, 5 lines, 7 lines, 9 lines, bet one red, bet max black, start and automatic start.
Statistics of the Game
There are 5 reels and 9 paylines. You can filter through the paylines to either play one or all 9 – the choice is yours. Minimum bets are 0.09 for maximum paylines whilst maximum bets for all 9 paylines is 90.00.
Spin in five of Attila symbols on your active payline to be rewarded with an eye-watering 1,000,000 coins. This is the non-progressive jackpot total offered for betting maximum stakes.
An instant win of 225,000 coins can be awarded for triggering three scatter battlefield symbols.
Fighting Features
For an online slot machine that offers such a huge non-progressive jackpot, there are limited features on offer. There are two features offered which allow for some big wins. Take the scatter symbol (battlefield) – it will award a scatter bonus of up to 225,000 coins for triggering at least three on your reels. Not only that but it offers 16 free spins at your current stake. Free spins can be re-triggered whilst you are playing through your free spins.
Last but not least is the gamble feature. Any win that you spin in on the reels allows you to gamble for more. All Novomatic slots machines feature the same gamble feature that's based on a deck of playing cards. If you wish to gamble for more, click either the red bet one or black bet max button to the lower of the reels. A new screen will emerge with a deck of cards for red and a deck of cards for black. Above these are other cards that have previously been drawn, these are placed face up to allow you to try and guess what the next suit will be. You can either press the red or black cards on the screen or the two buttons on the slot machine itself. Guess correctly to double your cash and you can keep guessing to accumulate more money – but guess wrong just once and lose everything.
Our Verdict
Attila slot machine is a medium to high variance slot machine that can make for some eye-watering returns. Trigger the free spins bonus and you could win stacks of cash and even more free spins before you've even played them out. There is a serious lack of features, but the non-progressive jackpot and instant wins of up to 225,000 coins is enough to tempt anyone to play.
Game statistics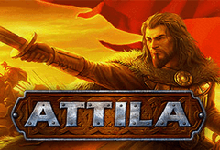 Players who played this game also played: