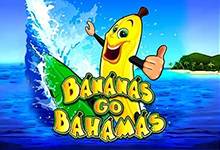 Novomatic
Bananas Go Bahamas
Rate this game:
In a weird and zany world somewhere, pieces of fruit are packing their bags and taking off on holiday. Or at least, thatu2019s what u2018Bananas Go Bahamasu2019 would have you believe.
Play for free
In a weird and zany world somewhere, pieces of fruit are packing their bags and taking off on holiday. Or at least, that's what 'Bananas Go Bahamas' would have you believe. Ever wondered what a pineapple sunbathing would look like? Or a strawberry downing a daiquiri? Actually, have you ever wondered how a piece of fruit would look with eyes, mouths, arms and legs? Quite a scary prospect if you ask us. But don't worry, all the fruit in this game seems to be having a fun time while on their holidays, and why shouldn't they? After all, what's better than being next to the sea and in the sun? Well, for a piece of fruit it could be bad news, but purée is good as well, right?
Extreme Sports and Fruits in Shorts!
One thing we will say about this game is that it's totally fun to play. I mean, the icons presented on the reels are reason enough to have a few spins. You see, you'll find a strawberry busy water skiing, a coconut playing the bongo drums and a pineapple looking fed up while in the middle of a blow up ring. A mango is readying itself to jump into some scuba diving while a watermelon has placed itself nicely in a hammock for an afternoon snooze. Quite odd upon first glance, but ultimately hilarious. There's also the title character of the banana who doesn't really appear to be doing much other than crazily wandering down the beach.
The game itself is made up of five reels and three rows and takes place with the edges of an actual machine showing to give you a more authentic video slot experience. Novomatic have added a total of nine pay lines in to the product as well, although this can be customised if you'd prefer to wager on fewer. You also have the chance to alter the amount you wager per line as well, either by using the 'Bet One' button to increase the amount by a single credit, or by using the 'Bet Max' button to send it up to the maximum amount in one go. In this game, the coins range from one to nine per line, so if you have all nine pay lines active, you'll be placing a maximum overall wager of $81 per spin.
Speciality Smoothies
Games of this nature don't tend to have so many extras added into them. However, Bananas Go Bahamas offers up a nice enough choice, starting off with the image of the banana itself. While merrily strolling along the beach, he acts as a wild symbol, substituting for just about all the other icons on the reels to make a winning combination. The only exception to this rule is the scatter. Should one contribute to a win, it will double the prize pay out as well.
As mentioned, there's also a scatter icon involved in game play, which is represented by the brown suitcase. Should three or more of these appear in any location during a spin, you'll be rewarded with 45 freespins of the reels. Freespins can be re-triggered during the round as well.
There's also a gamble feature included in the game, which is triggered at the end of each win created in the main game. This allows you to either collect the winnings as they are or gamble them for a double up. Choosing to do so will present you with a miniature side game of 'Guess the Colour of the Card'. The name speaks for itself, requiring you to guess the colour of the next playing card turned over. Guess correctly and your winning balance will be doubled. Guess wrongly and you'll lose it all.
Time to Relax by the Sea…
It's fairly odd to think of fruit on holiday, as already stated, but getting past such strange themes will present you with an intriguing game to play. The special features that are included are decent enough, offering up a more compelling and appealing product on the whole. While not being anywhere near other games in terms of graphics included, the product itself is unique in its own sort of way thematically.
Game statistics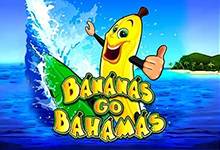 Players who played this game also played: