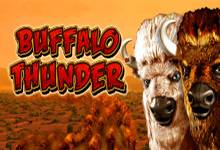 Novomatic
Buffalo Thunder
Rate this game:
Itu2019s common knowledge that animals are used fairly frequently when it comes to online slot game themes. And why not? Thereu2019s a huge amount of species out there, all of which can have products built around them.
Play for free
It's common knowledge that animals are used fairly frequently when it comes to online slot game themes. And why not? There's a huge amount of species out there, all of which can have products built around them. And because of the diverse choice of animals, it may be quite odd to realise that Novomatic decided to craft a game based on the buffalo. Within this species are several sub-species, providing a large group within a group to base a game around, from African buffalo all the way through to Tamaraw and wild water buffalo. However, it appears that rather than introduce several of these bovine creatures to its reels, the developer has focused on a single one, which is the general image of a buffalo that most people tend to picture in their minds. Unfortunately, as seems to be a recurring issue, Novomatic have failed to incorporate any sort of theme music into the product, leaving it feeling a little lack lustre on that front.
Witness the Buffalo Stampede…
The game features a five reel and four row layout, providing an interface with a very slightly different view from the regular for gamers. It's filled with the standard A, J, K, Q and 10 icons though, as well as offering up some symbols of the animal in question in various different stances. In addition, you'll see that the reels have rocks as icons, which bear imprints of a couple of other creatures, including an eagle and a lizard. While the fact that these images don't really have any sort of relation or relevance to the title of the game, they are animated in a nice enough way when forming part of a combination.
As well as the reels and rows, the game has had 40 different pay lines integrated into it, all of which can be customised at the player's preference. The option to change the wager you place per spin can also be taken advantage of, with the bet per line starting from its minimum of $0.01 and being able to be altered up to $1 at its peak. Should all 40 pay lines be active, players will then have the opportunity to place a maximum overall wager of $40 per spin.
…Because They'll Want to Feed
This game's logo acts as its wild symbol, and appears in the game stacked. Therefore, it will stand in for all other icons on the reels, except for the scatters. And with it being stacked like it is, players have a stronger opportunity to craft multiple winning combinations.
In addition to this, a scatter icon also exists within the game. This is represented by the buffalo totem head, all painted and crafted from wood. These will offer up a multiplier of your wager placed wherever they appear on the reels, and furthermore, they have the power to trigger five freespins alongside. Triggering this is done when three of them show up on reels two, three and four in scattered positions. Freespins can also be re-triggered during the feature.
There is also a gamble feature integrated into the product as well, which is triggered at the end of every winning combination created in the base game. This allows you the opportunity to gamble said winnings in a game of 'Guess the Colour of the Next Turned Over Playing Card' – not its official name, but let's go with it. Novomatic has this mini game added to just about all its products, so if you've played them before, it should be fairly familiar to you. You're basically presented with a deck of playing cards, and you need to guess the colour of the next one which is turned over. Correct guesses will double your winnings.
Go Wild!
Buffalo Thunder isn't really the stampede that its expected to be upon hearing its name. Instead, it presents a game with standard graphics, awful arcade noises and limited special features when compared to the vast majority of products out there today. Freespins are fine to have included in a slot, but there should be more than five added for sure, and a bonus feature here or there wouldn't go a miss either.
Game statistics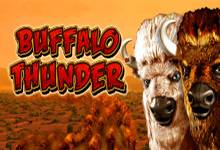 Players who played this game also played: