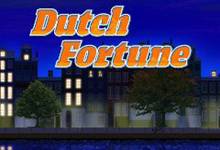 Novomatic
Dutch Fortune
Inspiration is pretty hard to find within the world of online slots, as developers are often left scrambling around to find themes to use.
Play for free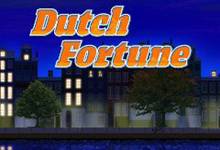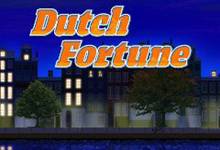 Unfortunately, this game is not available in your location
Why am I getting this message?
Thank you for informing us. Our engineers will work to fix the problem as soon as possible.
Get notified by email when this game is fixed
Thank you. Our engineers will inform you when the problem has been fixed.
Try these similar games instead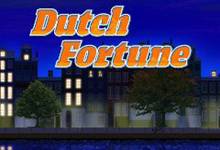 Novomatic
Dutch Fortune
Rate this game:
Inspiration is pretty hard to find within the world of online slots, as developers are often left scrambling around to find themes to use.
Play for free
Report a problem with this game:
Dutch Fortune Slot Review
Inspiration is pretty hard to find within the world of online slots, as developers are often left scrambling around to find themes to use.
Novomatic is a developer that has certainly covered a lot of subject matters through its games over the years, but the brand's latest creation certainly proves to be a new one on us, as it features imagery from Holland, one Europe's most picturesque nations. Dutch Fortune is game that takes players on a costal journey through the Netherlands, taking in the windmills, canals, and townhouses as you go.
Let's be honest, a game about the costal sights of Holland is hardly going to go pedal to the metal with action, but Novomatic hasn't created this game for that purpose. What Dutch Fortune is intended to be is a filler title to pass an hour or two with, as it prioritises a more relaxed approach to online slots action.
Watching the Bikes Go By
Is Dutch Fortune a powerhouse when it comes to graphics? The answer to that question is certainly a no, but that doesn't mean that it doesn't have something to offer visually. The game is laid out like an old-fashioned, one arm bandit style, pub fruit machine, with the huge reels taking up most of the screen. Looking beyond the reels, what you'll find is a sunny view of Holland, with bicycles riding by on the streets. Dutch Fortune's theme is actually something rather quaint and enjoyable.
You'll find that the charm of Dutch Fortune spills over onto the reels, as its symbols are also pretty easy on the eye. Addressing specifically what you'll find here, the classic low value symbols have all been given a Dutch touch up, with such complimented by golden windmills, yellow windmills, clogs, and yellow tulips.
Taking in a Little Bit of Culture
Edge of your seat gameplay isn't the strong suit of Dutch Fortune, as the game just isn't that way inclined. However, it does its best with the 3 reels and 5 paylines that it is able to offer up. The max payout within Dutch Fortune is actually an incredibly impressive 1,600,000 coins, which becomes accessible when you play with the maximum wager.
If you have your heart set to scooping the biggest prize in Dutch Fortune, you'll need to find several orange windmills within an active payline. Outside of the top payout, the yellow tulips are able to deliver a secondary prize of 400,000, which is by no means a small amount of money.
Double Your Money
Novomatic hasn't built its reputation as a developer off the back of exhilarating bonus features, so you would be right in thinking that Dutch Fortune doesn't have a huge amount to offer in this department. The main bonus feature is simply a gamble round. Through this you have a 50/50 shot at doubling your money, to do this you simply have to guess the next colour of card to emerge from the deck on screen. To be honest, this is far from an exciting bonus feature and thus does very little to ensure replayability.
On top of the gamble round, Dutch Fortune does feature bonus and scatter symbols too, so instant payouts and free spins are accessible in this Novomatic release.
To Holland and Back
When you load up a Novomatic title, one thing you can be sure of is that the controls put in place will always favour the player. The developer favours simplicity through its UI and that's certainly the case in Dutch Fortune, as the game can be played with minimal fuss.
Load up the game, set your bet, hit spin, and you'll be well on your way to experiencing all that Dutch Fortune has to offer.
Experience the Tranquil Touch of Dutch Fortune!
Dutch Fortune may not be the firing on all cylinders slots release you've been waiting for, but this medium variance game does have something to offer players. What this game ushers in is a relaxing real money slots experience, with thrills being forgone in favour of something a little more easy going.
By no means a show stealer, but certainly worth a look, Dutch Fortune is a happy go lucky, Holland-inspired gem.
Game statistics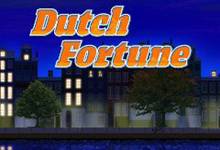 Players who played this game also played: