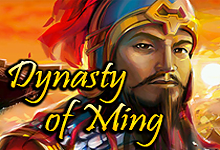 Novomatic
Dynasty of Ming
The Ming dynasty, also known as the Great Ming or the Empire of the Great Ming, was the ruling dynasty of China for 276 years between 1368 and 1644.
Play for free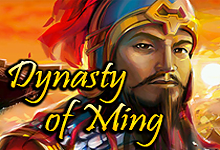 Novomatic
Dynasty of Ming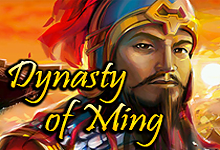 Novomatic
Dynasty of Ming
Unfortunately, this game is not available in your location
Why am I getting this message?
Thank you for informing us. Our engineers will work to fix the problem as soon as possible.
Get notified by email when this game is fixed
Thank you. Our engineers will inform you when the problem has been fixed.
Try these similar games instead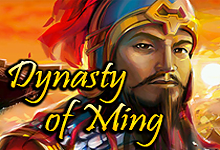 Novomatic
Dynasty of Ming
Rate this game:
The Ming dynasty, also known as the Great Ming or the Empire of the Great Ming, was the ruling dynasty of China for 276 years between 1368 and 1644.
Play for free
Report a problem with this game:
Dynasty of Ming Slot Review
The Ming dynasty, also known as the Great Ming or the Empire of the Great Ming, was the ruling dynasty of China for 276 years between 1368 and 1644. The era was ushered in following the collapse of the Mongol-led Yuan dynasty, and the Ming dynasty was described by many as "one of the greatest eras of orderly government and social stability in human history". It was also the last dynasty in China which was ruled by ethnic Han Chinese. Such a prominent epoch in days gone by has now been somewhat immortalised in this online video slot from Novomatic, providing gamers with a little more insight into their power. Unfortunately, the developer tends to ruin many of their games by installing a monotonous, frequently-used soundtrack into it, which doesn't sound anywhere near relevant to Chinese history, and instead invokes imagery of a 90s arcade game.
Know Your Chinese History…
There's nothing specifically new or different about the layout of this game when compared with others. It still has a five reel and three row interface, and this is set against a backdrop of a sun setting over an ancient Chinese city. These reels are filled with various different icons, all of which relate to the theme of the game. So, you'll get to spin through symbols of festival dragons and statues of the same mythical creature, ancient Chinese urns, jewellery and vases, as well as two character symbols. One of these is the beautiful, regal princess, while the other is that of a dashing knight set for battle. Each of these picture icons are very nicely animated when included in a win, and are joined by the standard A, J, K, Q and 10 icons.
Novomatic have also added a total of nine separate pay lines into the game, although you can opt to wager on less by using the buttons at the bottom of the screen. This allows you to have one line active, three lines, five lines, seven lines or the full nine. Meanwhile, you're also able to change the value per credit. A single credit can be changed from being worth $0.50, $1 or $2, and furthermore, the amount of credits you wager per spin can also be changed from the minimum of one up to the maximum of 100. Therefore, if you have both of these at their maximum settings, the highest bet you're able to place per round is equal to 900 credits.
Creating a Dynasty Worth Remembering
The special features of any game are what tend to make it more appealing, and Dynasty of Ming has a few of its own on offer. This starts with the icon of the knight, which we mentioned previously. This symbol is the game's wild, and when appearing on the reels, it will substitute for all other icons, except scatters, to make a winning combination. Furthermore, it will double your prize money when included in a win.
The festival dragon is this game's scatter symbol, and this pays out wherever it appears on the reels. Should you manage to spin five of these across the reels, you'll be rewarded with up to 450,000 credits! In addition, three or more of these icons making an appearance will trigger the freespins round, with a total of 15 being awarded. All freespin wins will also receive a triple multiplier. Freespins can also be re-triggered during the round.
Finally, the developer's ever-present gamble feature has also been included in this game as well, which is activated at the end of each winning combination achieved. This allows you the chance to play a side game in order to increase the winnings. Should you opt to do so, you'll be presented with a deck of playing cards, and you'll need to guess the colour of the card which is next to be turned over. Getting it right will double up your winnings.
Prepare to Rule Over China!
The Dynasty of Ming slot game offers up a wonderfully themed game, with delicately designed icons and particularly intriguing game play. Not only that, but its freespins and wild features are a great addition. It's a point we keep going back to, but Novomatic's products are very much affected by the desire of the company to continue using the same arcade tunes over and over, and unfortunately, this one falls into the same category.
Game statistics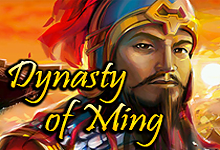 Players who played this game also played: