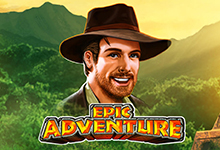 Novomatic
Epic Adventure
Thereu2019s no point going on an adventure if itu2019s not preceded with the word u2018epicu2019.
Play for free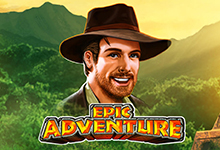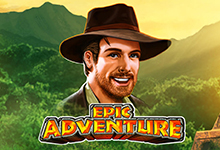 Unfortunately, this game is not available in your location
Why am I getting this message?
Thank you for informing us. Our engineers will work to fix the problem as soon as possible.
Get notified by email when this game is fixed
Thank you. Our engineers will inform you when the problem has been fixed.
Try these similar games instead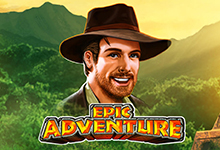 Novomatic
Epic Adventure
Rate this game:
Thereu2019s no point going on an adventure if itu2019s not preceded with the word u2018epicu2019.
Play for free
Report a problem with this game:
Epic Adventure Slot Review
There's no point going on an adventure if it's not preceded with the word 'epic'. We mean, who wants to go on an 'alright' adventure? This free Epic Adventure slot machine might just give you the adrenaline rush that you crave by taking you deep into the heart of an uncharted jungle temple where lucky spinners can take home a progressive jackpot prize.
If we had to be honest, we'd probably say that the online slot by Novomatic could actually be a little bit more adventurous when it comes to the quality of the design and the gameplay. However, we are sure that players will be attracted by the relatively simple no-payline spinning action in which the aim is to simply find scatter symbols across the 5 reels.
A Spinning Quest
They say that "life is an adventure." Well, that doesn't really apply if you spend your days sitting about not doing anything! Playing this Epic Adventure video slot might not be the real deal quest for long lost treasure that would be worthy of Indiana Jones, but it might just get your adrenaline going more than watching daytime television! Set in the heart of a tropical rainforest, the game follows a rugged-looking hero as he searches for the sacred treasures of a forgotten civilisation. This treasure appears to consist of nothing more than a load of strange little green statues – whatever floats your boat.
It has to be said that the game's design is relatively bog-standard with just two different symbols on the reels making the gameplay a little bit monotonous. Plus, while the game's appearance is perfectly clear, sharp and colourful, there are no really eye-catching animations or 3D graphics which will make a punter choose this title over a more modern and contemporary release.
15 Adventurers = Progressive Jackpot
Even though the reels might not be truly epic to look at, the slot sure does serve up plenty of chances to secure some riches on your spinning travels. With no paylines at all, the aim of the game is to simply find at least five or more adventurer icons in scattered positions across the reels to receive a total bet multiplier prize. The smallest prize on offer is worth 1x the value of the bet and it goes up in fairly steady increments to 100x for 14 scatters on the reels.
If you manage to find a full house of fifteen symbols on the reels then you will get your hands on the progressive jackpot prize pot that keeps on growing until one lucky gambler makes the right spin at the right time. Punters will also get a small 1x total bet prize if they find 15 green statue symbols.
The size of the progressive jackpot is determined in accordance to the size of the total bet that is in play. So, the bigger your wager, the bigger your ultimate jackpot-winning potential will be. The bets on offer in this slot begin at 40 credits and go up to the max bet 10,000 credits, making it a true test for high rollers.
Bag A Bonus Boost
If you expect this adventure themed slot machine to be laced with bonus booby traps and truly epic side games, then think again. In fact, the bonus features of the game are rather limited in comparison to other real money online slots, although spinners will be treated to 1 free spins whenever seven or more adventurer icons fall onto the reels.
On top of that, players will be able to break up the spinning action by activating the 50/50 gamble game. This feature can be started after every winning spin and players will be rewarded for correctly guessing the colour of a face-down playing card with double their money from the winning spin.
Plenty of Adventures to Be Had
Online slots promise to take punters on all sorts of adventures and there are plenty of options out there from Novomatic software. Perhaps one of the biggest games in the company's roster is Book of Ra, a slot that is set in the tombs and crypts of the Egyptian Pyramids and you can find other similar slots available to play for free such as Book of Maya, Aztec Power and Jungle Explorer.
Pack your Bags!
You will definitely find more exciting adventure slots available to play online than this Epic Adventure game from Novomatic. However, few 5-reel video slots out there have such unique yet simple gameplay in which the aim is to find matching scatters across the reels instead of lining up payline formations. Plus, a slot is always worth a spin when there's a progressive jackpot involved. You can even play Epic Adventure on mobile devices with no download needed.
Game statistics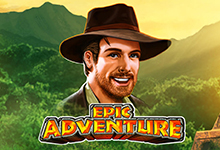 Players who played this game also played: