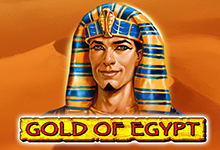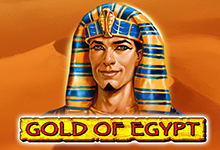 Unfortunately, this game is not available in your location
Why am I getting this message?
Thank you for informing us. Our engineers will work to fix the problem as soon as possible.
Get notified by email when this game is fixed
Thank you. Our engineers will inform you when the problem has been fixed.
Try these similar games instead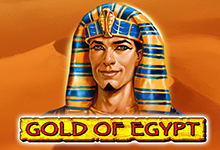 Novomatic
Gold of Egypt
Rate this game:
Report a problem with this game:
Gold of Egypt Slot Review
Is it possible that the pyramids were constructed as spaceship landing ports for the interstellar craft of an ancient race of Egyptian aliens? Could it be that the culture of ancient Egypt was seeded on our planet by mysterious travellers beyond our limited knowledge and understanding? Were the Pharaohs themselves other-worldly creatures brought to our system in search of treasure and gold? It might seem like far-fetched nonsense but consider this: in the 4,500 years since the pyramids were built, scientists have been unable find conclusive evidence which proves we were not visited by ancient aliens.
In Gold of Egypt by Novomatic you can play for real money to win more Earthly bound rewards. With a computer, iPhone or Android phone you can start gambling today, no matter whether you are a human or an alien. You don't need any special skills to do so; just decide firstly how much you'd like to wager and then press the start button with a finger or a tentacle depending on what you have available.
Take Off to Egypt
On first appearances, this Egyptian-themed slot is nothing particularly special. Against a background of the Egyptian pyramids there is a variety of symbols each with their own payout value. The symbols themselves are nicely rendered including a male and female Pharaoh and the golden cast of the head of Tutankhamun. So far, so normal. It is only when you take a closer look that you notice that Gold of Egypt has no paylines. In their place, every symbol is considered a scatter symbol meaning the game plays as a 15×1 video slot. There is no need to line up symbols into any particular configuration, instead you only need to match four or more symbols to win.
In this slot ,15 matching symbols results in a jackpot, relative to the symbol value. Q, J or 10 delivers 10% of the jackpot, 15 jewels 20%, and so on until you reach 15 matching Pharaohs which delivers the maximum payout. That however, is not the only way to strike it lucky and take the full pot, as the gamble feature offers an alternative. Upon any win the gambler is offered the choice to collect or to gamble.
Selecting the gamble feature presents the gambler with an inverted isosceles trapezoid with flashing bars. To put it another way, it looks very much like a volume control with the maximum volume level at the top. Each time you successfully gamble you rise another level on the gamble-o-meter and one step closer to the jackpot. There are ten bars on the gamble meter for those punters who are brave, stupid or just plain lucky enough to chance everything on a coin toss.
Scatter Xzibit
Gold of Egypt also has a free spins feature which is triggered by the golden death mask of Tutankhamun. In order to activate this feature 3 or more Tutankhamun masks must land within the 15 reels making the Tutankhamun mask the scatter symbol inside the scatter symbols so you can scatter symbols while you scatter symbols.
Once activated one symbol is chosen to be the bonus symbol for the length of the feature. In the following ten spins, each time a bonus symbol lands it locks into place. The feature then spins again until all spins are complete or every symbol is the bonus symbol. There are no repeat spins possible in this feature.
Egypt See Egypt Do
If you love Gold of Egypt so much you just can't get enough of it, but at the same time want to get something else, there are a plethora of Egyptian slots waiting for you. One of the best examples is Queen Cleopatra which shares both style and theme. The game mechanics however are very different with it being a classic video slot. For a 15×1 styled experience the game Epic Adventure fits the bill complete with a hero who very much looks like Indiana Jones, but due to international copyright laws is absolutely not Indiana Jones. The only other minor change you will notice is that instead of basing the game around the culture of the Egyptians it is based instead upon the Aztecs.
Ships to Port
Gold of Egypt is an excellent video slot which is benefited by its strong game mechanics, excellent appearance and an interesting bonus feature. The gamble feature might not be as interactive as some punters might like, but it does offer a clear path towards the big jackpot and final victory. You might not want to cross the galaxy to play it, but since you can have it beamed directly into your home or phone you really don't need to. That's one in the eye (if they have any) for so-called advanced ancient aliens.
Game statistics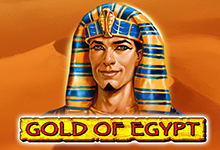 Players who played this game also played: