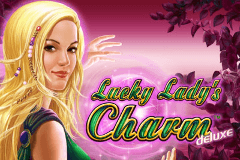 Novomatic
Lucky Lady's Charm Deluxe
Rate this game:
The theme of luck in online slots is a regularly appearing one, with many slots drawing in players who are somewhat superstitious about their chances of winning.
Play for free
The theme of luck in online slots is a regularly appearing one, with many slots drawing in players who are somewhat superstitious about their chances of winning. Virtually every player could do with some form of lucky charm during the course of their play, and Novomatic's entry in the genre of lucky slots is Lucky Lady's Charm Deluxe, a well-known online slot game that started out in land based casinos around the world before being adapted for an online audience (and with the Lucky Lady's Charm app now for your smartphone).
As part of the highly appreciated Deluxe range of online slots, players can be assured of high resolution graphics, excellent audio features and classic gameplay that has benefited from a number of tweaks since the release of the land based original.
Lucky Lady's Charm Deluxe Theme
As the name of the slot would suggest, Lucky Lady's Charm Deluxe is all about bringing good luck to the reels and players will find a number of internationally renowned lucky charms adorning the reels in the form of symbols. As with many online slots, a female central character usually means a pink theme, and the reel background is exactly that, although Novomatic has opted for a duskier pink than normal which is actually rather aesthetically pleasing. The reels themselves boast a simple plain white background, meaning that it is the symbols that stand out.
Among these symbols is the Lucky Lady herself, together with all manner of lucky items ranging from the Horseshoe symbol to the Four Leafed Clover. Even the Gold Coin and Lucky Rabbit's Foot make an appearance, ably backed up by the standard playing card symbols that will be extremely familiar to regular players.
Gameplay and Prizes
Behind the colours and images of the theme, players will see that Lucky Lady's Charm Deluxe is based on the same basic slot layout as the vast majority of Novomatic's other titles. True to form, the gameplay itself will also be extremely familiar with little by way of surprises, although the inclusion of a 9,000 coin jackpot is somewhat uncommon and naturally a welcome addition to typical Novomatic slot gameplay.
Win lines are capped at ten but are fully adjustable, with a single coin placed on each. Stake wise, players can choose from between $0.04 and $10 per line, which of course translates into a typical maximum spin bet of $100. Jackpot hunters in particular will want to seek out Lucky Lady's Charm Deluxe as the standard maximum bet combined with an outstanding jackpot can mean huge wins in short order for the luckiest players. Of course, such jackpot hunters need not look far, as you can play Lucky Lady's Charm Deluxe right here at Mr Gamez.
Features and Bonuses
While a significant amount of effort has clearly gone into the theme on Lucky Lady's Charm Deluxe, Novomatic has never been the type of company to focus solely on one area and the slot is as feature packed as always. From basic features such as the Gamble game to more exotic, profitable options, Lady Luck's Charm has pretty much everything covered.
First up is Lady Luck herself who, unsurprisingly, acts as the wild card in her own game. Novomatic is not widely known for including wild multipliers in its games, but Lucky Lady's Charm Deluxe bucks this trend as the Lady doubles all wins on which her symbol forms a part, something that comes in particularly handy with how often she chooses to appear. Elsewhere on the reels is the Lady's Crystal Ball scatter icon. As would be expected in a feature packed Novomatic title, three or more of these symbols on a single spin take players to the free spins bonus round and even more multipliers are on offer – every single prize won during the free spins game is automatically multiplied by three.
The chances are that if you are a slots fan then you will have heard of Lucky Lady's Charm Deluxe in some capacity before. The original version was a big hit in land based casinos and was quickly joined in major gaming establishments by this deluxe version. This updated version of a classic unusually stands head and shoulders above the original and you can try it for yourself, absolutely free of charge, here on Mr Gamez.
Game statistics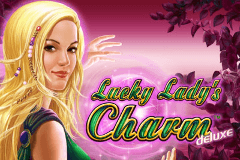 Players who played this game also played: