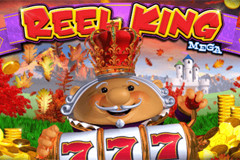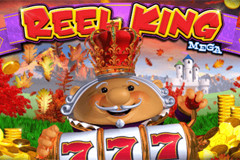 Unfortunately, this game is not available in your location
Why am I getting this message?
Thank you for informing us. Our engineers will work to fix the problem as soon as possible.
Get notified by email when this game is fixed
Thank you. Our engineers will inform you when the problem has been fixed.
Try these similar games instead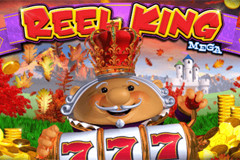 Novomatic
Reel King Mega
Rate this game:
Report a problem with this game:
Reel King Mega Slot Review
Reel King Mega is a lot that embraces its retro inspiration. While it has a modern video slot layout in place, it uses visuals that will instantly make players think of classic slots. The features that are on offer here are some of the most interesting ones around. Not only are there two additions to the base game but there's also a bonus feature making it very appealing.
It's been around online since 2019 so while it isn't a brand new slot, it's still one of the newer games on the market. However, in the time that it's been available it has grabbed a lot of attention with players. What has helped it to grab more attention is that it was available in brick and mortar casinos before the online release. It means that before it was offered to online casinos, it had already built up a following with land based casino players.
Pros and Cons
Very enjoyable free spins round

Base game has features included

Wild symbols can appear quite often
Scatters aren't used to trigger the bonus round
Symbols & Values
The Reel King Mega slot might have a modern slot layout in terms of its reels, but the symbols included in the game are definitely retro themed. While many people associate the fruit symbols with classic slot games, the card symbols also date back to some of the first mass produced video slot style games. (1) Symbols pay out with at least 3 on a payline from left to right. If you get more than 3 on a payline then the level of payout is increased. The symbols included in the game are as follows:
Pot of Gold
King
Queen
Jack
10
It's a bit of a reversal when compared to most slots as the higher paying symbols include the card values. The lower paying symbols are the fruits. Here's what you can expect to see on the reels in terms of fruit symbols:
There are also super symbols that appear at random which appear as a 2 by 2 space square on the reels. Wild symbols can also land on the reels to help create winning lines.
The paytable is a relatively simple one to understand. There isn't anything really complex included in Reel King Mega. If you want to see the full potential winnings that different symbols offer then have a look at the full paytable here:
| Symbol | 3 on a Payline | 4 on a Payline | 5 on a Payline |
| --- | --- | --- | --- |
| | 100x | 200x | 500x |
| | 60x | 100x | 200x |
| | 40x | 60x | 100x |
| | 20x | 40x | 60x |
| | 20x | 40x | 60x |
| | 10x | 20x | 40x |
| | 10x | 20x | 40x |
Stake Choices
Paylines can not be customised in Reel King Mega. This is generally a positive as keeping the maximum number of paylines in place is the best way to play. Players can set the coin value and number of coins per payline in Reel King Mega, although the stake setting system does this automatically as the bet is increased.
There is an autoplay option for players who want to manage their bankroll more simply.
Betting Options
The coin values and number of coins wagered ranges are automatically changed through the stake setting system on the Reel King Mega slot machine. It means that the wager range is between 0.20 and 200.00. This is a very large range and allows both low budget and high roller players, as well as all players in between, the opportunity to enjoy the game.
Reel King Mega Bonus Features
The Reel King Mega slot rules are easy to understand. Players first have to set their stake and then the reels can be spun. There are 20 paylines on the reels which is pretty much the average for the market. It may seem like a standard video slot at first glance but the bonus features do help it to stand out from other titles.
There is a wild symbol in place in the game which helps to create additional wins on the reels. It doesn't add any additional multipliers to any wins, it is solely aimed at the creation of extra wins.
King's Crown Feature
The king's crown feature is included in the base game of Reel King Mega. It takes place randomly on any spin during the game. When the king's crown feature begins it will take the crown from the game logo and cause it to bounce around on the screen. When it hits symbols on the reels it will turn them wild offering the opportunity to create more wins.
Super Symbols Feature
Super symbols can appear at any time during the base game. A super symbol is a version of any other symbol but it covers a 2 by 2 area of the reels. This makes it much easier to create winning lines, especially when combined with wild symbols.
Reel King Feature
When the reels spin there is a chance that they can turn gold. At first it might appear that this doesn't do anything special, however when all 5 of the reels turn gold the Reel King feature will begin. This sees the king drop down onto the reels and a set of reels will appear on his stomach. These reels have 7s on them in red, blue and yellow. As well as the 3 types of 7s, there is also a blank symbol. The very first spin that takes place guarantees a win for players and the reels will keep spinning until a blank symbol appears and no win is awarded.
Mobile Compatibility
Mobile play is without a doubt one of the fastest growing play methods in the world. (2) It's partly for this reason that Novomatic has ensured that the game can be played very easily on mobile devices. It has an HTML5 base in place to make sure compatibility is simple and effective on a range of mobile devices. It also has excellent optimisation to make sure that it runs at a fast speed.
If you enjoy playing on mobile then Reel King Mega offers a superb experience for you.
Reel King Mega runs at a relatively fast pace for the majority of mobile devices, some older devices might run it a little bit slower, but generally speaking it doesn't suffer from a lot of slowdown.
Fixed Jackpot
There is a fixed jackpot in place for Reel King Mega. Because the game has a low variance it's no surprise that there is no progressive jackpot available. This does limit the potential prize that's on offer, but it also allows players to be completely aware of the reward the game has on offer.
With a fixed jackpot players will always understand what is at stake in the game. This allows for a more measured approach to bankroll management.
Jackpot
The fixed jackpot in Reel King Mega is awarded when players are able to completely fill the reels with the pot of gold symbol.
Theme and Graphics
Reel King Mega is a purely retro themed title. All of the symbols in the game stick to the retro aesthetic. It means it feels a lot like a classic fruit machine when playing the game. There are of course some modern influences which helps to keep it up to date.
The symbols have a good art style to them, which helps them to pop out from the screen. Each symbol animates whenever a win is created too, which makes things a little bit more interesting visually.
The game is silent until the reels spin then a sound effect plays. Another sound effect will play if a win is created. The sounds are quite generic, but they do match the theme of the game quite well.
Overall, it's nothing special in terms of theme and visuals, but everything does match up well to help create some synergy.
Slot Strategy
Because Reel King Mega has a similar maths model to other slots, it means that it's completely random. This makes predicting the way the reels will land impossible. This does remove a skill element when it comes to influencing the reels and makes video slots a completely chance based game when taking each individual spin as a single event. This maths method is the market standard, so it's not anything to be worried about when playing the title.
The paylines are quite standard for video slots and don't provide anything really new. The real innovation in this game comes in the form of the bonus features. The possibility to get added wilds and super symbols in the base game means that every single spin has the chance for a bonus to take place. On top of this the different way the free spins are triggered creates for a very interesting game.
The free spins are where lots of wins can be stacked up, so this is definitely the game mode you want to be aiming for. This can require a significant number of spins in order for it to be activated.
RTP and Variance
The Reel King Mega slot has a 96.17% RTP (3) in place. However, Reel King Mega does have a variable RTP, so some online casinos can sometimes have a lower RTP in effect. If you're playing at a site that has the maximum RTP in place then it is a little bit higher than the average for the market.
If you're playing the title at the top RTP level then it should return 9,617 credits for every 10,000 credits that players stake. Of course, this is an average so it does mean that each player will have a different experience when they play.
With a low volatility in place it does provide players with a lot of wins. The negative aspect of this is that the wins tend to be of a lower value. So, you won't get really big wins coming along very often, but you will see more wins than in other games. It is a great title for players who are just entering the video slot world due to the regular wins.
An above average RTP is always good to see when choosing a video slot to play. Reel King Mega offers this which helps it to stand out.
High roller players might not be taken by the low volatility that's on offer here. However, because wins come along quite often it could be appealing to players that are happy to aim for steady increases in their bankroll.
The RTP value is very important for slot machine vendors, because this is the main gambling game parameter which is under government regulation.
500 times the player stake can be won on Reel King Mega. This is a relatively low maximum payout, but for a low volatility game it's in line with the average for the market.
How to Win at the Reel King Mega Slot
Because Reel King Mega uses random numbers to decide how the reels land, it isn't possible to lay out a strategy that will guarantee wins. The random nature of video slots is what helps to create the excitement, so guaranteed wins would make them quite boring in the long term. What you can do though, is carry out some techniques to increase your chances of getting to the higher payout areas of games.
Manage your Bankroll
Managing your bankroll is vital when playing video slots. If you're not sensible with it you can easily find yourself out of funds very quickly. The general rule with your bankroll is to make sure you set your stake at a level that will give you at least 200 spins. This is more likely to give you access to the bonus features of the slot which will make it more likely to grab the bigger wins.
Walk Away when your Budget is Empty
This is possibly the most important technique you can apply when playing slots. If you have used up your budget then walk away. No matter what you do, don't listen to the urges trying to persuade you to add more funds. Set your budget, stick to it and if you lose then you're finished for the day
Practice Makes Permanent
Getting a feel for a video slot is a very underrated aspect of playing slots successfully. Because slots are random many people jump right into playing them for real money. But, because the demo versions of games use the same maths models as the real money versions, you can get a feel for how the slot plays by trying them out first. This will give you an idea of how many spins you are likely to need in order to get access to the higher paying bonus features.
Overall Rating
Reel King Mega has a great retro feel to it that really grabs the player's attention right away. It's very simple but has some fantastic bonus features included. The addition of base game features is what really helps this game to stand out. Take a look over the important aspects of the title to see if it's the game for you:
Reel King Mega is very simple for players to use. There's nothing complicated here and it really does require just seconds between setting the stake and spinning the reels. It's fully mobile compatible too which helps it to stand out.
Reel King Mega is absolutely superb when it comes to features. There are two base game features included in the game and a bonus spins round on top of that. Although there are no multipliers included, the fact there are plenty of features here really makes this an interesting and engaging game.
The payouts for Reel King Mega are slightly above what you would see on the market. The maximum single spin payout of 500 times the play stake is on a par with other low volatility games, but the free spins round can provide a significant number of winning spins which can offer higher payouts than this in total.
The sounds and visuals are pretty much average for Reel King Mega. They don't look bad by any stretch of the imagination, but they don't stand out much either. Everything is a little bit generic here. That does match up to the retro theme, but it would be nice to have just a little bit of flash to take things up a level.
It's definitely the features that make the Reel King Mega slot machine. It has excellent features across both the base game and the free spins round. This combined with the retro theme and low volatility makes it a perfect title for beginner slot players. There are some decent wins available here, especially if you get lucky with the free spins round.
Reel King Mega FAQs
Where can I play a free version of the Reel King Mega slot online?
You're able to load up and try out a demo version of Reel King Mega right here at MrGamez.com. All you need to do is load the game and you can try it out without risking any of your real money bankroll.
Can I play the Reel King Mega slot machine for real money?
Yes you can. All you have to do is sign up to one of the great recommended online casinos that feature this game and you can be playing for real money in no time at all.
Can I play the Reel King Mega slot game on my mobile?
There is a mobile version of the game available. It uses HTML5 technology which means it's compatible on both Android and iOS in both mobile browsers and online casino apps.
What is the maximum payout on the Reel King online slot?
Because Reel King Mega is a low volatility slot the maximum payout doesn't match up to some of the huge payouts that other slots offer. However, it still offers a maximum payout of 500 times the player stake, putting it in line with other low volatility games.
References
Slot Machine with Playing Card Symbols (2005 November 04). Retrieved August 4, 2021, from https://patents.google.com/patent/US4700948A/en

Schmitz, B (2012, December). Retrieved August 5, 2021, from https://www.researchgate.net/publication/235265707_Effects_of_mobile_gaming_patterns_on_learning_outcomes_A_literature_review


Balabanov, T (2015 February). Retrieved August 5, 2021, from https://www.researchgate.net/publication/295173180_Slot_Machines_RTP_Optimization_with_Genetic_Algorithms
Game statistics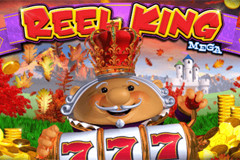 Players who played this game also played: