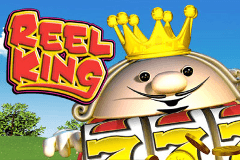 Novomatic
Reel King
Reel King is one of the older slots by Novomatic and the game on which their other title, 4 King Cash u2013 also available to play for free here at Mr Gamez u2013 is based.
Play for free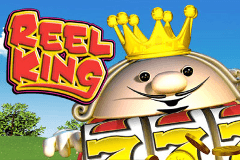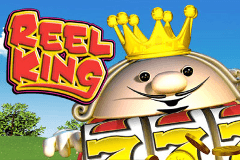 Unfortunately, this game is not available in your location
Why am I getting this message?
Thank you for informing us. Our engineers will work to fix the problem as soon as possible.
Get notified by email when this game is fixed
Thank you. Our engineers will inform you when the problem has been fixed.
Try these similar games instead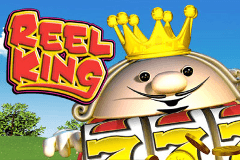 Novomatic
Reel King
Rate this game:
Reel King is one of the older slots by Novomatic and the game on which their other title, 4 King Cash u2013 also available to play for free here at Mr Gamez u2013 is based.
Play for free
Report a problem with this game:
Reel King Slot Review
Reel King is one of the older slots by Novomatic and the game on which their other title, 4 King Cash – also available to play for free here at Mr Gamez – is based. It bears numerous hallmarks of the Novomatic brand, including liberal use of the fruit and playing card symbols that have been synonymous with slot gameplay for decades. However, in spite of the game's age, it still stands up extremely well to scrutiny under modern standards and gives players a chance to focus primarily on the action that is taking place on the reels without diverting their attention towards additional bonus games and features.
Few online slots have such an association with the land based culture as Reel King. Players from around the world will no doubt have encountered the original title in casinos, pubs and clubs near to them as it was one of the games that really launched slot culture into a new era. The game stems from the days of simpler slot games where the action was focused on the reels and fruit symbols were still the order of the day. Reel King boasts a veritable fruity feast in terms of symbols in general, with everything from Cherries to Lucky 7s represented in real nostalgic detail.
Reel King Theme
The theme itself will primarily appeal to players that originally cut their teeth on slots in Las Vegas and other major gambling landmarks throughout the world. Slot gaming has moved on so much since the original launch of the game with new features and bonuses being the order of the day for many in an effort to set themselves apart. However, Reel King is the perfect activity for players that either missed out on the original land based buzz of the game or wish to recreate it in the exact same manner.
Gameplay and Prizes
Regardless of its age, Reel King is a slot that, following online conversion, continues each of the main gameplay traditions of Novomatic online slots. As with virtually every one of their titles, the maximum bet is a solid $100, which in the case of Reel King is broken down across twenty win lines and a maximum coin bet of $5. As always, each line carries a single coin and this cannot be changed by the player.
One of the reasons for Reel King's enduring land based popularity was the jackpot on offer. Very few slots by any manufacturer reach the heady heights of a five figure coin jackpot, but Reel King does so with 10,000 coins on offer for players that are lucky enough to match five Jackpot symbols on all win lines. Other valuable symbols come in the order that is expected, with the Lucky 7s at the top of the pile and Cherries and Plums accounting for the smallest prizes in the game.
Features and Bonuses
As something of a slot game for purists, Reel King does not offer much by way of additional features. Indeed, in order to make it completely true to the original game, even Novomatic's popular Gamble feature does not make it on to the reels.
This is not to say, however, that there is absolutely nothing for players to look forward to other than spinning in symbols as Reel King does have more to offer – it simply goes about it in a different way to many other modern titles. First up is the wild card, depicted by a Jester's Hat symbol. With no scatter symbol in play, it can literally fill in for any other symbol in the game, making it particularly valuable for improving otherwise losing combinations.
The other bonus round occurs at random and is once again carried over from the original land based machine. Following a winning spin, there is a chance for the Reel King himself to make an appearance on the reels. He can appear up to five times at once and players are invited to choose one. Each contains a multiplier that is immediately and automatically applied to the winning spin value that initially triggered the feature, up to a cool 500 times the original value. So, while Reel King does not necessarily have the most features, the main one that it does have offers players incredible value.
As mentioned, Reel King is primarily one for the purists and those that have long memories of the slot industry. It is a highly enjoyable game for those that prefer their slot action to be centred on the reels rather than on free spins and other bonuses. When the main bonus feature does occur, however, it takes just a few seconds away from the primary action and is among the most exciting in the industry simply based on how valuable it can turn out to be. If you want to be in with a shot of randomly winning a 500 times multiplier on your winning spins, then you can enjoy Reel King and a whole host of other Novomatic slots for free here at Mr Gamez with no deposit or download required – you can jump straight into the action.
Game statistics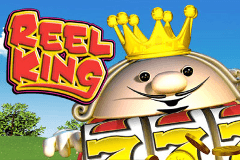 Players who played this game also played: