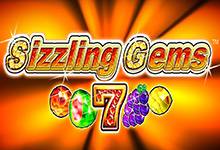 Novomatic
Sizzling Gems
Rate this game:
A game titled in such a way would give you the impression of gemstones that have been ignited, although when it comes to Sizzling Gems, presented to the gaming world by Novomatic, thatu2019s not actually the case.
Play for free
A game titled in such a way would give you the impression of gemstones that have been ignited, although when it comes to Sizzling Gems, presented to the gaming world by Novomatic, that's not actually the case. However, what is the case with this product, is that it features a very interesting twist on the classic slot machine interface. So rather than providing standard icons of fruits and traditional imagery, it upgrades them slightly to fit in with a basic theme of the game. We'll explain that a bit more in a moment or two. However, it's clear that we couldn't stay positive about a game from this developer for very long, as they've managed to spoil it somewhat with the awful selection of arcade music that features in about 90% of their offerings.
Are the Reels on Fire in this One?
This game from Novomatic provides a total of five separate reels, as well as three rows. Upon these rows, you'll find a selection of different fruit icons, but they're provided in a sort of gemstone effect. So, you'll find crystallised grapes, cherries, grapes, oranges, lemons, plums and watermelons. While these are all designed in a fairly interesting way – especially the grapes – they're still done so in a 2D nature, which doesn't really propel the game into such high heights. Alongside these icons, you'll find jewel-encrusted 7s and stars. They're not specifically animated in any impressive way, instead just providing a substandard offering in that sense.
Alongside this, Sizzling Gems also provides its players with nine separate pay lines, although these can be altered down with the minus button if your preference is to play on less. Alongside this, all players also have the opportunity to change the bet amount per line, which is also switched around by using the plus and minus buttons on the right hand side of the amount currently shown. This starts at a minimum of $0.01 per line, and can be adjusted up to $4 per line. Therefore, all players are able to place a maximum overall wager of $36 per spin, should the maximum amount of pay lines be active. An 'Auto Start' button is also included, which allows you to play up to 100 consecutive rounds at the same wager level.
Any Sparkling Specialities?
Each of the different fruit symbols has a different pay out amount, although it's the watermelons which provide the largest amounts, being able to offer up a maximum of 2,000 coins. However, it's probably more convenient to keep an eye on the sparkling 7s, as these will provide you with the game's wild icon. In doing so, they have the power to substitute for any other icon on the reels, except for the scatters, in order to craft winning combinations. At the same time, they'll double the pay out amount if they're ever a part of a win.
As mentioned, there is a scatter icon, which is represented by the shimmering star. These can appear randomly on any of the five reels, and when they do, they have a maximum pay out of 25,000 coins. This will only happen if you're playing at maximum wager level and with all nine lines active.
The only other additional feature of this game is its gamble feature, which is one of Novomatic's mainstays throughout their gaming catalogue. This round is triggered at the end of every winning combination formed in the main game. It provides you with the chance to collect your winnings as they are, or, alternatively, you can play a side game in order to try and increase them somewhat. If you choose to do this, you'll be taken to a new screen, where a deck of playing cards will be stacked. You need to try and guess whether the next card to be turned over will be the colour of red or black. If you get it right, your winnings will be doubled up, while if you get it wrong, you'll lose them all.
Could it be Considered a Gem of a Game?
While such products included in this genre can't really be distinguished so dramatically from one to the next, Sizzling Gems does provide a novel enough twist on the standard icons. This makes it a bit more compelling to play and appealing to spend time spinning.
Game statistics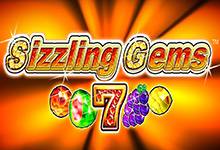 Players who played this game also played: