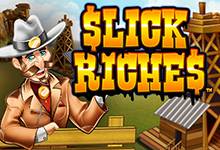 Novomatic
Slick Riches
Itu2019s time to get down and dirty with Novomatic, and weu2019re not talking the 50 Shades kind, but of the blood, sweat and tears that comes from manual labour.
Play for free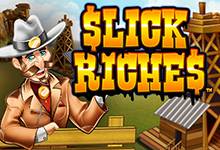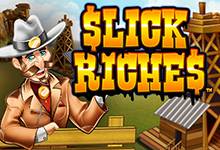 Unfortunately, this game is not available in your location
Why am I getting this message?
Thank you for informing us. Our engineers will work to fix the problem as soon as possible.
Get notified by email when this game is fixed
Thank you. Our engineers will inform you when the problem has been fixed.
Try these similar games instead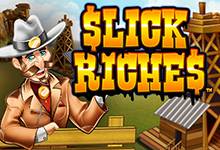 Novomatic
Slick Riches
Rate this game:
Itu2019s time to get down and dirty with Novomatic, and weu2019re not talking the 50 Shades kind, but of the blood, sweat and tears that comes from manual labour.
Play for free
Report a problem with this game:
Slick Riches Slot Review
It's time to get down and dirty with Novomatic, and we're not talking the 50 Shades kind, but of the blood, sweat and tears that comes from manual labour. Slick Riches is a 5-reels slot machine that will have you digging for more than just gold – there's bonus games, special features, double or nothing to be had and plenty more where it came from. In short, you'll need all the protective gear you can muscle to save you from all that falling cash.
As one of Novomatic's more interesting looking (and better designed) online games, it's easy to get excited about what's in store, but the question is always whether the hype will live up to the experience. Let's find out right now, oh gosh, the suspense is killing us…!
Dirty Cash
This title will likely be the only time you want dirty cash, and we don't mean the stolen kind, oh no; in Slick Riches you have to work the earth to break out the oil and make yourself a millionaire. Not only do you gather this from the name of the game, but also from the overall design, which has been beautifully constructed to look more like an animated cartoon than a game.
It's a busy theme to be getting on with, with symbols popping up all over the place, not to mention a working oil field background that can divert the eye more times than not. But don't be deterred if you're of a purist disposition, as the visuals and the story they paint are part of what makes Slick Riches so… well… slick.
Despite the fact the grid is encased in metal tubing, every other element of the layout is familiar, recognisable to anyone who has glanced at the average online slot before. The title sits at the top, the matrix sandwiched in the middle, and then the control panel on the bottom; it's your typical online game interface.
Drill for Wins
The symbols are nice to look at and all, but we know what you want, and that's to know more about the bonus round hidden away beneath the dirt of Slick Riches; the Random Drill Region Feature is a fab addition that had us grinning from ear to ear. As with all mini levels, you're not guaranteed to do well, but we found the multipliers and free games satisfying enough, even on a bad day.
Players need to get between three and five of the drill symbol for the round to activate, but once it begins you get to go between four drill sites, each of which is more likely to pay out either multipliers or free games. We like the fact that it's still all about luck rather than skill, as skill based bonus games can be difficult for casual gamers to get into.
Go Big or Go Home
Slick Riches, like most Novomatic titles, has a gamble option that becomes available whenever you have money to gamble; you win some back from the game and the button lights up. It's a simple card game, in which you guess between red or black; the deck of cards has been stylised to fit in with the general theme and design, thus making the round feel more unique than it actually is.
This option gives the game more longevity, however you don't have to play if you'd much rather stick with the money you've won and not risk losing it. You can double your winnings more than once, but that does all depend on whether you've got what it takes to guess every card correctly.
A Dime for a Dollar
When it comes to the dynamics of the grid you're working with, it's a common 5-reel and 25-payline structure, with gamers able to reduce the number of active winlines; all fairly standard and straightforward. Having the ability to tailor the experience to you is part of Slick Riches charm. You can use every line available for an easier playthrough, or challenge yourself with a reduced amount.
Paying in and setting your bets are easy, with the low amount of just €0.01 needed on each winline to get started. If a customer plays with that on all of the 25 lines, they'll have a final wager worth just €0.25, which is a minute sum of cash that many can afford. However, you can also increase your stake to €50 per line, giving a much higher €1,250 bet. That large total may sound ridiculous, but remember that with this title, the more you bet means you stand more to gain, with the top prize being €75,000!
Oil Spill
As far as innovation goes, Slick Riches has enough to separate it from other modern slots of the same size, with its theme making it more individual – you don't see many oil drilling themes in slot games. That being said, it's an online activity that's only truly rewarding if you can afford to foot a crazily steep bet, which most gamers won't do.
Game statistics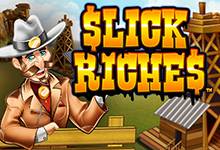 Players who played this game also played: