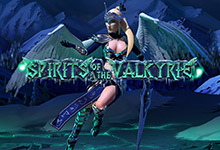 Novomatic
Spirits of the Valkyrie
If youu2019ve seen the film Valkyrie (Tom Cruise as a German colonel set on fighting to halt the evil rise of Nazi Germany) and think this might be a slot based on the movie, youu2019re wrong.
Play for free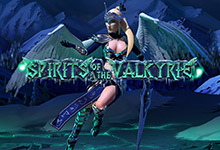 Novomatic
Spirits of the Valkyrie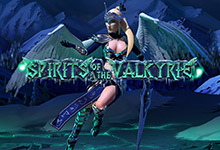 Novomatic
Spirits of the Valkyrie
Unfortunately, this game is not available in your location
Why am I getting this message?
Thank you for informing us. Our engineers will work to fix the problem as soon as possible.
Get notified by email when this game is fixed
Thank you. Our engineers will inform you when the problem has been fixed.
Try these similar games instead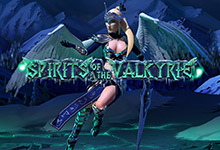 Novomatic
Spirits of the Valkyrie
Rate this game:
If youu2019ve seen the film Valkyrie (Tom Cruise as a German colonel set on fighting to halt the evil rise of Nazi Germany) and think this might be a slot based on the movie, youu2019re wrong.
Play for free
Spirits of the Valkyrie Slot Review
If you've seen the film Valkyrie (Tom Cruise as a German colonel set on fighting to halt the evil rise of Nazi Germany) and think this might be a slot based on the movie, you're wrong. Instead, Spirits of the Valkyrie takes its cue from Norse culture and the myth of a group of women whose job it was to decide the fate of those fallen on the battlefield.
Half of these warriors are passed on to the goddess Freyja's realm of the afterlife. The other half are taken by the Valkyries to the afterlife hall of the slain, the god Odin's Valhalla, where they become warriors. These are some kick-ass ladies with dark undertones, although Valkyries are also known as the lovers of heroes, often romantically depicted on horses or swans. The Spirits of the Valkyrie video slot, which runs with this theme, is a recent release from Novomatic that first swooped into online casinos in March 2018.
Spin With the Spirits
Played out over 5 reels and on 20 paylines, this slot has a good 96% return-to-player percentage with a maximum payout of 500x your stake. 10,000 credits is the max bet allowed. In terms of theme, it's not the only Valkyrie-led game out there, but neither is it as hackneyed as many other designs.
The graphics use the very latest technology and are superbly imaginative. Green and blue hues evoke the atmosphere of a spooky, mysterious world lying beyond the grave. The setting is a dark forest, with mountains in the background and Valkyries flanking the reels. Icy alphanumerics represent the lower-paying symbols, while spine-chilling pickaxes, knife blades, ornate hammers and shields are the higher-value ones. The Valkyries themselves are sparsely clad given the apparent sub-zero temperature going on here, although they still manage to look immortal and indefatigable – probably because they are.
As Spirits of the Valkyrie comes from the Novomatic stable, you can be sure of good quality, reliable gaming content that offers consistency in returns as well as in design. This developer has been in the business a long time and is no stranger to online casinos. Fully aware of what these are doing, it ensures that new releases are fully compatible for use on all kinds of devices. Interestingly, the game sometimes runs even better on an iPad, iPhone, tablet or android smartphone, as streaming this level of graphics onto a bigger screen can make higher demands on a PC's processor. You'll also find familiar features such as the handy pay table and an autoplay button, enabling you to kick back while the machine does the work on your behalf. The autoplay function is always ideal if you need to do the washing up while keeping up to date with your online gambling.
Ice, Magic and Blades
The wild symbol in Spirits of the Valkyrie is a book that can form a combination with as few as two symbols. Plus, it replaces all others except the scatter, which is represented by a glinting emerald. The scatter brings some serious rewards which are signposted by the markings on the last reel's emerald. These award either a payout or a pass to one of three features: free spins, 10 free rounds or the Win Stack. In the Win Stack, you'll find ten tables displaying recent payouts on the left of the reels. Land three of the scatter, and you'll get the total of all of these payouts – bingo!
Combinations of the wild symbol bring four further features, which are Colossal Magic, in which a Valkyrie adds a massive symbol taking over three of the reels; Blade of Fury, where extra random wilds are added to the mix; Ice Blade, in which at least one of the symbols expands to the left; and Shockwave Flash, where symbols are added to help make up those lucrative winning combos.
Similarly Spooky Slots
If you enjoy some unsettling goings-on in your games, then there are plenty of other titles worth trying. One that's often recognised as one of the best online slots is the free Blood Suckers slot by NetEnt, featuring the eternally popular vampires. It's a slightly higher-variance game than Spirits of the Valkyrie, boasting a nearly 97% RTP. The layout is a similar 5×3 screen with 25 paylines, and if you spend some real cash, there's 250,000 coins to be won – if you make it out of the bloodsucker's lair alive, that is.
For more Valkyrie action, there's Valkyrie Queen from High 5. This is a 243-ways-to-win slot with masses of combination-making opportunities and 50 free spins to be nabbed. So, if you'd like a little variation on the standard left-to-right payline payouts and fancy a shot at winning both ways, then this is one for you. Its RTP is just under 95%, plus it's played out on 5 reels and is visually quite different. It also has a warmer setting focusing on fiery, rather than icy, aspects of these formidable women.
Beyond the Grave
Spirits of the Valkyrie is a good option if you like a high limit. If you want to make your money go further, it's always a smart move to check out any bonus offers available at your favourite casino. There are usually plenty to choose from, and it's a great way to boost your bankroll and bag yourself some free cash or a few free spins from the outset.
The theme offers a more "grown-up" feel than a lot of the cartoon, cutesy, classic and kitsch online slots to be found on the ever-expanding market. Neither does it fit within the mould of a typical horror-themed slot. This could be a disadvantage, in that it might not register on many players' slot agendas. But for those who enjoy non-conformist games, Spirits of the Valkyrie is a winner and its 6 bonus rounds are a lot of fun. Play this slot for an eerie beyond-the-grave experience that offers some spook-tacular chances to win.
Game statistics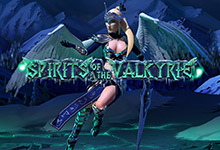 Players who played this game also played: