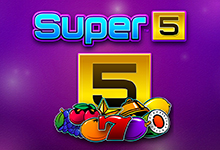 Novomatic
Super 5
We all know how important it is to get your five a day. Novomatic has come up with a brilliant way of making this easier than ever u2013 their Super 5 slot.
Play for free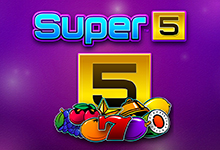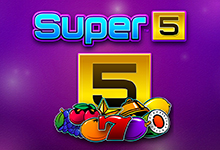 Unfortunately, this game is not available in your location
Why am I getting this message?
Thank you for informing us. Our engineers will work to fix the problem as soon as possible.
Get notified by email when this game is fixed
Thank you. Our engineers will inform you when the problem has been fixed.
Try these similar games instead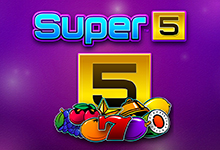 Novomatic
Super 5
Rate this game:
We all know how important it is to get your five a day. Novomatic has come up with a brilliant way of making this easier than ever u2013 their Super 5 slot.
Play for free
Report a problem with this game:
Super 5 Slot Review
We all know how important it is to get your five a day. Novomatic has come up with a brilliant way of making this easier than ever – their Super 5 slot. This simple but highly entertaining game features five reels and five paylines, where the goal is to line up three identical symbols on the reels. Visually the game is very appealing, even if it doesn't offer anything new.
The colour scheme is very bright, making Super 5 an eye-watering proposition. The blue reels on the purple background form a brilliant contrast and you can't help being drawn in by the groovy feel of the game. There are sound effects as the reels spin to really help you feel immersed in the action and the cartoon symbols are quirky and cute. Despite having no background music, Super 5 is still a very entertaining game.
Get Those Fruity Reels Spinning
As you would expect from a classic slot that's all about fruit, Super 5 uses symbols that are very on-theme. There is lots of fruit imagery in this game, from plums and oranges to cherries and watermelons – it's enough to make you a bit peckish. In addition to this, Super 5 by Novomatic pinches some symbols from classic slots including a bell symbol, the number seven and the number five. Sticking to their theme of five a day makes Super 5 not only look good but makes you feel as though you are being healthy at the same time. Okay, so that's a slight exaggeration, but whatever it takes to convince yourself that gaming is good for your health.
Novomatic haven't gone all out with the extra features in this game, keeping it rather simple. If you are looking for free spins, scatter symbols or bonus games, you won't find them in Super 5. The only additional feature in this game is the wild symbol which is the number five. This only shows up on reel three but can really help to multiply your winnings. Depending on whether the symbol substitutes or not, you could be looking at either a 5x or 2x multiplier if you score the wild symbol. Other than this, Super 5 is rather basic but this does not take away from the fun of the game and besides, sometimes it's quite nice to just play a simple slot machine.
Fruit Machine Heaven
Unlike other online slots, Super 5 offers very little for you to actually do. In the game, you are unable to select the number of lines that you would like to play, so the only way for you to control your winnings is by adjusting your minimum and maximum bets. The minimum bet in Super 5 is 0.40, while the max bet is 100. If you don't want to change the bet for yourself, Super 5 offers a Bet Max feature where the game will automatically place the highest bet possible for you.
In addition to this, Super 5 has an autoplay feature where are you are able to set the limits and let the reels spin. This is perfect for if you want to get on with other jobs while the game is in play as you are able to set the game to spin the reels up to 85 times. This gives you plenty of time to focus on other things while still aiming for the jackpot.
Sizing Up the Competition
There are dozens upon dozens of fruit-themed slots out there on the web. If you have particularly enjoyed Super 5 and love the cartoon fruit you may want to give Fruit N Sevens, Fruit vs. Candy, Fruit Mania or Royal Fruit a go, since as the names suggest these games are all about classic slots symbols. If you enjoy a five reel, five payline layout then Roman Legion, Magic book, Gold of Persia or Dragon's Treasure may be just the games for you.
Super 5 Summary
There may not be much in the way of features in Super 5 but, for a basic slot, this is very entertaining and a lot of fun. If you want to give the game a go for yourself, you can play for free on desktop or can give those reels a roll on mobile – both iOS and Android are supported. Like every other classic slot that's come before it, Super 5 doesn't serve up anything new. Nevertheless, sometimes simple pleasures are the most pleasing of all. There's certainly pleasure to be had in plentiful supply once you start spinning this fruity little slot.
Game statistics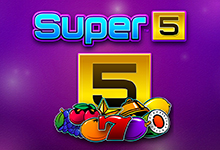 Players who played this game also played: