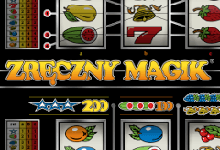 Novomatic
Zreczny Magik
Rate this game:
Itu2019s obviously quite clear that the name of this game is not very English. In fact, itu2019s Polish. Loosely translated, it turns out to mean, u2018Skillful Magicianu2019.
Play for free
It's obviously quite clear that the name of this game is not very English. In fact, it's Polish. Loosely translated, it turns out to mean, 'Skillful Magician'. Viewing the game itself won't particularly provide you with the idea that any of it is based on magic or the art of illusion, for example, but then again, we've come to know that when it comes to Novomatic games, what a game seems to be based on is not actually what it is based on. Therefore, don't expect to find any wizards or sorcerers involved on the reels of this one. Instead, you'd be better off imagining it as a classic slot game, featuring reels filled with fruit more so than anything else. There is, however, an appropriate enough soundtrack incorporated into the product, and it offers up a unique layout, which differs to many other products from this developer.
Fruit-Based Sorcery?
While there isn't anything particularly magic about the icons appearing in this game, there is a total of two separate reel sets. The main game is played on the bottom one, which provides three reels and three rows. This is, of course, a very standard layout for a traditional sort of video slot. As mentioned, upon these reels, you'll find a selection of fruit icons which also relate to the classic machines. So, you'll be able to spin your way through lemons, oranges, plums, cherries, watermelons and grapes. Making up the remaining icons of this game are the blue star, the bell and finally, a crown.
As well as the reels and rows, players do need something to wager on. Zręczny Magik only incorporates a single pay line in its base game, which runs horizontally along the central row. This is, of course, unable to be customised. However, all players do have the opportunity to change the wager amount which is played per round, simply by using the plus and minus buttons at the bottom of the screen. This amount starts from its minimum of $0.40 and can be increased up to its maximum of $20 per spin. This is thereby providing you with the maximum spin overall. Unlike many other video slots, this product does not contain an autoplay feature.
Let's Rustle up Some Magic Features!
As mentioned, there are two reel sets included in Zręczny Magik, with the base game being played on the very bottom one. There are two things to take note of while playing this main game. The first is that if a single cherry icon appears on the left reel, it will pay out between zero and four coins. The amount is only determined by random chance.
The base game also includes a 'Hold Feature', which enables a maximum of two of the reels to be held with its relevant 'Hold' button. You can then have another spin of the remaining reels which aren't held to try and make a win. Any favourable combination, (so if two symbols appear on the winning pay line), will be automatically held by the game for you. This particular function is only offered after a spin which doesn't result in a win.
The top game is played on the top set of reels, naturally. A total of five different pay lines come into play with this. The same central line, another one on each of the other rows, and one from each of the left hand diagonal corners. Five coins will be played in the top game, rather than the single coin of the base game. This round is triggered after every win formed in the base game. Your coins will automatically be transferred to the super meter, and you get to wager with however many of these you'd like in the top game. This round will end automatically when the amount in the 'super meter' is zero or when your total coin amount equals 800.
A Classic Game with a Kick
While Zręczny Magik does provide a great game filled with many extras, and is on the whole, more entertaining than the standard classic slot games can be considered, why it's entitled as it is, is somewhat of a mystery. However, all in all, you'll get much more entertainment from this one, than you may from several other Novomatic products.
Game statistics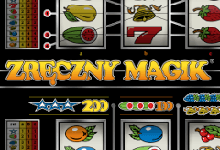 Players who played this game also played: