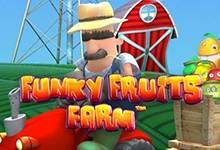 Playtech
Funky Fruits Farm
Funky Fruits Farm is a cutesy slot that will reward persistent endeavours with an avalanche of fruit that can later be converted into cold hard cash.
Play for free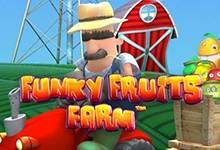 Playtech
Funky Fruits Farm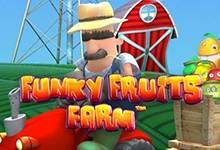 Playtech
Funky Fruits Farm
Unfortunately, this game is not available in your location
Why am I getting this message?
Thank you for informing us. Our engineers will work to fix the problem as soon as possible.
Get notified by email when this game is fixed
Thank you. Our engineers will inform you when the problem has been fixed.
Try these similar games instead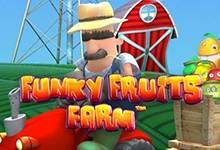 Playtech
Funky Fruits Farm
Rate this game:
Funky Fruits Farm is a cutesy slot that will reward persistent endeavours with an avalanche of fruit that can later be converted into cold hard cash.
Play for free
Report a problem with this game:
Funky Fruits Farm Slot Review
Funky Fruits Farm is a cutesy slot that will reward persistent endeavours with an avalanche of fruit that can later be converted into cold hard cash.
Does the world really need another fruit-based slot? Absolutely not, but it makes no difference: long after humanity has been reduced to a post-apocalyptic crisp thanks to nuclear fallout, fruit slots will continue to proliferate like cockroaches. In fairness to Playtech, their slots at least deploy a modicum of originality in terms of features. We're not talking zeitgeist-challenging stuff, but enough creativity at least to give their games a feel of their own.
It's strange, we spend our childhood trying to run away from the fruit and veg our parents kept shovelling onto our plates, then as adults we start playing slots and suddenly can't get enough of the stuff. Funky Fruits Farm will certainly sate your craving for five a day – five reels a day that is.
Fruity Rampage
The action unfolds at Funky Fruits Farm, where a gang of anthropomorphic summer fruits are on the rampage. Pineapples, melons and cherries with bulging cartoon eyes and a mischievous glint are up to no good, as funky fruits are apt to do when they're allowed to run riot. The intro sequence, a favourite flourish of Playtech's, sets the scene, with the fruits escaping from the trailer hooked up to the farmer's tractor and bounding off across the fields.
Even once the intro sequence has run its course, the action continues, with the farmer sporadically appearing on-screen, fleeing his runaway tractor before returning clutching a fork that he waves threateningly at the runaway fruits. The game's 20 paylines can be adjusted along with the line bet, which ranges between 0.01 and 0.75, resulting in a maximum stake of 15.00 per spin. A standard 5×3 grid contains the reels, while in the background clouds scurry across the sky and windmills spin languidly. Playtech have pulled out all the stops in animating this slot and their efforts have not been in vain.
Gameplay
In the base game, lemons and oranges are the most valuable symbols, worth 750 for 5 of a kind. The comical looking farmer, conversely, whose eyebrows are so bushy they blot out his eyes, is worth just 500 for 5, but his true value manifests itself in his guise as scatter. Land 3 or more scatter symbols to trigger the Funky Fruits Bonus with up to 33 free games and a multiplier of up to 15x. Wild appears as a splatted fruit and will substitute for all of the regular symbols except for scatter, applying a 2x multiplier in the process.
Funky Bonus
The Funky Fruits Bonus, achieved by matching 3 or more scatters anywhere, will grant you 8 free spins accompanied by a 2x multiplier. In the bonus game, you're tasked with picking 2 out of 5 fruits to secure additional free spins or multipliers. It's here that you can scoop up to 33 free spins and up to 15x in multipliers if you succeed in picking out the most valuable fruit.
Land 3 or more scatters once again while collecting your free spins and you'll be awarded an additional 15 free games. What's more, there's no limit to the number of extra free games you can win while collecting free spins.
Feeling Fruity?
Feeling those Funky Fruits Farm vibes? Playtech's Penguin Vacation is an exact match, nursing identical features and gameplay. It's basically Funky Fruits Farm in a different skin. For something a little different – but only just – Playtech's Irish Luck, which comes with 30 paylines, isn't a million miles off either. Don't confuse Funky Fruits Farm with Funky Fruits by the way, a separate slot also released by Playtech. It's a tad confusing, but that's how it goes when dealing with fruit-themed slots, of which there are literally thousands.
Get Your Funky On
Funky Fruits Farm is a fun and colourful slot from Playtech. The animations are great and the whole game has a harmonious feel to it, making the progression from base game to bonus game feel natural. If there has to be more fruit-based slots released into the wild, please can they be more like this? Cheery, chirpy and bursting with character.
Game statistics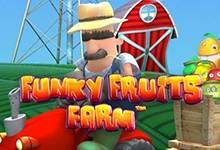 Players who played this game also played: