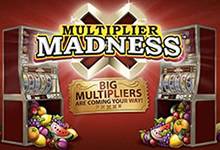 Playtech
Multiplier Madness
In terms of size and notoriety, there are very few developers in the world that can match what Playtech has to offer.
Play for free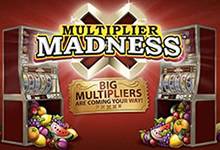 Playtech
Multiplier Madness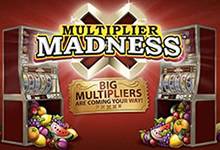 Playtech
Multiplier Madness
Unfortunately, this game is not available in your location
Why am I getting this message?
Thank you for informing us. Our engineers will work to fix the problem as soon as possible.
Get notified by email when this game is fixed
Thank you. Our engineers will inform you when the problem has been fixed.
Try these similar games instead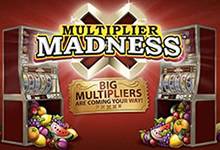 Playtech
Multiplier Madness
Rate this game:
In terms of size and notoriety, there are very few developers in the world that can match what Playtech has to offer.
Play for free
Report a problem with this game:
Multiplier Madness Slot Review
In terms of size and notoriety, there are very few developers in the world that can match what Playtech has to offer. Over the years they have been able to put pedal to the metal on some of the biggest real money slot games around, with the reputation of the game creator shooting through the roof as a result.
Ensuring that Playtech remains at the absolute pinnacle of the industry is new game Multiplier Madness. This game makes an impressive attempt to tap into the land-based slot machines of old, just with some engaging and innovative twists thrown into the mix for good measure.
Multiplier Madness may not carry the same approach as other Playtech real cash slots, but from what we've seen this is easily one of the most impressive releases from the developer to date. The following looks at why Multiplier Madness may just be the perfect bridge between classic and modern online slots play.
Like the Slots of Old
Multiplier Madness is immediately going to grab your attention, as it is designed to look like a real life slot machine, big buttons and all. Because of this approach, there really isn't a set theme in place here, but there is no denying just how amazing this game looks.
Every aspect of it showcases amazing detail, from the glistening of the metal to the spinning of the reels; this is one game that pretty much has it all when it comes to graphics.
Other games may say that they are "classic at heart", but Multiplier Madness is one of the first games we've seen that truly embodies that mantra.
All About the Numbers
Considering the name of Multiplier Madness, you won't be surprised to hear that this game is all about the numbers. Split across 10 paylines and 5 reels, the action here really is locked, loaded, and ready to roll. The game is medium to high variance, while costs per spin vary between 0.50, and 10.00, with the higher stakes having higher-grade multipliers attached.
You can take note of the currently active multiplier through the value located to the right of the screen.
In terms of modes, Multiplier Madness is able to mix things up through both autoplay and turbo. Autoplay is going to allow you to enjoy this game in a completely automated fashion, while turbo mode kicks things up a notch in terms of speed.
Bonuses, Bonuses, and More Bonuses
If you haven't figured it out already, Multiplier Madness is game that has its roots intertwined with classic slots play, but that hasn't stopped it from rolling out some impressive bonus features. The wild and scatter are what players need to keep a special eye out for, as these are your openings to securing some big prizes.
The star-driven wild will substitute for all other symbols in the game, bar the scatter. The scatter, when found, will work to bump up your multiplier, up to a 100x level. Combining these two elements and you have the perfect recipe for some monster-sized payouts.
Bringing Back an Old Favourite
The gamble feature seems to have been forgotten by other slot game developers these days, seemingly as it doesn't tie in to the "modern" slots experience of today. Like us, there are players out there who get a kick out of it, so it's great to see that Playtech have decided to include it within Multiplier Madness.
With a win in hand, this mini-game more or less plays out how you would expect. You need guess whether the next card out of the deck is either red or black, so you have a 50/50 chance of doubling your money.
Monster-Sized Money
The biggest draw within Multiplier Madness is its progressive jackpot, as it really does allow players of this game to walk away with a serious stack of cash. While progressive jackpots are hardly uncommon these days, it is rare to see one attached to a self-styled "classic" slots game. For that reason, Multiplier Madness can proudly claim to have the "it" factor.
Experience Pulsating Slots Action in Multiplier Mayhem!
Playtech simply don't do slot game releases in half-measures, with that coming through loud and clear within Multiplier Madness. This game pushes the boundaries of a what a supposed "classic" online slots game can do, as it is loaded with intense action, big-time jackpots, and engaging special features.
Delivering classic action with a twist, Multiplier Madness is a game not to be missed!
Game statistics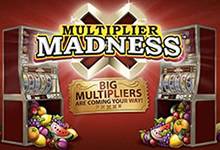 Players who played this game also played: