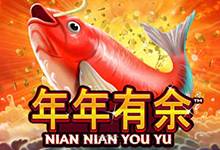 Playtech
Nian Nian You Yu
Rate this game:
On every Chinese New Year, youu2019ll hear the words u201cNian Nian You Yuu201d coming from almost every mouth. Itu2019s the phrase that people use in China to wish u201cabundance through the yearu201d to one another as the New Year begins.
Play for free
On every Chinese New Year, you'll hear the words "Nian Nian You Yu" coming from almost every mouth. It's the phrase that people use in China to wish "abundance through the year" to one another as the New Year begins. Playtech has used that very phrase to create a fun Chinese New Year-themed slot game, which could bring you the abundance wished to you with the title of the game.
Nian Nian You Yu is a 5-reel, 9-payline slot that comes with a truly massive 500,000 credit jackpot for regular pay, as well as a progressive jackpot for the bonus games. If you were to summarise Nian Nian You Yu in a single word, it would be loaded, as this game is packed with charm, cash, and exciting gameplay galore!
Getting the New Year Party Started
This game is all about celebration and the traditional festivities of the Chinese New Year. If you've never been able to enjoy the experience of a traditional Chinese party, you can experience a version of it with this great title. The symbols in the game reflect different items associated with the holiday, such as a cherry blossom, Chinese lantern, red envelopes, dragons, and various different foods.
You'll also love how the game looks, as the reels are placed inside an ancient temple with fireworks blasting into the night sky. From production values to theme, Nian Nian You Yu delivers plenty of that famous Playtech pizazz.
Packing in the Prizes
If its name suggests anything, this slot could bring you year-round abundance if you're one of its lucky players. You can choose to play with just one single payline, or you can use up to nine of them, with the game being somewhat "classic" in that regard. These paylines will pay in both directions, which increases your chances of winning by quite a bit. You can also choose to wager between 0.09 to 450.00 credits to cover all paylines, with the payouts coming around fairly regularly in this low variance Playtech release.
Fish, Fish and More Fish
You might wonder why the wild icon for this game is a fish, but it all makes a lot more sense when you realize the word "abundance" is the same as "fish" in Chinese. That's also why fish is a popular dish for the Chinese New Year celebration. The fish in Nian Nian You Yu is there to give you abundance, as it will replace other symbols in the game to help you score even more winning combinations.
The only symbol that the fish can't replace is the game's scatter symbol, which is shown through Chinese text in "年年有余". It will pay bet multiplier prizes even if it doesn't show up on active paylines, so these symbols are certainly worth keeping a special eye out for.
A Touch of Something Progressive
While there aren't any other bonus gimmicks or free spins in this game, there is one bonus element you'll love. And if you're lucky, it will be extremely rewarding. There are four progressive jackpots in the game which can be accessed through a randomly trigger Wheel-Of-Fortune styled mini-game. Win one of these, and your year will be filled with celebration that's for sure.
All Across Asia
Nian Nian You Yu is certainly a unique game, but it doesn't rank in a class unto itself. There is a small selection of titles out there that can rival it on both the theme and gameplay front. Looking at a specific game that can certainly give Nian Nian You Yu a run for its money, Sun Wukong is worth a mention. Also developed by Playtech, it carries a theme that runs along the same lines, with a progressive jackpot being thrown into the mix to boot.
Nian Nian You Yu Ushers in a Celebration!
Nian Nian You Yu might not be the only slot to commemorate the great Chinese New Year holiday, but it might be the only one with a six-figure base jackpot, as well four progressive jackpots, attached to it. Powered by Asian flare and crammed wall to wall with celebration, Nian Nian You Yu is arguably one of the more enjoyable Playtech releases to date!
Game statistics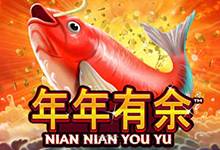 Players who played this game also played: