Vampire Princess of Darkness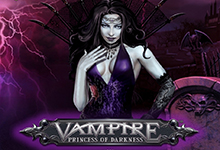 Playtech
Vampire Princess of Darkness
Mention vampire themed slots to some people and they instantly whip out a crucifix.
Play for free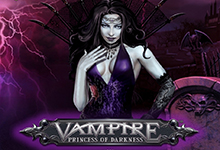 Playtech
Vampire Princess of Darkness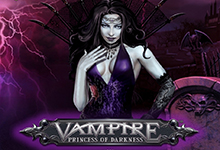 Playtech
Vampire Princess of Darkness
Unfortunately, this game is not available in your location
Why am I getting this message?
Thank you for informing us. Our engineers will work to fix the problem as soon as possible.
Get notified by email when this game is fixed
Thank you. Our engineers will inform you when the problem has been fixed.
Try these similar games instead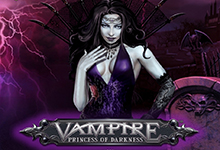 Playtech
Vampire Princess of Darkness
Rate this game:
Mention vampire themed slots to some people and they instantly whip out a crucifix.
Play for free
Report a problem with this game:
Vampire Princess Of Darkness Slot Review
Mention vampire themed slots to some people and they instantly whip out a crucifix. However, the Vampire Princess Of Darkness video slot by Playtech shouldn't make you cross! If anything, it should have you throwing your crucifixes and garlic away with wild abandon as you try and spin in a variety of vampire themed symbols and team up with a wild vampire princess. You should even enjoy a trip to the local graveyard where you can play a five-level bonus game for cash prizes.
If you're still not convinced, then trying the free Vampire Princess of Darkness slot first is highly-recommended. That way, you'll know if you like it before you play it for real money. As this is one of the latest slots from Playtech, you can also nibble a few necks whenever and wherever you feel like it as it's fully mobile-optimized for popular mobile devices such as iPhones, iPads, Android Phones, and Tablets.
Playtech the Global Gaming Industry Leader
Unusually for many Playtech slots, Vampire Princess of Darkness has just five paylines. However, punters must still choose to bite off as much as they can afford with spin bets ranging from just 0.05 coins all the way up to 500 coins. If you fancy a little nap in your crypt whilst you're playing, you can also choose to play in autoplay mode. Meanwhile, if you fancy a feeding frenzy you can crank up the speed by using turbo mode. Either way – this slot shouldn't drive you batty.
Playtech has had to cross a few borders to get to Transylvania from where the company started in Estonia in 1999 – but, don't worry, as Playtech software is regarded as safe and secure and is used by many of the world's leading online casinos whether it's slots, casino games, poker, bingo, or sportsbooks. You'll also find that slots bonus offers are available at many of these leading online casinos, especially new player welcome bonuses which are generally perfect for playing the best and latest slots.
Playtech slots are hugely popular around the world with slots players, and it's easy to see why when you look at their impressive slots portfolio. Playtech is especially popular because of its long list of comic book slots. Their latest releases include titles like X-Men, Suicide Squad, Justice League and Man Of Steel. There's also plenty of slots themed on the world's leading superheroes like Batman, Spiderman, Iron Man, Captain America, and Thor. Other slot themes that Playtech excel in are movies and TV, with hits like Ace Ventura, Rocky, American Dad, and The Sopranos. However, they also cover many more themes including animals to Ancient Egypt, and other horror themed slots.
Stuff You Can You Sink Your Teeth Into
If you love your vampire themed slots, you're probably always looking for ones that give you plenty to sink your teeth into. Therefore, it's good news that playing the Vampire Princess of Darkness slot for real money adds plenty of bite to the average slots session. There are plenty of gothic-style symbols that can win you prizes including a hanging bat, a sinister castle, cloves of garlic, a chalice of blood, and the obligatory crucifix. Meanwhile, Vampire Princess of Darkness wilds on the middle reel can suck even more blood out of this game when they substitute for other prize symbols to make win lines.
The other major game-changing symbol is the scattered gravestone and, if they appear on reels one, three, and five simultaneously, they will trigger the five-level Graveyard Bonus Game. You will be whisked away to a second screen graveyard, and in level one of this bonus game you must choose one of the gravestones. Revealing a cash prize then advances you to level 2, then level three, then level four, and finally level five. However, choosing a graveyard that reveals a collect sign at any level proves a real pain in the neck by stopping the bonus round. This slot's RTP is 96.44%
More Horror Themed Slots
If you enjoy horror themed female protagonist slots, then slots don't come much scarier than Medusa's Gaze by Playtech. However, whilst it's usually her enemies that get turned into stone by her gaze, it's winning symbols that become stones in the exciting cascading reels feature that adds a 1x multiplier for every consecutive win. There's a fun reel layout too, as all the reels spin in a circle around Medusa's head. Enjoy this slot, and you may also want to check out more slots with Cascading Reels.
However, if you fancy more of an epic adventure, you might want to try a few spins of the movie themed slot The Mummy by Playtech. You'll set off on a journey to the hidden city of Hamunpatra made famous by the 1999 movie The Mummy starring Brenden Frazer as Rick. Once there, you'll have the opportunity to unlock some exciting features such as Mummy Power, Collapsing Reels, Mummy Re-spins, Scorpion Scatters, Scarab Attacks, and Expanding Mummies. There are also a Mummy Hunt bonus game and a free spins with super spins feature.
There are also many more horror themed slots you can try for free. However, if you simply can't get enough of vampire themed slots, you may also want to play Immortal Romance by Microgaming, Bloodsuckers by Netent, Eternal Love by RTG, and Blood Eternal by Betsoft.
Perfect for the Graveyard Shift
If you're a night owl by nature, then Vampire Princess Of Darkness could be the perfect way to pass the hours of darkness. However, even if you're not, this slot is exciting enough to keep you up at night. Spinning in even the base symbols is fun, especially when the vampire princess goes wild. There are also spin stakes for the newest of players to the most blood-thirsty, and you can play on mobile. Therefore, you probably can't wait to get down to the local graveyard for that five-level bonus game.
Game statistics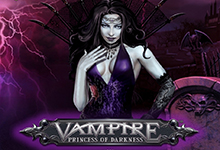 Players who played this game also played: