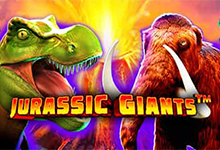 Pragmatic Play
Jurassic Giants
Journey back to prehistoric times in the free Jurassic Giants slot with software by Pragmatic Play.
Play for free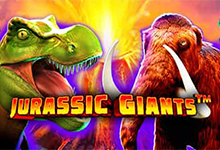 Pragmatic Play
Jurassic Giants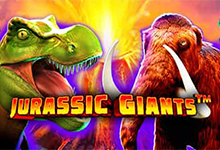 Pragmatic Play
Jurassic Giants
Unfortunately, this game is not available in your location
Why am I getting this message?
Thank you for informing us. Our engineers will work to fix the problem as soon as possible.
Get notified by email when this game is fixed
Thank you. Our engineers will inform you when the problem has been fixed.
Try these similar games instead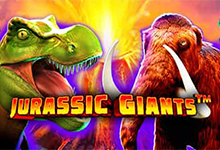 Pragmatic Play
Jurassic Giants
Rate this game:
Journey back to prehistoric times in the free Jurassic Giants slot with software by Pragmatic Play.
Play for free
Report a problem with this game:
Jurassic Giants Slot Review
Journey back to prehistoric times in the free Jurassic Giants slot with software by Pragmatic Play. A prehistoric game where players can win real cash prizes, they'll have to find their way through the jungle but beware of the predators which might be lurking behind every vine… The might mammoth, sabre-toothed tiger and even dinosaurs all prowl the board so if you want to win prizes you'll need to keep your wits about you!
The graphics on this online slot are anything but prehistoric and offer a glimpse to what the world might have looked like when dinosaurs roamed around. But distracting though the incredible artwork might be, players will find even more to grab their attention in the form of a range of cash prizes and game features on the reels. But will you be the one to survive this Jurassic period? Here's a review of Jurassic Giants video slot with all the fast facts every player needs to begin.
Explore Your Surroundings
Although you might be keen to get on with the business of winning prizes, it's worth pausing for a moment to explore the stunning setting and beautiful graphics which really set the scene. The 3D effects are nothing short of spectacular with flowing waterfalls in the distance while the breeze gentle ruffles the plants in the foreground. Lush green vegetation and tropical vines show just how stunning the world would have looked without the intervention of mankind.
When you're ready to play you'll find 6 reels, making this a slightly bigger board than average. This doesn't contain any conventional paylines as the developer has chosen to use the more recent style of play. To win all you need to do is land matching symbols on adjacent lines, regardless of position. As an added extra, you can play both ways; this means that you can line up your matches both from the left to right and right to left. This should provide you with even more opportunities to win big. Betting starts from 0.50, ideal for those on a low limit but can be increased up to the max bet of 250.00 for high rollers aiming for the top payout.
Play for Prehistoric Prizes
The game features in any slot are sure to pique the interest of every player as this is the way to win the most prizes without having to use your own coins to secure the payout. There's a whole host of bonuses offered by different games and each one varies with what's available. There's no second screen bonus round with Jurassic Giants, but players will still find more than enough to keep them entertained. The exploding volcano is wild in more ways than one; this is the wild symbol on the reels and will stand in for others to create more winning matches.
The only exception is the scatter symbols; these count no matter where they land and cannot be substituted for by the wild. In this game, the scatters always appear stacked and if you land 10 or more you'll trigger the free spins round. The number of free spins you'll get bears a direct relation to the number of scatters you land starting with 15 for landing ten and increasing up to 250 free spins for landing 20 scatters. The feature can be retriggered in the same way while it's being played out and as an added advantage, players will also receive randomly allocated multipliers of x2-x4.
More Dinos Please!
Dinosaurs are a popular theme in all kinds of mediums from child's toys through to films and it's filtered through onto the slots too. If you browse through online casinos you'll find an enormous range of titles which feature the long-extinct creatures from those which are cute and cuddly to the more terrifying versions too! Sticking with the same theme, there's Jurassic Slots from Wager Gaming Technology. Starting with an introductory film of humans landing on an island solely inhabited by dinosaurs, players will have 5 reels and 25 paylines filled with free spins, multipliers and a max payout of 5000 coins.
Fun Play for Everyone
Jurassic Giants is an online video slot from Pragmatic Play which offers gamblers the chance to explore a long-forgotten world in amongst some glorious graphics. A truly immersive experience, the creation of the Jurassic environment brings slot play onto another level. However, players looking for a full complement of game features will be disappointed as there's no second screen bonus round included and what's on offer is fairly tame.
There's an RTP of 96.03% and medium-high levels of volatility so there may be a bit of a wait for prizes. This means that although the simplistic structure may suit newbies, they'll need to have the confidence to keep on playing through any dry spells and that may not be ideal. For this reason, Jurassic Giants is a slot that's probably more closely aligned to those with some prior experience.
Game statistics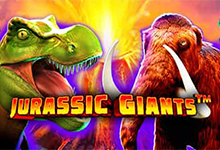 Players who played this game also played: