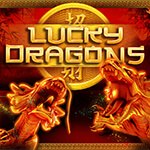 Pragmatic Play
Lucky Dragons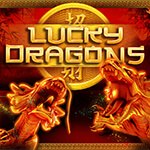 Pragmatic Play
Lucky Dragons
Unfortunately, this game is not available in your location
Why am I getting this message?
Thank you for informing us. Our engineers will work to fix the problem as soon as possible.
Get notified by email when this game is fixed
Thank you. Our engineers will inform you when the problem has been fixed.
Try these similar games instead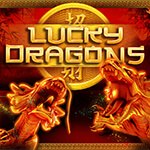 Pragmatic Play
Lucky Dragons
Rate this game:
Report a problem with this game:
Lucky Dragons Slot Review
If you're feeling like a winner, then the Lucky Dragons slot might be for you. This slot was designed by Pragmatic Play with an Asian-inspired theme. In this slot, you'll find common symbols and animals of Asian culture like dragons, tigers, the feng shui coin, and more. (1)
The dragon is also a symbol of power, strength, and good luck for people who are worthy of it in East Asian culture.
The slot also has an entertaining free spins bonus game where you can test your look and redeem free spins indefinitely.
But, is Lucky Dragons the right slot for you? After all, there are plenty of other Asian-inspired slots that someone can try out.
To answer this question, we'll be taking an in-depth look at everything that the Lucky Dragons slot has. We'll look at their gameplay ,payouts, and even volatility.
Then, by the end of our review, hopefully you'll know whether or not Lucky Dragons is for you. Are you ready? Let's get started!
Pros and Cons
Solid User Experience

Pristine Graphics

Large Betting Range
Smaller Payouts

Only One Bonus Game
How to Win at the Lucky Dragons Slot
Winning the Lucky Dragons slot is like any other online slot machine. You spin the reels and anytime you make a winning payline, you'll be paid out. However, there are some game rules that need to be covered.
Game Rules
To start playing Lucky Dragons, you'll need to make a bet before you can spin the reels. The bet must be at least the minimum and at most the maximum. Once spun, you'll only win if you've hit one of the many paylines available in Lucky Dragons.
Furthermore, paylines payout from left to right. Therefore, if you don't hit the leftmost reel on a spin, chances are you're not going to be paid out.
There are also special symbols like the wild and scatter. The wild symbol can help you create winning paylines while the scatter can unlock extra in-game features for you to take advantage of.
Lucky Dragons Slot Details
In order to have the best chance at winning big, you'll need to know the ins and outs of the Lucky Dragons slot. That's where we come in. This part of the report takes a look at the different details of Lucky Dragons. More specifically, we're going to take a look at the game's betting range, RTP, and volatility.
Betting Range
Lucky Dragons has a pretty large betting range, with a minimum bet of $0.50 per spin and a maximum bet of $250 per spin. This large range means that Lucky Dragons can accommodate a wide range of playstyles, whether you're a high roller or or a conservative player.
However, Lucky Dragons accommodates high rollers better, just because the maximum bet is so large. Payouts are much larger and can even be life changing if you hit some of the higher-paying symbols. For the minimum bet, while it is still nice, we've seen slots that pay a minimum of $0.01 per spin.
So, if your goal is to get the most spins you can possibly get, Lucky Dragons is a good choice but not the best one. 
RTP/Volatility
Lucky Dragons has an RTP of 95.19% and a medium-high volatility. An RTP of 95.19% means that, for every $10,000 wagered in the long run, approximately $9,519 is won back in slot winnings.
Considering that the average RTP of an online slot is 96%, this puts Lucky Dragons slightly below the average payout that a slot can give you.
However, you shouldn't use RTP as your only way of determining payouts. After all, RTP is a long-term estimation and in the short run, anything can happen. For example, you can easily go on a hot streak and hit several high-paying symbols, causing you to go past your projected winnings.
Similarly, you can also go cold, causing you to lose more money than you expect. Either way, luck will always play a factor into how you perform in the short term.
Lucky Dragons' medium-high volatility means that there's a decent amount of risk in the game. However, this is offset by higher payouts than usual.
For reference, a low volatility has little to no risk, meaning that you'll consistently hit payouts. However, the payouts are smaller and less rewarding. On the other side of the spectrum, high volatility slots have a lot of risk. As such, you can lose more money but you can make more money as well if you hit the proper paylines.
Therefore, medium-high volatility slots are in between low volatility and high volatility slots. They have more risk than low volatility slots, but they pay more--just not as much as your typical high volatility slot.
Lucky Dragons Slot Symbols and Values
In total, there are 12 different symbols that you can find when spinning the Lucky Dragons reels. Of these twelve symbols, ten pay some type of reward for hitting a payline while two are simply for enhancing gameplay.
The lowest-paying symbols are the Jack and Queen card. Both of these only payout $0.02 for matching three on a payline. On the other hand, the highest paying symbol is the Red Dragon which pays 160X your total bet.
For more information on the different symbols and their respective payouts, be sure to take a look at our paytable below!
| Symbol | 2 on a Payline | 3 on a Payline | 4 on a Payline | 5 on a Payine |
| --- | --- | --- | --- | --- |
| | $0.10 | $0.50x | $2.00 | $8.00 |
| | - | $0.25 | $1.20 | $4.00 |
| | - | $0.20 | $0.80 | $3.00 |
| | - | $0.20 | $0.80 | $3.00 |
| | - | $0.20 | $0.80 | $3.00 |
| | - | $0.10 | $0.50 | $1.50 |
| | - | $0.05 | $0.25 | $1.00 |
| | - | $0.05 | $0.25 | $1.00 |
| | - | $0.02 | $0.10 | $0.50 |
| | - | $0.02 | $0.10 | $0.50 |
Special Symbols
The Lucky Dragons slot also possesses two special symbols that you can take advantage of to enhance your rewards whenever you play: a wild and scatter symbol.
Wild
The wild symbol in Lucky Dragons is the golden coin. This can replace any other symbol to help create paylines except for the scatter. As such, it's great for hitting high-paying symbols if you don't have enough on the reels.
Scatter
The scatter doesn't pay any type of cash reward nor does it help you create paylines. Rather, the scatter can unlock the free spins bonus game in Lucky Dragons. The symbol itself is a golden buddha labeled "Free Spins" and can only appear on reels 2, 3, and 4.
Once three scatter symbols have landed on the reels, the bonus game is activated and you're given a multiplier to help increase winnings.
Lucky Dragons Slot Features
Lucky Dragons doesn't have many slot features aside from the wild, scatter, and free spins bonus game. Luckily, the free spins bonus game is extensive enough to keep you entertained the entire time that you play.
Free Spins Bonus Game
Once activated, the free spins bonus game starts out with six free spins and a 2X multiplier on your total bet. This is pretty simple, but what makes the bonus game special is that you can retrigger free spins indefinitely.
Everytime you land a scatter symbol, you receive an extra free spin. Even better, everytime you land three at once, you get an extra six spins.
Lucky Dragons Mobile Slot
Because of how popular the Lucky Dragons mobile slot game is, you can expect to find this game at most online casinos you play at. Furthermore, as mobile casinos begin to arise more and more in popularity, you can now play Lucky Dragons on your phone.
The process to do is pretty simple. First, check and see if your online casino has a mobile version that you can play on. If so, simply boot up your preferred mobile browser, log into the online casino, and you can start playing Lucky Dragons right away.
Some online casinos might offer an app, but this is a little more complicated. For one, apps are heavily regulated. As such, not every online casino will be permitted to put their app on the play store. For example, Google Play has only just begun to allow real money casino apps on their store. (2)
Android users in regions other than the UK, Ireland, France and Brazil will soon be able to find and download real-money gambling apps from the Play Store.
Secondly, most online casinos tend to stick with mobile browsers because HTML technology is simpler and more affordable. This makes it easier to update and maintain whereas apps require more bandwidth and personnel to run operations.
Nevertheless, whether the casino prefers to use a browser or an app, just about every top online casino has made sure their games are mobile-compatible. This is due to the fact that more and more people are playing casino games on their phone every year.
Therefore, whether you're at the library or on vacation with friends, you can play Lucky Dragons mobile slot today as long as you have a phone and some type of internet connection. 
Overall Rating
Here at MrGamez, we like to compile our overall rating of a slot game based on four areas: user experience, game features, payouts, and sounds & visuals.
We applied these ratings to the Lucky Dragons slot. That way, we can come up with a definitive ranking to help you determine whether or not you want to put your money here.
Overall, the user experience of Lucky Dragons was pretty solid. There was no lag and we had no trouble accessing any of the controls we wanted. Furthermore, the layout was simple and decorated well. There's not much to suggest since the game is well-designed.
This is an area where Lucky Dragons can improve. They don't have many in-game features aside from the free spins game. Luckily, this is a pretty fun bonus game with plenty of entertainment worth your while. However, we would've loved to see an extra feature or two to keep things spicy.
Another area where we feel like Lucky Dragons can improve is in the payouts. The game itself is expensive and designed for high rollers. However, the multipliers could be better. The lower symbols payout a negative amount for some paylines and the better-paying symbols have disappointing multipliers.
There are still plenty of opportunities to make money, though. We just feel like the standard pay could be a little better.
This is where Lucky Dragons blows it out of the water. They have both great sounds and visuals. For sound, there's immersive background music and plenty of different sounds based on what you do. Furthermore, the visuals are amazing.
Pragmatic Play has a fully designed background and the symbols are detailed and creative. We give the studio two thumbs up for giving us great sounds and visuals.
At any online casino you go to, there's a good chance you'll see a number of Asian-inspired slot machines. Lucky Dragons is one of the ones you should try next time you go to your favorite online casino.
There's free spins, multipliers, and great sounds and visuals. Overall, it's a solid slot in a theme that can get pretty competitive. So, if you're feeling lucky, maybe it's time to play Lucky Dragons.
Lucky Dragons FAQs
Where can I play the Lucky Dragons slot for free?
You can play the Lucky Dragons slot for free here at MrGamez. We offer one of the widest selections of free online slots for you to play today.
Can I play the Lucky Dragons slot machine for real money?
Yes, you can play the Lucky Dragons slot machine for real money at an online casino.
Is there a jackpot round on the Lucky Dragons slot game?
No, but there is a free spins bonus round for the Lucky Dragons slot game.
What's the max payout on the Lucky Dragons online slot?
The maximum payout for the Lucky Dragons online slot is 160X your total bet. 
References
Wikimedia Foundation. (2021, November 16). Chinese dragon. Wikipedia. Retrieved November 17, 2021, from https://en.wikipedia.org/wiki/Chinese_dragon.


Google will soon allow gambling apps on the play store in the US. Fintech News | Fintech Zoom. (2021, September 20). Retrieved November 17, 2021, from https://fintechzoom.com/fintech_news_cciv-stock/google-will-soon-allow-gambling-apps-on-the-play-store-in-the-us/.
Game statistics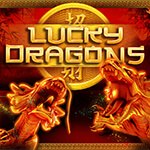 Players who played this game also played: