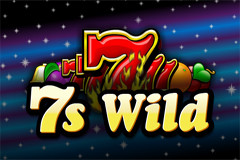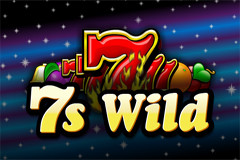 Unfortunately, this game is not available in your location
Why am I getting this message?
Thank you for informing us. Our engineers will work to fix the problem as soon as possible.
Get notified by email when this game is fixed
Thank you. Our engineers will inform you when the problem has been fixed.
Try these similar games instead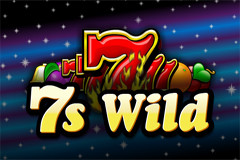 Spielo Games
7s Wild
Rate this game:
7s Wild Slot Review
7s Wild is a retro themed video slot from Spielo Games. It's a slot that regularly grabs the attention of players due to its simplicity and payline mechanics. What makes the game so enticing is that the paylines pay from both sides. It means that players are able to create wins from either end of the reels. This essentially doubles the number of ways that wins can be created. It instantly helps 7s Wild to stand out from the crowd.
The game's theme is obvious from the outset. It's a title that provides a classic fruit machine framework with a modern slot title twist. All of the symbols in the game are linked to the classic fruit symbols from retro machines. It adds to this with the both way paylines and an enjoyable free spins round. It's a simple but effective design and gameplay choice that really makes sure 7s Wild stands out.
Pros and Cons
Paylines pay both ways

Free spins feature is lots of fun

Wild symbols can help create lots of wins
Payouts could be a bit higher
Symbols & Values
Because 7s Wild is a classic themed video slot it uses a retro set of symbols. They come from the classic fruit machine (1) set of symbols, with everything on the reels being something that can be found on these games. The symbols all pay out when at least 3 appear on a payline. The more symbols that you manage to get the more you will be paid out. The symbols you can expect to see include:
The flaming 7 symbol acts as both the wild and scatter symbol in this game. If less than 5 appear on the reels then they will just help to create winning lines on the reels. If 5 or more appear then the free spins bonus will begin. The more flaming 7s that appear the more free spins will be awarded.
It's a simple paytable that doesn't feature as many symbols as other games. This combined with the both ways paylines does make it slightly easier to create wins. If you want to get access to the full payouts for each symbol then check out the paytable:
| Symbol | 3 on a Payline | 4 on a Payline | 5 on a Payline |
| --- | --- | --- | --- |
| | 2x | 100x | 1000x |
| | 10x | 50x | 500x |
| | 5x | 25x | 250x |
| | 3x | 15x | 150x |
| | 2x | 10x | 100x |
Stake Choices
7s Wild allows players to customise the paylines in order to set their bet. This can be set anywhere between 1 and 5. So if you want the true retro slot experience you can set it to just a single payline, obviously this will significantly impede on your chances of creating a win.
There is no ability to set an autoplay with 7s Wild. This does put it slightly behind other slots on the market as creating a bankroll management system is marginally harder with this title.
Betting Options
Players can wager a single coin on each payline in 7s Wild. It means that between 1 and 5 coins can be wagered on every spin due to the customisable paylines. The coin values are set at between 1.00 and 100.00. This means the total wager range for 7s Wild is 1.00 and 500.00. This allows players on every kind of budget the opportunity to play the game.
7s Wild Slot Features
Game Rules
It's very simple to get playing with 7s Wild. Once your stake has been set and you have chosen the number of paylines that you want active it's just a case of spinning the reels. The only real part of the base game that grabs the attention of players is the payline mechanics. These work from both left to right and right to left. It means that wins can be made from either side of the reels. If a win is created from both sides then the highest paying win will be paid. The pay both way paylines combined with a smaller amount of symbols does mean that wins can come along quite often in 7s Wild.
There are also flaming 7 symbols. These act as wild symbols and can help to create additional wins. They don't add any multiplier to wins but they do double up as scatter symbols to make the bonus round an interesting one.
Bonus Games and Free Spins
The free spins round begins when at least 5 of the flaming 7 symbols appear on the reels. This instantly awards 5 free spins to players. If you're able to get more of the symbol to appear then it will give out more free spins. If 5 or more of the flaming symbols appear during the bonus round then extra free spins will be added to your total.
Play 7s Wild on Mobile
With mobile gaming being one of the most popular ways to play (2) in the modern world, it's not a shock that Spielo has made sure the title is available on mobile devices. It's fully compatible with most modern devices and has been optimised to ensure it can quickly and easily be accessed on a smaller screen.
It's very easy to get started with 7s Wild on mobile. Controls are easy to use and the game runs very smoothly.
Although some older devices might struggle to run 7s Wild, the optimisation that has been carried out ensures that most mobile devices can easily play the game. It ensures there is a big proportion of players who can enjoy the title.
Fixed Jackpot
7s Wild uses a fixed jackpot for its maximum prize. As it's a low volatility game this doesn't come as much of a shock, as normally higher volatility games offer progressive jackpots to players. While it means that the maximum prize that is offered isn't as high as a progressive game, it also means that players are able to understand from the start what the top prize is.
Fixed jackpots ensure that players can be fully aware of what the potential prize is. This instantly makes players more aware of what they can walk away with.
Jackpot
The maximum payout in 7s Wild slots is awarded when players are able to completely fill a payline with the 7 symbol.
Theme and Graphics
7s Wild uses a retro theme for everything in terms of aesthetics. From the moment you load up the game you will be aware that this is based on classic slots of the past. However, it has been modernised in a number of ways to help it to stand out on the modern slot market.
The symbols are all designed to a good level, while they're not overly flashy they still look great on the screen. They are also nice and big, which really helps them to stand out on the reels. They are like an updated version of classic slot symbols as they're much bigger and a lot smoother than the classic slots of the past.
In terms of sounds it has really embraced a classic feel. It actually sounds like you're playing on a classic machine. There is an 8-bit feel to the sounds that helps to set an atmosphere.
Overall, 7s Wild has an aesthetic style that really fits the theme of the game. It might not be the best looking or sounding on the market, but it matches up with how the game should feel perfectly.
Slot Strategy
The 7s Wild slot machine is just like other video slots on the market in that it uses a pseudo random number generator (3) to generate how the reels will spin. This then works in tandem with the algorithms that power the game to decide where the reels will land when they spin. This particular model of gameplay is what means video slots can't be predicted. They are completely random so there is no way to guarantee a win like in purely skill based games. It doesn't mean that 7s Wild slots offers an inferior experience to other games as this is how all video slots work.
The payline mechanic for 7s Wild is different to most other video slots. It has paylines that pay out both ways. It means that wins can be created from the left hand side or the right hand side of the reels. This essentially doubles the number of total paylines to 10. This makes it much more interesting to players as the low number of symbols makes creating wins statistically easier than in games with a similar number of paylines.
The free spins round is where the most fun can be had in 7s Wild slots. While it doesn't change how the base game works, it does provide a number of opportunities for wins to be made without depleting your bankroll. Getting to this round is the main aim for players of this title.
7s Wild RTP/Volatility
The RTP for 7s Wild is set at 96.08%. However, depending on the online casino that you choose to play at it can be set as low as 92.03%. This is due to it having a variable RTP. So, it's important to check which RTP is being used when you play. At the highest rate, the RTP is slightly above the market average.
Working with the maximum RTP it generally means that on average every 10,000 credits that are wagered in the game 9,608 will be returned. This won't work out perfectly for each player though as this is calculated across many millions of spins.
The low volatility means that wins come along quite often in the game. The downside to this is that the wins aren't as high as with higher volatility titles. For beginner players this is one of the best ways to play. It means you can get used to a game that will provide a decent number of wins along the way.
The slightly above average RTP means that 7s Wild slots will generally give players a better rate of return than other titles on the market.
This might not be a game for players who are looking for big wins. The low volatility could put off higher rolling players due to the lack of high level wins. However, the regular wins means that over time it is possible to significantly increase the size of your bankroll.
Playing for the free spins is the main focus for 7s Wild. This will give the chance to get a return without using up your budget.
The top win on a single spin for 7s Wild is 200 times the player stake. This is a relatively low payout. This is because the symbols don't appear stacked so the top prize can't be won more than once. However, it can be won on multiple spins in a row.
How to Win at the 7s Wild Slot
Due to the pseudo random number generator that powers 7s Wild, creating a perfect winning strategy isn't possible. Each spin is completely random and so predicting how it will land can't be done. However, you're still able to increase your chances of winning with a few simple changes to your playing style. We have highlighted some of the best methods out there when it comes to increasing your winning potential. Take a look through our tips and improve your strategy today.
Be Strategic with your Budget
It's highly important to play in a strategic manner with video slots. This doesn't have anything to do with how you spin the reels, it's all to do with how you manage your budget. Managing a budget in a video slot is attempting to get the largest number of spins you can without dropping your stake per spin too low. This will allow you to play for long enough to have a good chance of activating the bonus round, while also keeping your stake high enough to give you good wins when they come along. So it's never a good idea to put all of your budget into just a few spins. Split it up and get as many as you can out of it.
Never Chase Losses
Chasing losses is the easiest way for you to get into trouble. If you think there is a big win coming along but your budget is empty, walk away. Never make another deposit if it's outside of your original budget. This is how you end up spending money that you don't have. It's important to stick to your budget and walk away if it's empty.
Load up Demo Modes
While it might sound strange to talk about demo versions of video slots due to the random nature of the game, they can be of some use. Playing a demo version of a video slot will allow you to get a feel for how the game plays. While they all use random numbers, they also have a specific mechanic to them that makes them feel unique. Try out a game without spending any of your budget and you can get used to how the game plays. It means you won't be spending the first part of your budget getting used to the game and when you play for real money you will be totally ready.
Overall Rating
7s Wild is one of the most prominent retro style slots on the market. It is simple to get started, has a great theme in place and the payline mechanics are superb. Just to give you one last look over the important aspects, we have compiled the important information that you need:
7's Wild slots is great for players. The controls are some of the very best around, making it a breeze to set your stake and spin the reels. There's also a great mobile version that offers access to most mobile players.
This is an area where the game falls down somewhat. There's just a single free spins round included here. Not only that but it doesn't add any multipliers or different reels to the game either. The paylines paying out both ways does make things slightly better, but there could definitely be more offered to players in terms of features.
Payouts is another area that could be improved in 7s Wild. The maximum win of 200 times the player stake is quite low, even for a low volatility game. Although the ability to win it more than once does improve the payout quality slightly. There is still room for improvement though.
The game is set in an Asian setting. The pink flowers contrast nicely with the red background while the game's graphics aThe sounds and visuals for the 7s Wild slot machine are above average. While they're not quite on the same standard as some of the flashier games on the market, they do offer players a great retro experience. It takes the retro style of classic slots and polishes it in every way. The symbols all look like smoother and bigger versions of classic slot symbols. The sounds are like clearer versions of 8-bit sounds. It has nailed the retro aesthetic without providing a sloppy looking game.
7s Wild is a great slot for players who enjoy retro slots. It has a modern touch that improves what it offers to players, while still offering a classic feel. It might not match up to some of the feature rich modern titles on the market, but if you prefer a classic feel it will give you a great experience. It doesn't have the highest payouts on the market, but the low volatility does mean that wins come along quite often.
7s Wild FAQs
Can I play the 7s Wild slot for free?
Yes you can. All you need to do is load the title up here at MrGamez.com. Once it's loaded up you can easily get started playing without risking your budget.
Is the 7s Wild slot game available to play for real money?
You're able to play the 7s Wild title for real money at a range of high quality online casinos. Just choose the right site for your needs from our list of top casinos. Once you've chosen you can start playing for real money right away.
Can I play 7s Wild using cryptocurrency?
It all depends on the online casino that you are playing at. Take a look through our recommended casinos and you will be able to find a trustworthy casino that allows for deposits with cryptocurrency. If it has 7s Wild available then you will be able to play using crypto.
Is the 7s Wild slot machine available on mobile?
It is. It's got a mobile compatible version available for both iPhone and Android players.
References
Slot Machine (2021 July 28). Retrieved July 29, 2021, from https://en.wikipedia.org/wiki/Slot_machine

Clement, J (2021 June 28). Retrieved July 29, 2021, from https://www.statista.com/topics/1906/mobile-gaming/


Fathi-Vajargah, B (2016 February). Retrieved July 29, 2021, from https://www.researchgate.net/publication/297651143_A_Novel_Pseudo-Random_Number_Generator_for_Cryptographic_Applications
Game statistics