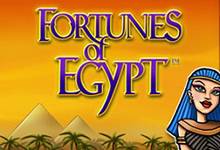 Spielo Games
Fortunes of Egypt
The mysteries of Ancient Egypt never fail to draw in more and more players as the online stop market keeps on expanding.
Play for free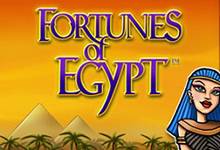 Spielo Games
Fortunes of Egypt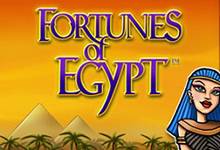 Spielo Games
Fortunes of Egypt
Unfortunately, this game is not available in your location
Why am I getting this message?
Thank you for informing us. Our engineers will work to fix the problem as soon as possible.
Get notified by email when this game is fixed
Thank you. Our engineers will inform you when the problem has been fixed.
Try these similar games instead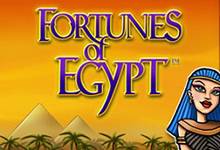 Spielo Games
Fortunes of Egypt
Rate this game:
The mysteries of Ancient Egypt never fail to draw in more and more players as the online stop market keeps on expanding.
Play for free
Report a problem with this game:
Fortunes of Egypt Slot Review
The mysteries of Ancient Egypt never fail to draw in more and more players as the online stop market keeps on expanding. Perhaps it is the unique aesthetics of this long-lost civilisation, the gods with animal heads or the tendency to worship cats, but here we are about to discuss Fortunes of Egypt, a video slot game designed by Spielo that strives to encompass all of these aspects on just 5 reels.
Not to be confused with Fortunes of Arabia from Omega Gaming, Fortunes of Egypt is a medium variance slot game rich in special features and jackpots set at the apex of the Egyptian civilisation. Just as it is the case with many other Spielo games, Fortunes of Egypt has had to balance its innovative gameplay with a lower graphic quality. Whether or not the trade-off was worth it will be up to you to decide, so let's check out the game in our complete review here.
Trekking Across the Desert
Fortunes of Egypt takes place in the Egyptian desert, with a few palm trees at the edge of a seemingly endless expanse of sand. You can catch a glimpse of the sphinx in the background, but overall Fortunes of Egypt sticks to a yellow and sandy decor, with few details to look at.
The reels and their symbols are also heavily pixelated, with no trace of the vibrant hieroglyphs that ornate the temples and tombs in other slot games such as Egyptian Dreams from Habanero. In a nutshell, Fortunes of Egypt might disappoint from a purely aesthetic point of view – but there is much more than that to the game, as we will see next.
How to Make Your Way to a Big Win
The basic rules of Fortunes of Egypt are straightforward: you are facing 5 reels and 25 paylines, with an interactive command bar at the bottom of the screen. Use the different pop-up menus to choose a wager and the coin value, then activate a few paylines and let the reels spin loose. You have the possibility to bet from 0.25 to 25.00 credits per spin when all paylines are active, which constitutes a comfortable betting range for most players.
Fortunes of Egypt is a well-balanced slot game that gives players even chances to win all sorts of cash prizes, with an average volatility. You can take extra risks and go all-in with the max bet button, or play in autospin mode to stick with the same wagers for a little while. The paytable itself contains ships, pyramids, sphinxes, papyruses, Egyptian crosses and more original symbols, while the top prize in the base game is set at 5,000 times the value of your current wager. Given the statistical chance that you have to win big prizes in Fortunes of Egypt, we can safely say that this Spielo creation is a generous one.
Play for Free and Go Treasure Hunting
Fortunes of Egypt is also quite rich in special features, starting with a pharaoh symbol that serves as the wild card. This joker will appear on any reel to replace the basic symbols and give you a little boost to create some extra winning combinations. You may also find scatter beetles all over the screen, able to award a maximum of 100 free spins instantly.
More originally, you can try and jackpot symbols to win up to 100 times your bet, or line up treasure chests across the reels and initiate the Fortunes of Egypt bonus game. Make your way through the different levels of the treasure hunt and you will get a shot at winning a super x50,000 jackpot.
A Simple Look That Hides a Lot of Big Rewards
Fortunes of Egypt is based on a very classic theme for a slot game, with below-average graphics and predictable rules. But apart from these "flaws", the game is actually a generous one, filled with fun challenges and big wins.
We loved how fast-paced Fortunes of Egypt was, and playing in autospin mode reinforced this impression even further. It is definitely in your best interest to make big bets and aim for the free spins in order to get a chance at both the generous basic prizes and the exceptional jackpots that Fortunes of Egypt has to offer.
Game statistics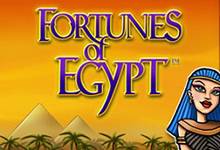 Players who played this game also played: