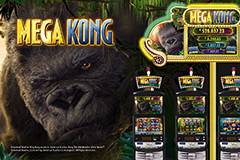 Spielo Games
Mega Kong
Mega Kong by Spielo is the video slot that all land based players want to play at the moment.
Play for free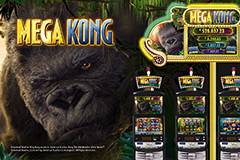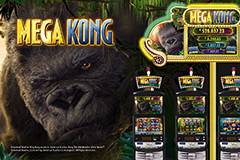 Unfortunately, this game is not available in your location
Why am I getting this message?
Thank you for informing us. Our engineers will work to fix the problem as soon as possible.
Get notified by email when this game is fixed
Thank you. Our engineers will inform you when the problem has been fixed.
Try these similar games instead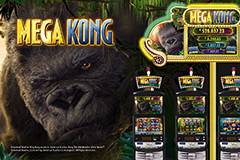 Spielo Games
Mega Kong
Rate this game:
Mega Kong by Spielo is the video slot that all land based players want to play at the moment.
Play for free
Report a problem with this game:
Mega Kong Slot Review
Mega Kong by Spielo is the video slot that all land based players want to play at the moment. It follows up their internationally renowned King Kong Cash slot that is widely regarded as their most popular release of all time and uses the same branded theme but completely overhauled gameplay and graphics for one of the truly essential games for any player. With plenty of action and a truly stunning range of progressive jackpots, it is guaranteed to be a hit for the foreseeable future and if you can't get to the casino right now or simply want to enjoy similar action without delay, you can check out our online alternatives to this game for everything that you could hope for from similar online slots. We've got more on those alternatives at the end of the review, but first, let's take a look at what makes it so special.
Choice of Three Games to Play
As with all of Spielo's jackpot games, the Mega Kong machines are deployed in banks. You're effectively competing with players around you at the same time for the big prizes and this particular game has been designed to be as accessible as possible. Higher stakes only give players a minimal edge when it comes to accessing the bonus rounds, so whether you're on the minimum bet or looking for a big win, any of the displayed jackpot prizes could well be yours.
Before starting out on the game properly, you'll need to select one of the three different games within the machine:
Mega Kong – Jungle Lagoon. This game features the damsel in distress style symbol as the wild card and she makes regular appearances, filling in for all but the treasure chest. Three of those chests will pay a scatter win and launch the free spins round.
Mega Kong – Jungle Queen. On this game, you're looking out for the Jungle Queen herself to act as the scatter and you can enjoy even more free spins by landing three or more of the monument icons in view.
Mega Kong – Jungle Treasures. The wild card is the pantera and will fill in for anything other than the jackpot icons and scatter, which in this case is the moon symbol.
The differences between the three games are pretty much cosmetic but you'll soon decide on a favourite when you take them for a spin. The important thing is that all three games retain the bonus symbols and you'll be looking to enter the Mega Kong Bonus and Mystery Kong bonus in order to win the big prizes that are listed at the top of the screen. As noted, all of the prizes are available to every player regardless of stake, although for the ultimate edge you'll want to bet as big as possible.
Mega Kong was undoubtedly the biggest release of 2013 for Spielo and you'll find it in casinos all over the world right now. With some of their older classics still not being available online, this one might take a while but if you want top visuals, branded slots action and even bigger jackpots then you'll definitely want to check out our Mega Kong alternatives. Those games are all similar in a number of ways and are sure to satisfy any player – check them out for yourself at the featured casinos that can also be found on the very same page!
Game statistics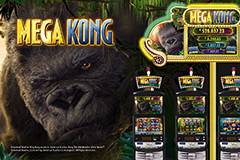 Players who played this game also played: