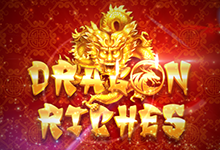 Tom Horn Gaming
Dragon Riches
Dragons hold a special place in Chinese culture. These legendary creatures are said to take many forms, and can have control over water, floods, and storms.
Play for free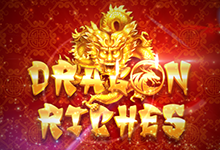 Tom Horn Gaming
Dragon Riches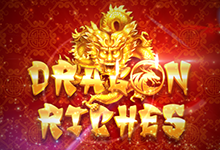 Tom Horn Gaming
Dragon Riches
Unfortunately, this game is not available in your location
Why am I getting this message?
Thank you for informing us. Our engineers will work to fix the problem as soon as possible.
Get notified by email when this game is fixed
Thank you. Our engineers will inform you when the problem has been fixed.
Try these similar games instead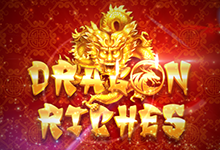 Tom Horn Gaming
Dragon Riches
Rate this game:
Dragons hold a special place in Chinese culture. These legendary creatures are said to take many forms, and can have control over water, floods, and storms.
Play for free
Report a problem with this game:
Dragon Riches Slot Review
Dragons hold a special place in Chinese culture. These legendary creatures are said to take many forms, and can have control over water, floods, and storms. Perhaps more importantly for gamblers, they are also said to be a symbol of power and wealth, as well as good fortune – at least for those people who are worthy.
That's why these dragons are so commonly used in casino slot machines. One new online slot that puts these mythical beasts at the heart of the action is Dragon Riches by Tom Horn Gaming. The machine features many of the traditional symbols of wealth and success in Chinese culture, a common thread throughout many gambling games. What makes it stand out are the multitude of options that players have when they play, as well as the four progressive jackpots that can trigger at almost any time.
A Traditional Look
Outfitted almost entirely in red, the Dragon Riches video slot exemplifies just about everything you would expect to see in a traditional Chinese-themed slot machine. The patterned red background is joined with plenty of golden accents, giving the game a very crisp, royal look. Unsurprisingly, dragons can also be seen in the artwork, and many of the icons are similar to those in other games that are aimed at audiences from China.
Like most games that are included at online casinos featuring software by Tom Horn Gaming, this machine is mobile-optimized, and can be played on just about any device with any operating system you're running, straight from your web browser. There are a multitude of betting options: low limit players can play the basic game for as little as €0.40, while high rollers can unlock all of the optional features and spend as much as €88 per spin. A play for free option is also available.
Gathering Wealth
The Dragon Riches video slot is a five-reel game that uses an all ways format. Since the game uses the standard 3×5 layout, you'll have 243 ways to win on every spin, with every single possible left to right combination being available to you. In order to earn prizes, players must connect with at least three identical symbols in a row. For starters, players can match the generic card rank icons from tens through aces to score smaller wins.
The high-paying symbols in this game are more thematic. They start with lanterns, and continue with coins, rings, and ingots. The biggest payouts of all come from statues. If you manage to hit five of these in a row, you'll be able to win 50x your base betting amount. There are also wild symbols (dragons, naturally) that can be found on the reels. These will substitute for any of the normal icons in order to complete winning combinations for you wherever possible.
The Golden Rule
One of the key features on this machine is the ability for players to unlock higher-paying versions of the game's thematic symbols. At the start of each game, players can choose to have anywhere from one to five gold symbols in the game (even at the base level, the lantern symbol is considered golden). The gold symbols replace the standard icons, and offer much larger prizes for gamblers to win.
Of course, there's a cost that comes with unlocking these icons. The lowest level of betting costs eight units to play. Unlocking gold coins raises the cost to 18x, and further levels cost 38x and 68x respectively. To unlock all five golden symbols, you'll be betting 88 units per spin. The upside to this is that you'll also have much more winning potential: all of these symbols have bigger payouts than normal, with the gold statues paying 20 times as much as their standard counterparts.
Imagine Dragons
Paying for additional gold icons will also unlock some of the special features in Dragon Riches. There is a progressive jackpot bonus round that can be unlocked at random anytime at least one wild symbols appears on the reels. However, not everyone will have the chance to play for the biggest prizes. You'll need to pay for at least two gold symbols to unlock the smallest progressive; every level beyond that will unlock one more jackpot, with the fifth and highest betting level giving you the chance at winning all four. In the bonus round, you'll reveal prizes from a grid of 12 icons, picking until you match three of a kind, winning either one of the jackpots or a flat cash prize.
Players can also find their way into a free spins game. Hitting three or more scatter symbols will not only earn you a prize, it will also grant 10 free players at the same betting level as the spin that triggered this bonus round. In addition, there's also the option to play a gamble feature at the end of any winning round. If you choose to play this, you will be asked to choose whether the next card from a deck will be red or black, with a correct answer doubling your stake. Guess wrong, and you'll forfeit your winnings.
Treasures from China
With a number of interesting features and the ability for players to customize their experience, Dragon Riches is an interesting game. We like the fact that there are a number of different stakes levels available, and the fact that the payouts can get very large – if you're willing to bet bigger in order to have a shot at those huge prizes and progressive jackpots. The game also draws heavily on Chinese traditions, which will certainly appeal to many gamblers. If you've enjoyed similar slots before, we'd definitely recommend checking this one out if it comes to your favorite online gambling site.
Game statistics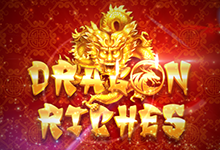 Provider:
Tom Horn Gaming