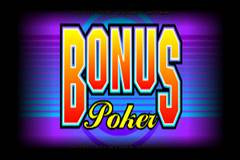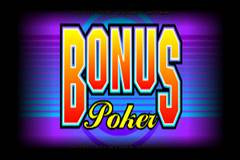 Unfortunately, this game is not available in your location
Why am I getting this message?
Thank you for informing us. Our engineers will work to fix the problem as soon as possible.
Get notified by email when this game is fixed
Thank you. Our engineers will inform you when the problem has been fixed.
Try these similar games instead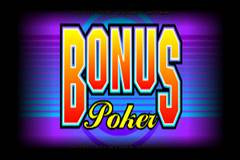 Video Poker
Bonus Poker
Rate this game:
Report a problem with this game:
Bonus Poker Slot Review
Video poker is a simple game, and whether you cut your teeth on Jacks or Better or Deuces Wild, all of the variants under the sun will not present a problem in terms of picking up and playing just about anything. Developers, both online and on land, keep things interesting with their own twists on the standard action, either by throwing in extra wilds or enhancing certain pay outs depending on specific conditions. Microgaming has done just that here on Bonus Poker which, to the untrained eye, may look like a standard game of Jacks or Better. However, the bonus referenced in the name is very real and will attract some players that want to get the best value possible from their big wins.
Jacks or Better Imitation
At the core of the action is a fairly standard video poker game with plenty in common with the aforementioned Jacks or Better. The hand ranking and prizes are indeed identical to that classic game to a certain extent. However, the bonus element of the game comes into play when you land four of a kind. A standard hand created in that manner is worth 25 times your bet. However, if the four matching cards happen to be twos, threes or fours, then your pay-out is increased to forty times your bet. If you manage to land four aces then that prize increases even further to eighty times your bet, more than a straight flush and second only to the royal flush in terms of available prizes. As you'd expect, changes like these generally see compromises made on the prize board to maintain the house edge, and in this case a standard four of a kind or royal flush hand pays slightly less than the traditional Jacks or Better game.
Aside from the enhanced value that comes from landing four matching cards, it is business as usual on Bonus Poker so if you want familiar gameplay for which Microgaming is renowned, combined with better value on your big wins, this is well worth a try. Play it for yourself here on this page and be sure to check out all of our great Microgaming video poker all with no deposit. For real money action on any of these games, be sure to head over to one of the casinos featured at the top of the page for excitement, bonuses and much more.
Game statistics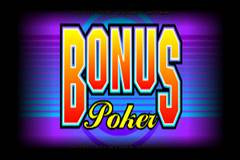 Players who played this game also played: