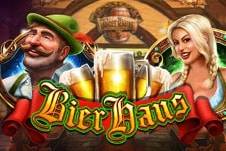 WMS
Bier Haus
Rate this game:
Williams Interactive travels the world in search of great themes for online slots and then has a habit of bringing those themes to life in stunning detail and this time it is time for the turn of Munichu2019s annual Oktoberfest.
Play for free
Bier Haus Slot Review 
If you're a fan of beer, then hop over to Munich so that you can enjoy Heidi and Hannah's Bier Haus slot! This slot has all the elements of a German bar, with plenty of beer, barmaids, and the traditional lederhosen dress.
Furthermore, the slot is chock full of free spins and wild symbols for you to take advantage of. As a result, Bier Haus has become one of WMS's top slots to play at online casinos.
Thus, today, we'll be taking a look at Bier Haus to see if the slot is for you. Together, we'll review the slot's theme, in-game features, payouts, and even its mobile compatibility.
By the end of our review, hopefully you'll know whether or not you want to grab a pint of beer and spin the reels with Heidi and Hannah. Are you ready? Let's get started!
How to Play Bier Haus
The Bier Haus slot is quite easy to play. The slot has 5 reels, 4 rows, and 40 paylines to win from. This is a pretty standard set up for a slot machine, with most slots offering anywhere between 15-40 paylines.
Simply press the spin button and all 5 reels will start spinning. In order to win a spin, you'll need to hit 3, 4, or 5 symbols from left to right in a payline. If you manage to hit a payline, you'll be paid out based on the number of symbols hit and that symbol's multiplier.
The betting range for Bier Haus is decently large, with the minimum bet being $0.05 and the maximum bet being $40.
While the maximum bet isn't as large as some of the other slots we've reviewed, this is still a large betting amount that can yield hefty returns when you successfully hit a payline.
Furthermore, with a minimum bet of $0.05, you can keep your money close to you and play conservatively if this is the playstyle that you like.
Thus, Bier Haus accommodates both high-stakes and low-stakes players. Simply choose your wager amount, spin the reels, and collect winnings once you've hit a payline. 
If you'd like to automate the process, you can also turn on autoplay which allows the machine to complete up to 200 spins for you. 
Bier Haus Slot Symbols and Paytable
There are 13 symbols that you can find in the Bier Haus slot. Nine of these symbols are themed symbols while the other four symbols are your standard suits that you might find in a deck.
The lowest-paying symbols in the game are the spades, hearts, clubs, and diamonds, all of which pay out 5X your line bet.
On the other hand, the highest-paying symbol in the game is the German man who pays out 500X your line bet.
For more information on each symbol and their respective payouts, be sure to check out our paytable below for more information:
| Symbol | 3 on a Payline | 4 on a Payline | 5 on a Payline |
| --- | --- | --- | --- |
| | 0.20x | 1x | 5x |
| | 0.15x | 0.50x | 1.50x |
| | 0.15x | 0.50x | 1.25x |
| | 0.15x | 0.50x | 1x |
| | 0.10x | 0.25x | 1x |
| | 0.10x | 0.25x | 1x |
| | 0.05x | 0.15x | 0.75x |
| | 0.05x | 0.15x | 0.75x |
| | 0.05x | 0.15x | 0.75x |
| | 0.05x | 0.15x | 0.75x |
The game also has three different bonus symbols that you can use. There is the wild symbol, the feature symbol, and the golden feature symbol.
The wild is the pints of beer symbol and it acts as any wild would, substituting for other symbols on the reels to create winning paylines.
The feature symbol, which is the barmaid, is basically the scatter. Five feature symbols trigger the bonus game, which basically gives you free spins.
The only main difference between the feature and the golden feature symbol is that the golden feature has sticky wilds, meaning that once you hit a wild, you'll have the wild with you for the rest of the bonus game.
Bier Haus Bonus and Features
Aside from the scatters and the wild symbol, there's only one real other feature in Bier Haus which is the free spins bonus game.
Whenever you land five scatter symbols adjacent to one another in the reels, you'll receive five free spins. Any scatters that appear after this will grant you another five free spins with a cap at 80 free spins for the bonus game. 
If you manage to land five golden scatters, not only will you receive five free spins, but additional scatter symbols will act as sticky wilds.
This means that once they appear on the reels, they'll stay there and help create more winning paylines, acting as substitutes for other symbols. You'll also receive the additional five free spins for additional scatters in the golden bonus game.
Bier Haus Slot Machine Jackpot
Unfortunately, the Bier Haus slot machine does not have a progressive jackpot. This means that the amount you can win is fixed.
The fixed jackpot also isn't too large with the top-paying symbol paying out only 500X your line bet on 40 paylines. Therefore, this may not be the best slot for high-rollers.
Luckily, we did find that we were hitting paylines pretty consistently as we played. We won most of our money through the middle-level symbols.
As a result, we didn't lose money but at the same time, we didn't have any large wins that changed the course of our session.
RTP/Volatility
The Bier Haus slot has an RTP of 96.28% as well as a medium volatility. With an RTP of 96.28%, this means that, for every $1,000 wagered in the long run, you can expect to win back around $962.80. (1)
RTP is a measure of how much a slot machine pays back to its players for each unit wagered over time.  
However, it's important to keep in mind that this projection isn't entirely accurate. First of all, luck always plays a factor in how much you win while playing a slot.
You could go on a winning streak and hit several high-paying symbols, winning you hundreds more than projected. On the other hand, you could go on a dry spell and not win anything for several spins, cutting away at your budget until you're lower than what the RTP predicts.
Secondly, RTP is calculated in the long run as an estimation of the averages of total winnings divided by total wagers. In the short run, there is way more variability in how much you can win.
Bier Haus's medium volatility means that you can expect to have some risk associated with the slot. Fortunately, with most of the middle-level symbols paying out pretty well, hitting paylines will reward you nicely.
Thus, when playing the Bier Haus slot, you can expect to go on the occasional dry spell. However, despite the lack of a well-paying jackpot, the other symbols' payouts tend to make your time worth it when you hit a payline.
Bier Haus Slot Tips and Strategy
There aren't many slot tips and strategies that we can give you, especially since slots are mostly based on luck. As a result, most of the gameplay isn't in your control and is instead dependent on how the reels spin that day.
However, there are some tips and tricks that can help with maximizing your winnings. Here are some of our favorites.
Play Within Your Budget
One of the most important tips that we can give you is to play within your budget. Know how much you're comfortable losing per spin and use that as your wagering amount.
Sure, you might be tempted to bet big. After all, larger wagers means bigger wins. However, no payline is guaranteed.
Moreover, even if you do manage to hit a payline, there's a chance that you won't make a profit. Smaller symbols such as the diamonds actually put you in the red if you only hit three symbols in a payline.
As a result, it's important that you play within your budget so that you don't bleed your pockets out within the first fifteen minutes.
Overall, slots are a long-term game, meaning that you're more likely to make money the longer you play. Bet an amount that you're fine with losing and you'll maximize your chances of winning money.
Play to Have Fun
This tip ties in directly with our first tip. It's crucial to play slots mainly for fun. If you play slots purely for money, games will quickly lose their appeal.
Furthermore, if you go on a cold streak, you could soon find yourself funneling more money into the game with the hopes of making back lost wagers.
Playing slots for fun will ensure that you play with a clear mind and that you stay within your budget. We also personally think that slots are more for entertainment since developers put a lot of money into the graphics and audio of their games.
Therefore, if you plan on powering up the Bier Haus slot and playing for real money, remember to play for fun first!
Play Bier Haus on Mobile
Bier Haus has acquired quite a fanbase over the years. As a result, you can expect to find this slot title at your local online casino.
Currently, Bier Haus is compatible with iOS, Android, and Windows devices, meaning that you can play the slot on just about any phone or tablet that you have.
The best way to play Bier Haus is to boot up your favorite online casino on a mobile browser. Simply type in the URL of the site, log in with your credentials, and you're good to go!
Some casinos will provide an app, but most casinos tend to stick with a mobile browser since it saves time and money.
Even more so, Google only recently began to allow real money apps on their play store. As a result, most online casinos are still in the process of building out their apps if they want to release one on the play store. (2)
By explicitly allowing gambling apps—even if only from licensed gambling operators—Google just radically lowered the barrier-to-entry for legal gambling operators.
Fortunately, playing on a mobile browser shouldn't be a problem. Because of how popular mobile casino gaming has become, just about every top online casino has made sure that their site is mobile-compatible.
Therefore, no matter where you are, you'll be able to play Bier Haus!
Overall Rating
Here at MrGamez, we like to compile our overall rating of a slot game based on four areas: user experience, game features, payouts, and sounds & visuals.
We applied these ratings to the Bier Haus slot. That way, we can come up with a definitive ranking to help you determine whether or not you want to put your money here.
Overall, we found the user experience to be quite smooth. All the important buttons such as the spin button, bet button, and autoplay button were all neatly placed in the center below the reels.
Furthermore, we experienced no lag whenever we played the game over the course of a few hours. Everything ran smoothly and the reels felt like a well-oiled machine.
Our only minor grievance was that the sound button took more than one click which was unusual to us for slots. Rather than the sound button being on the front page along with the other buttons, we had to click on settings first before being able to turn off sound.
However, this was only a personal preference. Other than that, the team did a great job of making sure that players were able to access everything they needed within one click and that the gameplay ran smoothly without delay.
In our opinion, the game features were alright. They had the standard makings of your average slot machine in the industry. You had your bonus free spins game, your wilds, and you scatters but that was about it.
The bonus free spins game only had the ability to retrigger more free spins. There were no multipliers, which is a common feature when playing a slot bonus game.
However, we did enjoy the sticky wild feature that showed up if you managed to land five golden scatters. This made it extremely easy to land paylines as the wilds would stick around for the entire duration of the free spins bonus game.
Other than the sticky wilds feature, there was nothing too special about the free spins bonus game. There were no multipliers anywhere throughout the game, which was also disappointing.
All in all, while we were happy that they had a bonus game, wilds, and scatters, there was nothing special about any of the features that made the slot stand out.
Payouts in this game were also alright. With an RTP of 96%, you can expect there to be winnings waiting for you whenever you play this game. However, the only symbols that really had any payout potential were the middle-level symbols.
The lower-level symbols put you in the red if you matched less than four in a payline, something that's to be expected of the smaller symbols in a slot game. What disappointed us the most, though, was that their jackpot was only their highest-paying symbol. This meant that their jackpot only paid 500X your line bet.
As a result, the middle-level symbols were where most of the money was. Thus, while we were still getting paid, the payouts felt less exciting since there wasn't really a jackpot to look forward to.
The Bier Haus slot really excelled when it came to the sounds and visuals. First of all, the graphics fit the theme quite well. Even the suit-based symbols slightly resembled the theme's colors thanks to their golden lining.
Secondly, the design team did a great job of crafting each symbol. The human characters had a cartoonish look to them and each symbol had popped out of the reels thanks to the 3D design.
However, Bier Haus really stood out when it came to the audio. The slot incorporated lively festival music in the background to make it sound like you were in the middle of Oktoberfest.
Furthermore, the team also added sounds that you might hear at your standard bar in Munich. This created an immersive experience that made us feel more like we were in the middle of Germany than just playing a slot.
Overall, we think that the team did a great job on the sounds and visuals. The graphics were intricately designed and the vibrant audio made the slot feel like a real-world event.
The Bier Haus slot has some areas where it shines and some areas where it can improve. The slot does a great job with the user experience, communicating all the information that the user might need to know.
Alongside this, the graphics and visuals are detailed and immersive, putting the player in an environment that resembles Oktoberfest more than a slot machine.
Unfortunately, the in-game features are pretty basic with the only main attraction being a free spins bonus game. Furthermore, with the absence of a large jackpot, the idea of hitting a large win isn't as present compared to other slot titles.
However, you should still give the slot a chance. Despite not having any of the flashy features that other WMS slot titles have, Bier Haus is still a solid slot that pays well aside from their jackpot.
So, the next time you want to play slots, consider going to Heidi and Hannah's bar to spin the reels!
Bier Haus FAQs
Where can I play the Bier Haus online slot for free?
You can play the Bier Haus online slot for free here at MrGamez. We offer one of the widest selections of free slots for you to play online!
Can I play Bier Haus for real money?
Yes, you can play Bier Haus for real money at a certified online casino. To find the most trustworthy online casinos to play at, be sure to check out our recommended list.
Is it safe to play the Bier Haus slot game?
Yes, it is safe to play the Bier Haus slot as long as you're playing at online casinos that are certified and regulated.
How do I beat the Bier Haus slot machine?
There's no way to beat the Bier Haus slot machine since the game is largely up to chance. However, playing within your budget and playing with a clear mind will help you maximize your wins each time you play.
References
What is return-to-player? How to calculate rtp and why it matters. (2020, June 19). Retrieved May 30, 2021, from https://n-serve.org/what-is-return-to-player-how-to-calculate-rtp


Chaffin, B. (2021, January 29). Google play store to allow licensed gambling apps Providing Android a competitive advantage. Retrieved May 13, 2021, from https://www.macobserver.com/analysis/google-play-store-allows-licensed-gambling-apps/
Game statistics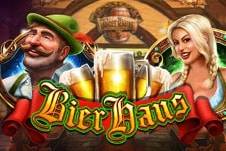 Players who played this game also played: