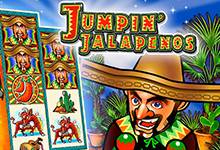 WMS
Jumpin Jalapenos
We all need a little extra spice in our routines once in a wild, and betting a little money on a fun online game is the perfect way to get that u2013 especially with a Mexican-themed video slot game such as Jumpinu2019 Jalapeu00f1os.
Play for free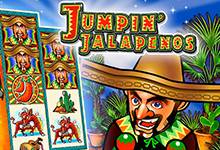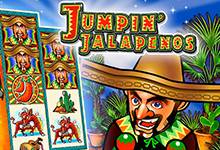 Unfortunately, this game is not available in your location
Why am I getting this message?
Thank you for informing us. Our engineers will work to fix the problem as soon as possible.
Get notified by email when this game is fixed
Thank you. Our engineers will inform you when the problem has been fixed.
Try these similar games instead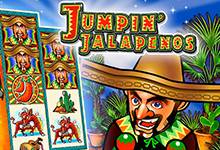 WMS
Jumpin Jalapenos
Rate this game:
We all need a little extra spice in our routines once in a wild, and betting a little money on a fun online game is the perfect way to get that u2013 especially with a Mexican-themed video slot game such as Jumpinu2019 Jalapeu00f1os.
Play for free
Report a problem with this game:
Jumpin Jalapenos Slot Review
Jumpin Jalapenos is a Mexican-themed slot made by WMS Gaming. WMS Gaming is one of the top software providers in the world. That being said, Jumpin Jalapenos isn't your standard slot
With over 40 years of experience developing slots for online casinos, WMS Gaming has made sure to give Jumpin Jalapenos more than enough features to entertain its players.
But, how does the Jumpin Jalapenos slot compare to other slots made by WMS Gaming. Is Jumpin Jalapenos the same quality as other WMS slots? Does it fail to meet expectations or is it a game that you can consistently come back to time and time again?
We're going to answer all of these questions today in our review of the Jumpin Jalapenos slot. By taking an in-depth look at the game's betting options, in-game features, and RTP, hopefully you'll know whether or not Jumpin Jalapenos is for you.
Are you ready? Let's get started!
Pros and Cons
Immersive in-game experience

Great user experience

50 paylines
Not as many in-game features as other slots

RTP is only 91.1%
Jumpin Jalapenos Slot Overview and Betting Options
Jumpin Jalapenos was originally released by another slot provider, Konami. The slot premiered in most land-based casinos and was quickly a success.
However, WMS Gaming wanted to take it online as well. The two companies reached a licensing agreement and the slot soon premiered in online casinos across the internet.
The Jumpin Jalapenos slot setup is pretty simple. There are 5 reels, 3 rows, and 50 paylines to choose from. 50 paylines is larger than average when compared to most online slots. As a result, you have more winning opportunities since you can hit more paylines.
However, the paylinese are fixed, meaning that you can't adjust how many paylines you bet on. Luckily, Jumpin Jalapenos provides a pretty large betting range with a minimum bet of $0.01 and a maximum bet of $125.
As a result, even if there are a fixed 50 paylines to bet on per spin, the wide betting range means that you can play just about any plastyle that you want.
If you like to keep your money close to you, you can bet just one cent per spin. On the other hand, if you're a high-roller and like to bet big, you can bet $125 per spin and win hundreds for each payline you hit.
It's also worth noting that Jumpin Jalapenos has one of the lowest minimum bets we've seen. Therefore, you shouldn't be discouraged from betting just because they have more fixed paylines than usual.
Jumpin Jalapenos Symbols and Values
There are 13 different symbols that you can find when playing the Jumpin Jalapenos slots. Of the thirteen slots, eleven are regular symbols while two are bonus symbols.
The lowest-paying symbols in Jumpin Jalapenos are the deck-based card symbols. Matching three across the reels will only result in a payout 5X your line bet.
Meanwhile, the highest-paying regular symbol is the red bull. Matching five of these together on a payline will pay out 250X your line bet.
However, the highest-paying symbol throughout the game is the wild symbol. If the wild symbol makes a winning combination with five symbols, you will be paid out 500X your line bet.
For more information on the different symbols in Jumpin Jalapenos and their respective payouts, be sure to check out our paytable below:
| Symbol | 2 on a Payline | 3 on a Payline | 4 on a Payline | 5 on a Payline |
| --- | --- | --- | --- | --- |
| | 2x | 25x | 125x | 250x |
| | - | 20x | 100x | 200x |
| | - | 15x | 50x | 150x |
| | - | 15x | 50x | 150x |
| | - | 10x | 50x | 100x |
| | - | 5x | 15x | 75x |
| | - | 5x | 15x | 75x |
| | - | 5x | 15x | 75x |
| | - | 5x | 10x | 50x |
| | - | 5x | 10x | 50x |
| | - | 5x | 10x | 50x |
There is also a scatter symbol within the game. This symbol can only land in reels 2, 3, and 4. However, landing three on the reels at the same time triggers the free spins bonus game. We'll get more into this later.
Several of these symbols are also common features that you might commonly see in Mexican culture. For example, one common symbol you'll see on the reels is the cactus, a plant you can find throughout Mexico. (1)
Found almost everywhere throughout the country, from Sonora in the north to inland Oaxaca in the south, the cactus has become an enduring symbol of the country's reputation
Slot Features in Jumpin Jalapenos
Aside from the scatter and wild, you can also find a free spins bonus game as well as stacked symbols. Both of these features come in the bonus game, which can be unlocked when you hit three scatters.
During the bonus game, you're given 12 free spins. Unfortunately, you cannot retrigger the free spins since the scatter symbol will not show up during this period.
However, if a wild shows up during these free spins, that reel will be nudged until the entire reel contains free spins. With this feature in the bonus game, it's entirely possible that you can hit multiple paylines per win consistently.
Aside from the bonus game, there isn't really any other feature present within Jumpin Jalapenos besides the Autoplay button.
While we do think that there should be more to entertain the user, when you do activate the free spins bonus game, you're bound to have a good time.
RTP/Volatility
Jumpin Jalapenos has an RTP of 91.1% and a medium volatility. An RTP of 91.1% means that, for every $1,000 wagered in the long run, you can expect to receive $911 back in winnings.
Considering that the average online slot's RTP is 96%, Jumpin Jalapeno has a return-to-player percentage that is much lower than usual.
However, this isn't an entirely accurate estimate since RTP is calculated by taking total winnings over total wagers. Furthermore, RTP is a long-term measurement, meaning that spinning the reels only a couple dozen times won't give you a precise RTP.
This also means that luck plays a factor in how much you win. For example, you could hit the jackpot only a few spins in and this would push you way over your projected winnings. Similarly, you could go on a cold-streak and this would cause you to lose way more money than expected.
Therefore, RTP is best used to estimate just how much you might be paid out. 
When it comes to Jumpin Jalapenos' variance, the volatility is medium. Low volatility means that the slots are low-risk while having smaller payouts. On the other hand, high volatility means that the slots are high-risk while having much larger payouts to compensate.
Thus, Jumpin Jalapenos' medium volatility means that you can expect the online slot to have some more risk than low volatility slows but smaller payouts than high volatility slots.
Tips and Tricks for Playing Jumpin Jalapenos
Because of the randomization factor in slots, there aren't really any strategies that can give you a surefire way to win money. In fact, most strategies are around keeping your emotions stable so that you don't make bad decisions.
While we can't give you any tips for getting bigger wins on the Jumpin Jalapenos slots, we can give you some advice to maximize your earnings no matter what slot play.
Keep a Level Head
Emotions play one of the biggest factors in how much you can win when playing slots. If you're too rash, you might bet more than you can afford, leading to you ending your slots session early.
Similarly, if you're too nervous with your budget, you might not bet enough per spin, leading to you winning less than you should.
By playing logically and betting with reason, you'll be able to make the smartest decisions for yourself. This capitalizes your chances at maximizing your winnings.
Bet Within Your Budget
Slots tend to be a long-term game, meaning that you won't really win money until later on. If you bet outside of your budget, you're almost guaranteed to lose money.
Betting within your budget ensures that you have more chances of hitting the paylines you need to win money. (2)
It's important to stay in your lane. You should have an amount that you're comfortable betting with a single wager, as well as weekly and monthly budget parameters.
Jumpin Jalapenos on Mobile
You can also find Jumpin Jalapenos at your favorite mobile casinos. Thanks to its HTML5 technology, Jumpin Jalapenos is currently compatible with iOS, Android, Windows, and Blackberry devices.
All you need to do is boot up your favorite mobile browser, log into your online casino, and you'll be good to go.
Some online casinos may offer an app. However, the process is much more complicated. For Apple devices, all you need to do is download the app from the iOS store.
However, with Android devices, it's not as easy. For one, Google only just announced that real money casino apps would be allowed on their play store. As a result, most online casinos who would offer an app don't have one yet.
Therefore, the easiest way to access your online casino is through a mobile browser. Because of how popular mobile casino gaming has become, just about every casino site has made sure that their games are compatible with your devices.
Thus, whether you're out with friends or simply at home, you can play Jumpin Jalapenos wherever you are.
Overall Rating
Here at MrGamez, we like to compile our overall rating of a slot game based on four areas: user experience, game features, payouts, and sounds & visuals.
We applied these ratings to the Jumpin Jalapenos slot. That way, we can come up with a definitive ranking to help you determine whether or not you want to put your money here.
Jumpin Jalapenos' user experience was quite strong. For one, the slot had a lot of information that they wanted to share with us. However, they presented it in a neat and orderly way to keep everything simple.
Furthermore, everything was easy to access. Usually, most features were only a click away. It was awesome to see that they were able to make everything to access and simple at the same time.
Unfortunately, Jumpin Jalapenos' in-game features weren't as strong as its user experience. There was only one real engaging part of the slot: the bonus game.
While the bonus game did a great job with its free spins and stacked wilds, we wish that they would've added something during the regular game to keep us entertained.
As a result, the game did become boring at times since we would only trigger one feature during our session.
The payouts were also okay. They weren't terrible, but they didn't stand out. Most of the time, we were just breaking even or making small wins. However, occasionally, we would hit a decently large win.
What concerned us the most was that the RTP was only 91.1%. This meant that we could expect lower payouts than the slots we usually reviewed.
When we tested the slot, the payouts didn't feel like the RTP was only 91.1%. However, they did feel lower than other slots such as EGT 40 Burning Hot or WMS Bier Haus.
This was one area where we thought Jumpin Jalapenos did well. For one, the WMS team did a great job of adhering to the theme. Aside from the deck-based card symbols, every symbol accurately represented Mexican culture.
Furthermore, despite being cartoons, all the symbols were well-drawn and realistic. It was also nice to see that the background of Jumpin Jalapenos also had different plants synonymous with Mexico.
As for audio, there was no background music. However, there were unique sounds for every other interaction. Music was played whenever we hit a payline and there was a clacking sound whenever the reels were spinning.
All in all, the WMS team did a great job of using the graphics to resemble the Mexican theme while the sounds were soothing and immersive.
WMS Gaming is known to do a great job with its slots and Jumpin Jalapenos is no exception. Whenever you load up the slot, you're in for a smooth ride and plenty of payline wins.
The user experience makes everything easy to access and the graphics and sounds create an immersive environment while you play.
While the in-game features are limited in Jumpin Jalapenos, the features that the slot does have are great and engaging.
Furthermore, despite its 91.1% RTP, we felt like payouts were much better than what was estimated. As a result, through our interview, we've found Jumpin Jalapenos to be a solid slot made by WMS Gaming.
If you're looking for new titles to play, we highly recommend you try this slot out. With solid reviews all around, Jumpin Jalapenos will allow for a smooth gaming experience.
Jumpin Jalapenos FAQs
Where can I play the Jumpin Jalapenos slot machine online for free?
You can play the Jumpin Jalapenos slot machine for free here at MrGamez. We offer one of the widest selections of free online slots across the internet.
Can I play the Jumpin Jalapenos slot for real money?
Yes, you can play the Jumpin Jalapenos slot for real money at any regulated and licensed online casino.
Can I play the Jumpin Jalapenos slot game using Bitcoin?
Yes, you can play the Jumpin Jalapenos slot game using Bitcoin as long as the casino you play at offers Bitcoin.
Is it safe to play the Jumpin Jalapenos online slot?
It's safe to play the Jumpin Jalapenos slot so long as you play at an accredited online casino.
References
John Keane Professor of Politics. (2020, December 9). Mexico: The Cactus Democracy. The Conversation. https://theconversation.com/mexico-the-cactus-democracy-81025.


18 Common Sports Betting Mistakes & How to Avoid Them. Play Tenn. (n.d.). https://www.playtenn.com/sports-betting/common-mistakes/.
Game statistics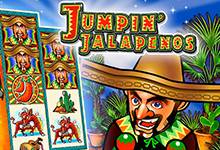 Players who played this game also played: