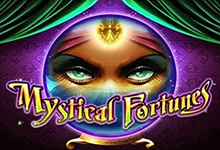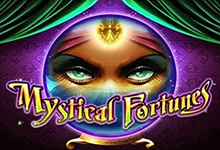 Unfortunately, this game is not available in your location
Why am I getting this message?
Thank you for informing us. Our engineers will work to fix the problem as soon as possible.
Get notified by email when this game is fixed
Thank you. Our engineers will inform you when the problem has been fixed.
Try these similar games instead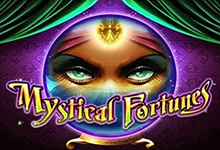 WMS
Mystical Fortunes
Rate this game:
Report a problem with this game:
Mystical Fortunes Slot Review
Mystical Fortunes is all about fortune telling. But will your fortunes be good or bad when you cross this game's palm with silver? We can't promise you will be richly rewarded, but what we can say is that if you are a fan of the many magic-themed slot games out there, we know you'll have fun with Mystical Fortunes. WMS have developed a fun slot with symbols related to this ancient and magical practice, such as amulets, hands, crystal balls and card symbols – all of which lends a great atmosphere to the game.
You can play from just 0.40 credits up to a max of 80 per spin, all the time enjoying a layout of six reels. That's right, six! While many slot games offer three or five reels, Mystical Fortunes has gone one better. These reels are spread out over multiple rows, with two, three, four, five, six and seven symbols on each reel moving across from left to right. The Mystical Fortunes slot provides some great game features which include a lucrative free spins round, bonus reels, wild symbols and two big jackpots – the major and minor.
Exotic Symbols for Magical Gaming
Magic themes are popular with players because they transport players into a new world as they build up excitement. The symbols in this game include icons related to popular fortune telling methods, such as crystal balls and a fortune teller character. The best symbol is the game logo, which is an image of the fortune teller's eyes. This symbol adds extra mystery and has the potential to trigger the free spins bonus feature.
Placing bets on this free Mystical Fortunes slot is a simple process. The paylines are always active, so you only need to pick your bet depending on how lucky you feel. To begin the game, simply choose your betting level. The betting range on offer will suit both low-limit players and high rollers. Of course, the more you are willing to bet on every spin, the bigger your potential winnings will be.
Exciting Gaming From WMS
Mystical Fortunes is one in a long line of slot games by software provider WMS, also known as Williams Interactive. This company is always a solid gaming choice for online casinos. This company has developed a strong reputation for its high-quality games, and you will find a number of its slots at most online sites.
There are some unique titles in its catalogue, such as Mystical Fortunes, alongside standard 5-reel slot games and simpler slots including fruit machines. In design terms, Mystical Fortunes has an interesting 6-reel layout and an unusual setup with increasing numbers of symbols on each reel. The first reel has two rows of symbols while the second has three rows, moving up to four, five, six, and finally seven rows on the last reel.
Free spins rounds are commonplace in slot games, and Mystical Fortunes is no different. In fact, it's one of the best parts of the game. The free spins round is available when you hit the special fortune teller game logo symbol. Once the free spins round triggers by hitting the fortune teller's eyes on the first reel, a new game screen will open. During the free spins round, the reels are reversed to create a screen with seven reels on the left of the layout, instead of to the right.
Boost Your Fun With Free Spins
The magical atmosphere of this game becomes even more pronounced during the free spins. Here, the reels switch around to give two rows on the right and seven rows on the left. The blue rows turn pink and the reels spin automatically to give you lots of free winning opportunities. The number of free spins ticks down at the bottom of the screen, so it's easy to keep track of how many you have left.
Perhaps the most exciting part of this slot is its two jackpots – the minor and the major. These can be tracked at the top of the screen, where you can see the amount of cash available if you hit one of them. Remember to watch out for the fortune teller who acts as the wild symbol and can turn other symbols wild too, creating plenty of extra winning combinations.
Other Magical Journeys
If you like the atmosphere and gameplay of Mystical Fortunes, you might also like to check out some other similar slots. If you want to play a game with similar characteristics, you will enjoy Vegas Shindig or the Red Flag Fleet slot. These games are both from the WMS catalogue and feature their distinctive 6-reel layout including the staggered rows of symbols. They also offer great free spins rounds and wild symbols galore.
Mystical Fortunes and Red Flag Fleet are both classed as medium variance slot games. Players who enjoy a bit of a risk, but are perhaps too conservative or nervous to take on a high-variance game, will enjoy the thrills on offer. If you're a fan of gaming on the move, you might also be happy to hear that the Mystical Fortunes slot is available on desktop and mobile, allowing you to enjoy this magical game wherever you are.
Mystical Fortunes Is Magic
Mystical Fortunes is one to watch (and play!) if you're into slots featuring an element of mystery. We just love those fortune teller's eyes, and we think the game is a super addition to the WMS catalogue. It's also an excellent choice for players who are looking for new layouts and innovative designs.
The only improvements we can think of would be the addition of a gamble feature to boost the different ways to win. A separate bonus game with new features, and possibly even a separate storyline to expand further on the magical theme, would also make it more playable. But overall, we reckon Mystical Fortunes might just line your palms with silver (or gold!).
Game statistics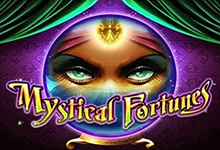 Players who played this game also played: