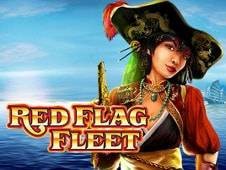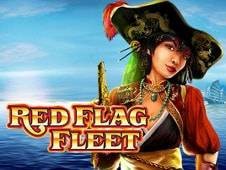 Unfortunately, this game is not available in your location
Why am I getting this message?
Thank you for informing us. Our engineers will work to fix the problem as soon as possible.
Get notified by email when this game is fixed
Thank you. Our engineers will inform you when the problem has been fixed.
Try these similar games instead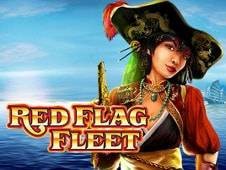 WMS
Red Flag Fleet
Rate this game:
Report a problem with this game:
Red Flag Fleet Slot Review
Red Flag Fleet slot by WMS Gaming, also known as, Williams Interactive, is the second slot from the WMS family to use the Reel Boost mechanism. This means that the slot has a unique gameplay of 6 reels and 192 different paylines to choose from. Playable from 0.40 coins to a maximum of 80.00 coins per spin, this game is set in the South China Sea (1), based on a legendary pirate captain called Chang Pao. A rare female captain that instilled fear but was always in search of adventure, but most of all, fortune.
Pros and Cons
The game has 6 reels and 192 different paylines

You can win up to 250,000 coins

Playable both on desktop and on mobile
Sometimes, it gets confusing to follow the different paylines
How to Win at the Red Flag Fleet Slot
Red Flag Fleet slot is a WMS game that has six reels and 192 paylines to choose from. The aim of the game is to line up as many winning combinations as possible. The paytable at the bottom of the screen reflects your current bet configuration. Line pays must occur on adjacent reels, beginning with the leftmost reel.
Wins on multiple paylines are added together and only active paylines can register wins. 
Game Rules
Thanks to the Reel Boost mechanism, Red Flag Fleet slot machine has an unusual layout to most slots that you will see on the market. The slot has six reels. However, the first reel has only two rows while the second reel has three rows, the third has four, and the list goes on until you reach six rows on the final reel.
The reels also look different from your typical slot. At first glance, it looks like a pyramid that is laying sideways. This will take some time to get used to but after a few spins, it will feel like second nature as the game follows familiar rules and gameplay.
To win the game, you will need to match symbols across a payline, starting from the left-hand side.
Betting Options & Wager Limit
The lowest possible betting option is that of 0.40 coins while the highest is 80.00 coins. All you need to do to adjust your bet is use the plus and minus buttons on the bottom left-hand side of your screen.
There is also an autoplay feature which you can set the game to spin automatically for up to 100 times. It's ideal if you cannot be behind your screen at all times. You can even set win and loss limits that will stop the autoplay feature once you reach those limits.
Symbols and Values
The symbols on the reels all depict the theme vividly. On the reels, you will be able to see three female pirates and two male pirates as symbols. There is also a red-flagged ship which is the wild symbol and there is an additional symbol with golden writing on it.
The traditional card playing symbols are also in this slot game and they offer the lowest wins. 
From the pirate symbols, the lowest paying symbol is the pirate with the knife while one of the highest paying pirates is the queen herself, Ching Shih (2). Her lowest win sits higher than any other pirate symbol on the reels.
The wild symbol, which is the game's logo can match any symbol except for the Bonus symbol.
| Symbol | 3 on a Payline | 4 on a Payline | 5 on a Payline | 6 on a Payline |
| --- | --- | --- | --- | --- |
| | 0.15x | 0.50x | 5x | 25x |
| | 0.10x | 0.30x | 2x | 20x |
| | 0.10x | 0.25x | 1.50x | 12.50x |
| | 0.05x | 0.20x | 1.25x | 10x |
| | 0.05x | 0.15x | 1x | 7.50x |
| | 0.05x | 0.15x | 1x | 5x |
| | 0.05x | 0.15x | 0.75x | 4x |
| | 0.05x | 0.15x | 0.50x | 3.50x |
| | 0.05x | 0.15x | 0.50x | 3x |
| | 0.05x | 0.15x | 0.50x | 2.50x |
RTP and Volatility
The game has a decent return to player, RTP, of 96.04%.
This means that, on average, you can expect to see a 96p return for every £1 you bet. As this is an average figure across every game played by every player, there is still room for statistical variance.
Red Flag Fleet Slot Features
There is a total of 192 paylines in Red Flag Fleet slot game. Slot features include wilds, a wild reel, stacked symbols, and also stacked wilds.
Scatters and Wilds
The game logo, featured the red-flagged ship, is the game's wild symbol.
The wild reel feature is made up of 2 to 3 symbols that will randomly change to the wild symbol on each spin. The game also features stacked wilds which can guarantee better payouts in the game.
Stacked wilds work in more or less the same way as expanding wilds. However, stacked wilds will have a single wild symbol falling on a reel before it expands to fill in the indicated spaces around it. Stacked wild might expand to fill in the entire reel or they might just expand to fill the top or bottom section of the reel. 
Bonus Games
The bonus symbol in the game is depicted by a pirate ship with a red sail and a skull. This symbol can only be found on the second and sixth reel. When you match three Bonus symbols, you will be given five free spins.
If you match four Bonus symbols, this will increase to 12 free spins and a multiplier of 10x your bet. If you get five bonus symbols on the reels, you can get up to 40 free spins with the multiplier of 50x your total bet.
Free Spins
In the free spins, you will be directed to another set of reels that is separate from the base game. The pyramid style is reversed, and the reels starts from seven rows on the left and they get smaller until it reaches two rows on the right.
The payouts are the same but two or three reels can transform into wilds here which further intensifies your chances of winning big. You can also re-trigger free spins in this game by matching bonus symbols during your original free spins.
Red Flag Fleet Device Compatibility
Red Flag Fleet is available on mobile and tablet, as well as your desktop version. The game is designed to work perfectly on both iOS devices and Android. This means that anyone with Wi-Fi or mobile data will be able to access this game.
All you need is a reliable internet access and a fully charged devices, and you're good to go!
Overall Rating
It's time to give our overall rating on WMS's Red Flag Fleet and we've based our review on a number of things: user experience, game features, payouts and sounds & visuals. By analysing all these areas of the game, we were able to give a final rating that will help you decide whether you would like to play this slot for real money or for free. Here's what we think of this WMS slot game.
Although Red Flag Fleet slot has an unusual design, it is quite easy to get the hang of after a few spins on the reels. Its sideways pyramid design makes for a unique gameplay and having 192 different paylines bring the excitement to the next level.
The game's features are never-ending. From stacked wilds to up to 40 free spins that can be re-triggered, Red Flag Fleet is great fun for all players, both casual and professional slot lovers. Entering the free spins world is also like playing a different game since the structure of the game is reversed. There's never a dull moment when spinning the reels on this one.
The payouts of this game are quite high. You can win a maximum of 250,000 coins while the minimum bet is that of 0.40 coins, with a maximum of 80 coins per spin.
The graphics and sound of the game are inspired by its theme which makes the experience more engaging. The reels are set in the calm ocean, featuring the pirates. The additional graphics and animations bring the slot to life while the soundtrack sets a relaxing tone with the sound of the ocean.
Red Flag Fleet slot is an action-packed slot game that offers great payouts. The graphics look and feel incredible and fit the theme perfectly. The only downside to the game is that it might look like it lacks symbols, and it might also be harder to get used to than other slots due to its different layout. However, once you get the hang of it, normal will seem boring!
Red Flag Fleet FAQs
Where can I play the Red Flag Fleet slot for free?
You can play the Red Flag Fleet slot for free, right here, on MrGamez.com. All you need to do is search for the game and press Play to start off the demo game.
Are Red Flag Fleet slots available in real money casinos?
You can play Red Flag Fleet slots for real money through our recommended casinos, right here on MrGamez.com.
Is there a jackpot available on the Red Flag Fleet slot game?
Yes, there is a jackpot on the Red Flag Fleet slot game.
What's the highest payout available on the Red Flag Fleet online slot?
The highest payout available on the Red Flag Fleet online slot is that of 250,000 coins.
References
South China Sea (2021, September 10). Retrieved September 21, 2021, from https://en.wikipedia.org/wiki/South_China_Sea


Zheng Yi Sao (2021, September 19). Retrieved September 21, 2021, https://en.wikipedia.org/wiki/Zheng_Yi_Sao
Game statistics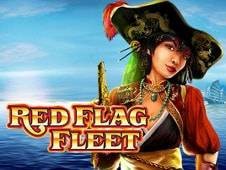 Players who played this game also played: