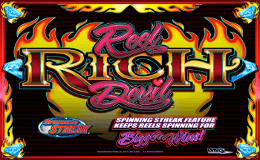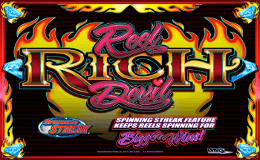 Unfortunately, this game is not available in your location
Why am I getting this message?
Thank you for informing us. Our engineers will work to fix the problem as soon as possible.
Get notified by email when this game is fixed
Thank you. Our engineers will inform you when the problem has been fixed.
Try these similar games instead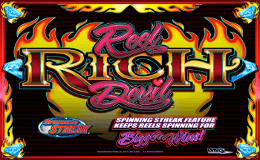 WMS
Reel Rich Devil
Rate this game:
Report a problem with this game:
Reel Rich Devil Slot Review
It was Cliff Richard that sang Devil Woman, and while we're fairly confident that wasn't the inspiration behind the Rich Reel Devil slot game from WMS, it's fair to say that you will be keeping your eyes peeled for the She Devil to maximise your winnings here!
This five reel, three row slot game features the phenomenal Spin Streak – which enables players to hold winning symbols in place on their reels, and then spin the other 15 independent reels in an attempt to win an even greater sum. This can return some spectacular figures.
Reels on Fire
As you might expect from a slot game set in the devil's playground, things can get pretty hot and spicy out there. But don't be afraid, because really you want a fireball – the feature symbol – to strike your reels. Five of these hot shots triggers the Reel Hot feature game (more on that later), but even more on the 15 available positions pays out at a greater rate:
Seven feature symbols pays 5x your total bet.
Eight feature symbols pays 10x your total bet.
Nine feature symbols pays 25x your total bet.
Ten feature symbols pays 50x your total bet.
Eleven to 15 feature symbols pays 200x your total bet.
Aside from the fireball feature, there are plenty of other symbols for the devilish among you to sink your teeth into. From diamonds, jewellery, flowers and hearts to cherries, the devil's fork and that elusive devil woman, match three or more of these and you will be onto a winner.
The cherries pay 0.05 for matching three, and then the rest of the payouts from the main game increase on an ascending scale right up to 5.00 for matching five of the She Devil symbol.
As if all that wasn't enough, the Rich symbol is wild in Reel Rich Devil and substitutes for all other symbols apart from the fireball when it appears on reels 1, 3 or 5.
Red Hot Action
If the fiery action of the main game isn't enough to satisfy then you will love the scorching payouts on offer in the Reel Hot Bonus round.
This is triggered by spinning five of the fireball feature symbol, and if you're lucky enough to accomplish this feat then you will be asked to select one of four fireballs to determine the difficulty of your challenge, which ranges from Hot to Super Hot, Extreme Hot and Blazing Hot.
You will then select one of six items from your chosen level to decide your bonus amount. It looks a little something like this:
Hot – 2x to 10x your total bet.
Super Hot – 5x to 15x your total bet.
Extreme Hot – 5x to 25x your total bet.
Blazing Hot – 10x to 40x your total bet.
Get Rich For Reel
This slot game from WMS bears all the hallmarks of their titles that we have come to know and love over the years. It is so easy to play – just use that handy slider at the bottom of the game screen to choose the amount you stake per spin, and there are enough features and bonuses to keep experienced players interested as well.
Surprisingly for WMS, Reel Rich Devil lacks in a Free Spins round, and this quite a disappointment for gamers who have become so accustomed to enjoying a few free wins. This is partially covered by the inclusion of the Spinning Streak feature, although this only generally offers one or sometimes two 'freebies' which can create a win, and that lacks the appeal of the prize building that players can experience through a Free Spins feature.
Even so, it is the regularity of the Spin Streak feature during the main game that helps us to achieve some nice wins for nothing more than picking up a standard winning combination.
The Reel Hot Bonus is further consolation too, although this is a pretty tricky round to trigger and its top prize of 40x your stake is not as generous as some. Even so, matching five of the fireball symbol – aided by Spin Streak – does offer us opportunities that are not available in many other slot games.
So, all things considered, Reel Rich Devil gives with one hand and takes away with the other! For similar feel games from WMS, I was reminded of the Magic Wand slot and Lancelot while playing this.
Game statistics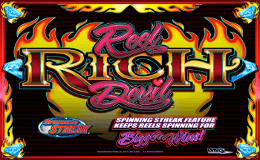 Players who played this game also played: